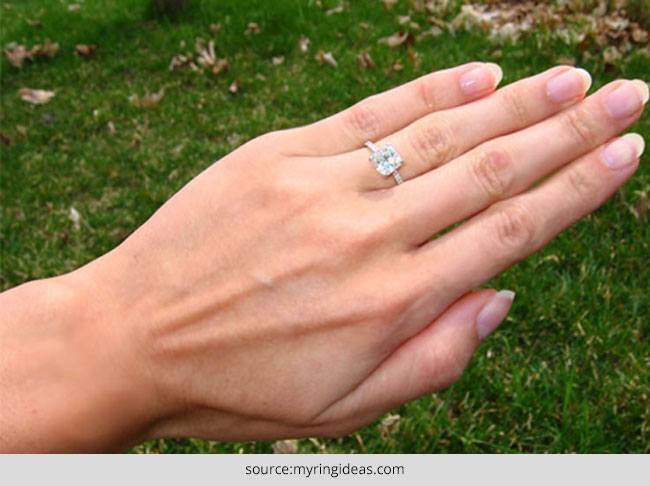 No matter whatever rock your fiancé slips on your ring finger, you'll be happy we know. But you would surely want your engagement ring to be beautiful enough to be cherished for the lifetime. We offer you 5 most beautiful solitaire rings every woman dreams about.
People say diamonds are woman's best friends. Even world's greatest celebrity like Elizabeth Taylor couldn't escape from its bewitching qualities. She is now 83 years old, still she has not been able to confine her temptation from such embedded jewelries. There was a time, when she was the owner of some of the costliest stones in the world. Such is the audacity of such gems that anybody can fall in love with it in the first sight.
[Also Read: Radiant Cut Engagement Rings]
Diamonds are usually fetched during wedding seasons. When wedding bells ring, the first thing that strikes our mind is to purchase is a beautiful ring, either in platinum or gold but with a solitaire encrusted in it.
Wedding is the most momentous happening in one's life. So everybody dreams of cherishing this occasion life long. And in order to make it memorable, everybody makes selective plans and executes accordingly. Ring tops the chat list of such plans. For this, people refer the best outlet in the upper market. They go through hordes of catalogues, for a single ring. Sometimes, they recommend their own designs and place their orders accordingly. But always, it is not an easy job as it seems.
Sometimes, we do not get our desired design and sometimes, we do not recognize stone of desired carat. In all these faux pass, Internet lends a great helping hand for rescue. There are numerous shopping portals, which deal with such kind of accessories. Here, you can come across a varied number of designs as well as diamonds in varied sizes.
Diamonds are available in various forms and cuts. The most common form is round. Princess, emerald, radiant, oval, pear, marquise, heart, asscher, cushion, trillian etc. are also available at these web portals. For your convenience, these websites have displayed an option considering the size and one can hence search for a stone accordingly.
You are open to about 2 lakh solitaires at such shopping zones and you can also grab an expert's advice on your selected items. In order to lure customers, some online companies also offer a luck draw. The prize may be a white elegant ring, with 1.14 carat princess cut white solitaire.
Go through 5 most beautiful solitaire rings every woman dreams about.
1. Classic Four Prong Engagement Ring in Platinum
This bespoke solitaire engagement ring offers you timeless appeal, adding stars to your personality. Plus, the sleek platinum base adds luxury to your engagement ring.
2. Petite Pavé Diamond Engagement Ring in Platinum
This is another magnificent diamond engagement ring that can become one of your most prized possessions apart from being the epitome of your love story. The solitaire ring is encrusted with a half circle of sparkling small pavé diamonds with a huge rock as the center piece.
3. Classic Halo Diamond Engagement Ring in Platinum
Here is another breathtaking creation offered by bluenile.com. This bespoke diamond engagement ring in platinum flaunts a spectacular rock flanked by small diamonds and deftly encrusted against the immaculate platinum base.
4. Nouveau Diamond Engagement Ring in Platinum
The Nouveau art-inspired solitaire ring features round sparkling diamonds set against platinum. And the beautifully tapered 4-spur corners on the centerpiece enhance the beauty of this luxury engagement ring.
5. Hand Engraved Micropavé Diamond Engagement Ring in 14k White Gold
If you love vintage design then this hand-engraved solitaire engagement ring will soon drag your attention. The 14 carat white gold features micropavé edges that adorn the hand-engraved solitaire jewelry encrusted with surrounding small round-cut diamonds.
So here are the top 5 most beautiful solitaire rings that can give you some inspiration for your wedding! Hope we have helped you find a perfect diamond ring.