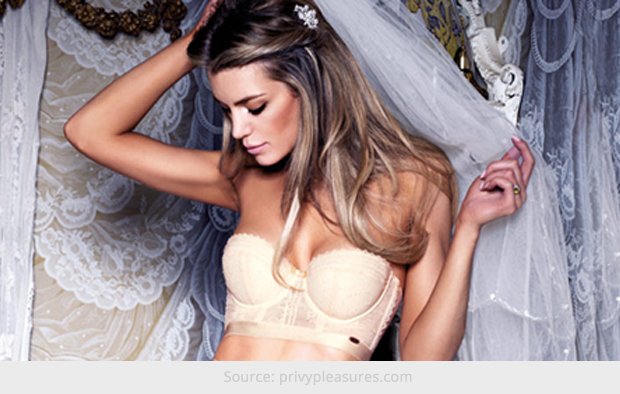 You are a princess on your wedding day. Whether they like it or not, you are the prettiest in the crowd, especially in the eyes of your soon-to-be husband. Therefore, you need to look your best, and that means being comfortable underneath, too. If you think lingerie ends there, think again. You need to make sure that you are ready for the night that comes after the wedding.
Yes, your honeymoon. Before you hit the panic button, here are tips on how to choose the best and sexiest lingerie, both on your wedding day and the night that comes after you say "I Do."
[Also Read: Top Lingerie Brands]
Lingerie in your Honeymoon
Are you thinking of spicing up your wedding night? For sure, the things that you and your new husband planned will keep you wanting for more but if you really want to up your game, then getting yourself lingerie and actually wearing it can surely do the trick.
Sexy lingerie can make your honeymoon sizzle because it brings out your best assets and hide those areas you want to hide – in the most enticing and appealing manner as possible. Plus, it's about fulfilling his fantasies since who wouldn't want to make love to a gorgeous, hot woman, right?
Are you ready to go lingerie shopping? Before you do, read below to find some tips you should know when shopping for your sexy investment.
Tips in Buying the "Ultimate Lingerie" for Wedding Night and What Comes After
For the Wedding Night
Bridal lingerie is as important as the dress itself. Despite the fantastic bead work or classic design by whoever popular designer, you need something underneath to support it and make sure everything stays in place, including those "assets" you are trying to hide.
When shopping for bridal lingerie, remember this:
Choose your lingerie according to the style of your wedding dress. Strapless wedding dresses calls for strapless bra or corsets. If you have a slinky or sheer dress, you need seamless lingerie in nude color.
Know your measurements. You don't want to wear a lingerie that is either too tight or too loose for you
Think about comfort. Don't wear a lace-y thong when it makes you feel itchy. If you are not the corset type, then that's fine. Lingerie is meant to be worn for hours so make sure you're comfortable with it as well
Make sure to choose lingerie that suits your shape well
Nightwear for Honeymoon
After the white, nude or ivory lingerie, it's time to do something sexier and more daring. It's your first night as Mr. and Mrs. so there's nothing wrong with boosting the playing field a bit.
Keep these in mind when shopping lingerie for honeymoon:
Don't stop with red or black. Sure, those colors are seductive but there are other color combinations that spell out "hot" when worn
Keep comfort in mind. Again, if you're not comfortable with a particular style or fabric, then move on to the next
Consider the weather. If you're heading somewhere warm, lighter textures and fabrics are recommended. If you plan to go to North Pole or anywhere colder, then add accessories (or fur, if you wish) for added thrill
Know what your husband likes. He's the one looking at you so make sure you satisfy his fantasies
More importantly, do not delay and do your last-minute shopping on the eve of your big day. If you want to look fresh, sans the bride-zilla look you've been sporting for months due to wedding planning and preparations, do your shopping as soon as you can. This saves you a lot of time too and assures you that you won't be making the wrong choices.
Author Description
Sunny for PrivyPleasures loves everything about clothes and online shopping. He gives expert advice on lingerie for the brides-to-be for their wedding nights and honeymoons.  Also he understands that female buyers find it difficult to buy lingerie from retail stores, and nowadays, most prefer to buy it online.