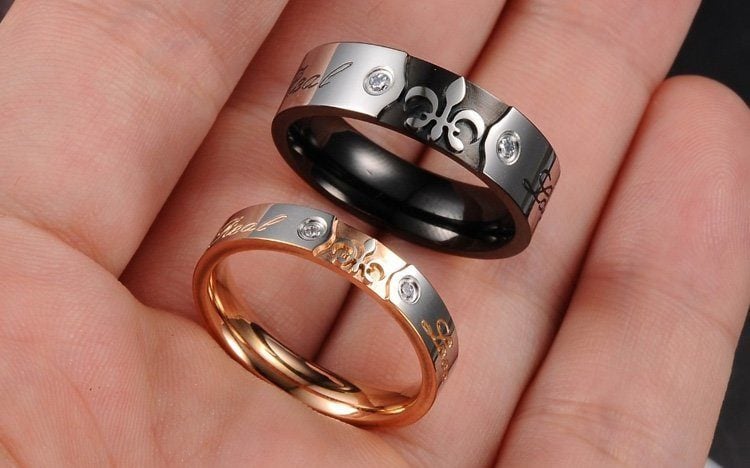 A promise made is a promise kept. We are really unsure whether the concept of promise rings for couples was introduced to make the appeal of this saying stronger, but it is a new-age phenomena that is obviously going to stay. A promise ring is a symbol of love, respect and commitment that would last a lifetime. So, how to find this statement piece for her or him?
[Also Read: Shopping For Promise Rings For Girlfriend]
Types Of Promise Rings
Let's explore different types of promise rings that are exclusively made for couples who are truly made for each other:
1. Heart To Heart
What can be more exciting than a pair of simple 925 Sterling Silver bands with heart-shaped cut-outs to make a promise? To signify a stronger heart-to-heart connection, there are choices in which her ring with a lovely heart can be perfectly fit inside his one featuring the same-sized cut-out.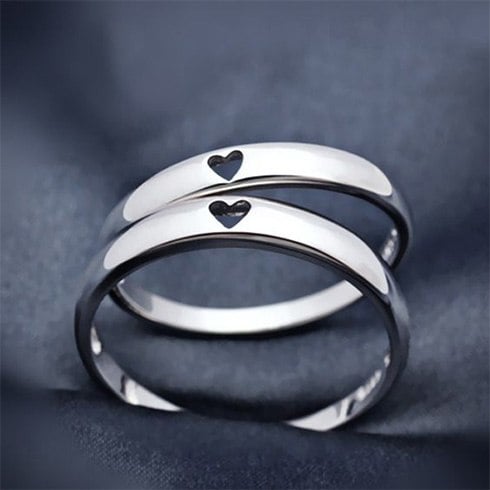 2. Electrocardiogram
These 'electrocardiogram' couple promise rings are totally hip these days. The bands with heart waves engraved in them will certainly make your heart skip a beat. They are available in various attractive metals like gorgeous black tungsten, dazzling titanium, etc.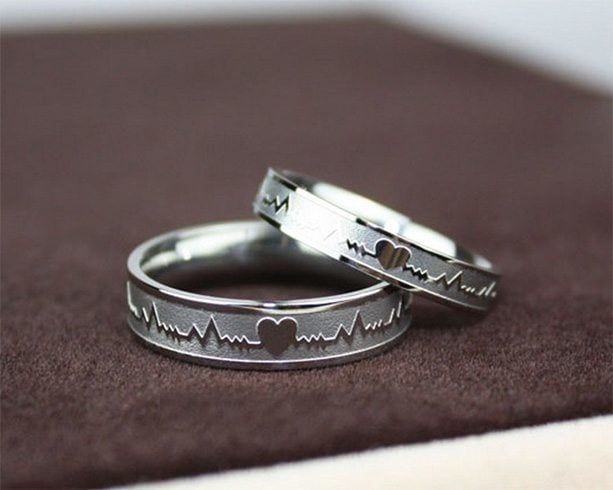 3. Love Never Ends
A gleaming pair of couple promise rings with engraved words like 'Forever' and 'Love' is just the right thing to symbolize eternal love. There are variations like 'Endless Love' carved in his ring, while hers comes with a beautiful heart-shaped cubic zirconia to fit perfectly in the cut-out of the earlier.
[Also Read: Engraved Promise Rings For Women And Men]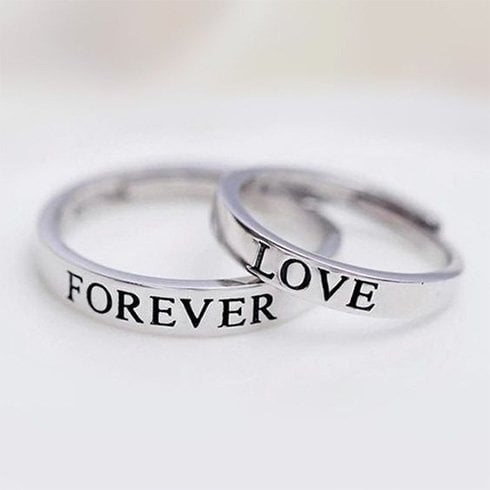 4. I Will Always Be With You
A promise is all about being with each other till the last breath. Make it sound even more real, positive and unbreakable with this unique pair of titanium steel band-style couple promise rings with words 'I Will Always Be With You'. Lovely idea, isn't it?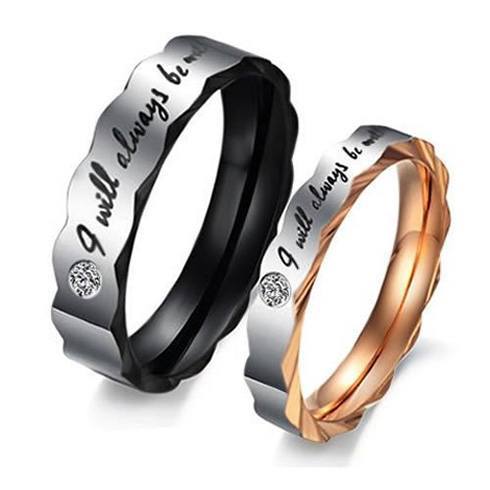 5. Today Tomorrow Always
Promises are made for today, tomorrow and always. Believe it? Take the first step towards proving it by choosing this awesome couple ring design idea. The sterling silver and the small diamonds will add a classy touch to the rings.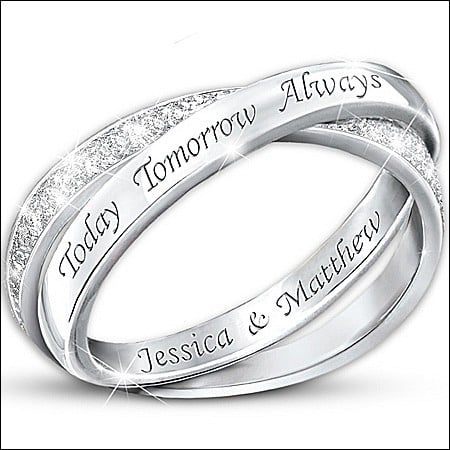 6. Prince & Princess
Elegant crown rings for her prince charming and his princess perfect are absolutely 'promise materials'. Be it a yellow gold ring studded with man-made diamonds or a sterling silver crown adorned with semi-precious gemstones, all are stunners. What do you say?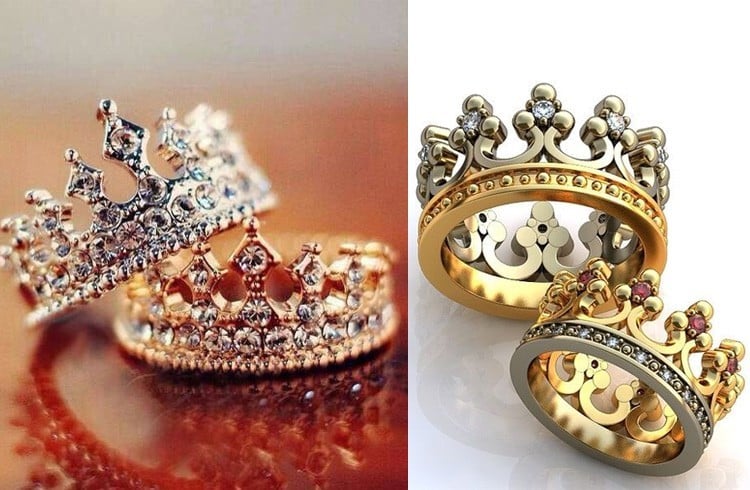 [sc:mediad]
7. Vintage Love
Want to make a lifelong promise in a classic style? Vintage promise rings for couples can be the best choice for you. Have a look at this antique dark blue sterling silver band rings with glitzy cubic zirconia diamonds on it. So, ready to show your vintage love?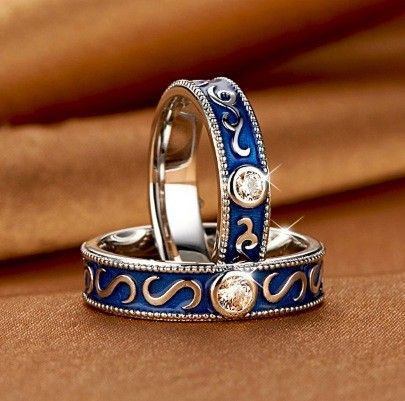 8. Lock-N-Key
The concept of this lock-n-key design is unique and very much relevant to the event of promise-making. From shapes carved in white and yellow gold band to cut-outs in sterling silver band, they will surely let him open the door to her hearts.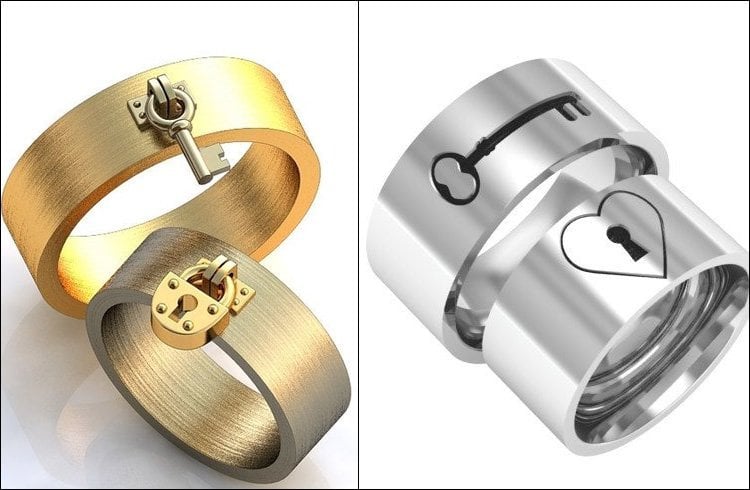 9. Love Birds
Here is a wonderful pair of promise rings made of sterling silver and featuring two lovebirds sitting on a wire. Needless to say, this is an exquisite choice for true love birds.
[Also Read: Beautiful Couple]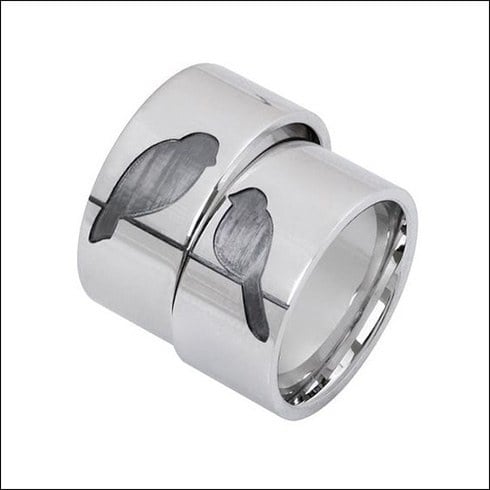 10. I Love Him – I Love Her
Show your love for each other to the whole world with this amazing couple promise ring set. Those three magical words scored in the sterling silver bands will keep the fire of romance alive for the whole life.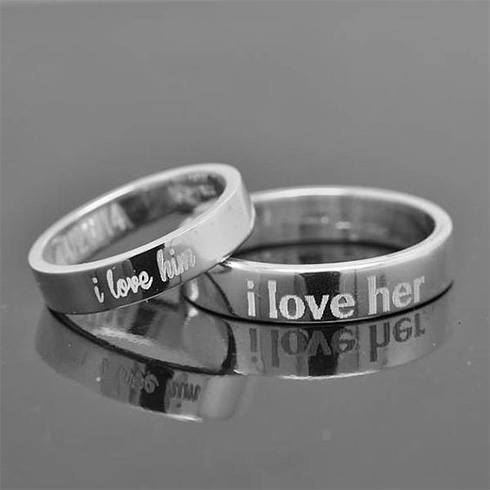 11. The Puzzle
How about trying a cool ring design for making your promise unforgettable? Grab this puzzle of love ring set and stay together through thick and thin just like the pieces of these sterling silver rings.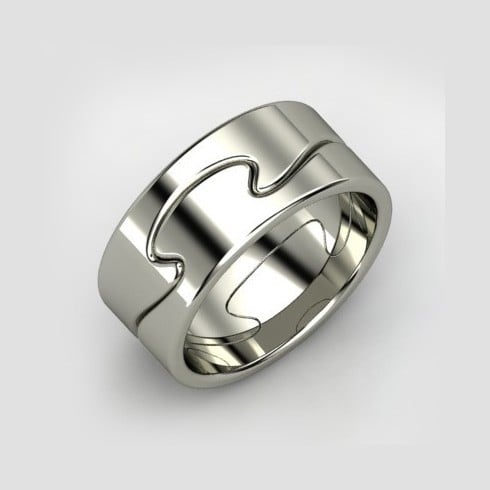 12. Two Shades of Love
They say that love has two shades. This couple promise ring set is ideal to represent it. We find the eye-catching designs of these rose gold band for her and black tungsten band for him completely irresistible.
[Also Read: Affordable Engagement Rings]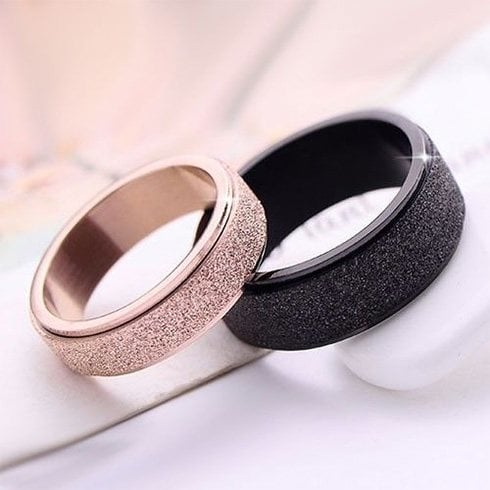 13. His One – Her Only
While choosing promise rings for her, men should express that she is the ONE whom he can't live without. And what about you, ladies? Umm….let him know he is the ONLY person for whom your heart is beating. Adorable ring set, indeed!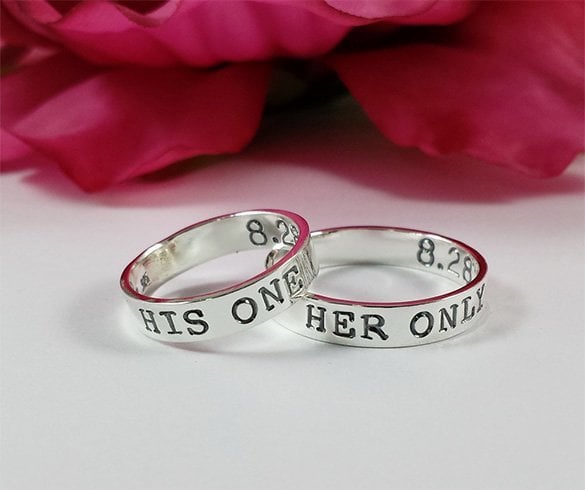 14. I Love You – I Know
Yes, you are deeply in love with each other and the best thing about it is that both of you know it by heart. It's time to put your feelings into words and carving them in your promise rings is an excellent idea. Give it a try!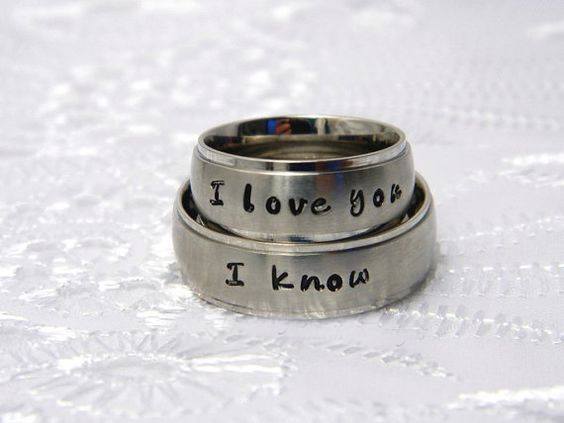 15. Platinum Love
If you are a platinum lover, this couple promise ring set will make your love for your partner stronger for sure. A startling choice studded with lots of cubic zirconia diamonds and platinum engraving – are you game for it?
Have some more ideas about promise rings for couples in your mind? We are all ears. Share with us in the comment section and let us know your preference for promise rings.
Images Source: pinterest