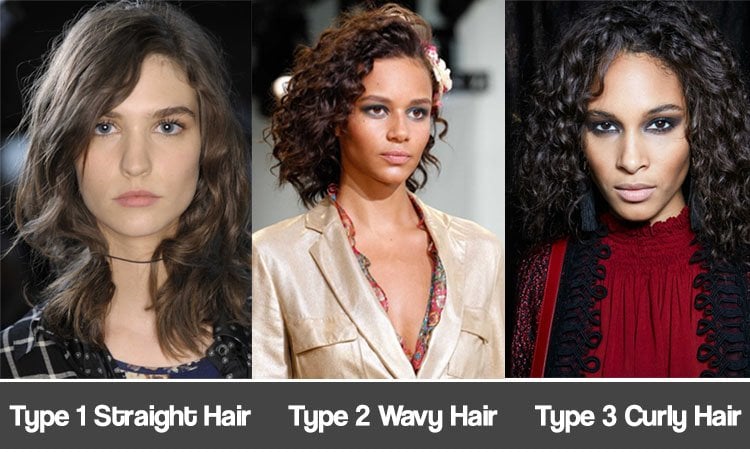 Decoding your hair type can get pretty confusing. We understand you. As there are many hair textures that can exist on one head alone, you may need to have a consistent look for rocking a hairstyle. In addition, there has been a lot of arguments whether the hair categorizing system, originally started by hairstylist Andre Walker, and modified by the rest of the beauty world experts, is applicable.
But apart from all the negativity, there are people who are also willing to apply it even if it isn't perfect. This is really useful in terms of identifying your hair type. There are a lot of thoughts on straight, wavy, curly hairstyles where experts decoded hairstyle for every hair type! You can follow up this simple sheet below, complete with recommendation for hair care, to help you better in treating your hair type.
What is the Hair Type Chart?
One of the most popularly-used hair classification chart categorizes hair into four groups- straight, wavy, curly, and kinky. Each group is subdivided into A, B, and C for improving hair texture. For instance, fine straight hair is classified as 1A and Z-coiled hair is termed as 4 B/C.
If you are thinking which hairstyle suits me, then you need to take a look below to find out more about your hair type:
(A.) Type 1 Straight Hair:
Straight hair is divided as Type 1 hair. It is also considered as the most strong and oiliest of hair types, as the sebum from glands can easily make its way through the hair tips. This is also considered curl-resistant, and can range from superfine to fragile hair (1A), fine, thin hair (1B), to coarse, thin hair 1(C). For this type of hair, one should make use of clarifying daily moisturizers and volumizing wash and care systems, and styling products that provides body, bounce, and lift to fine, and limp hair.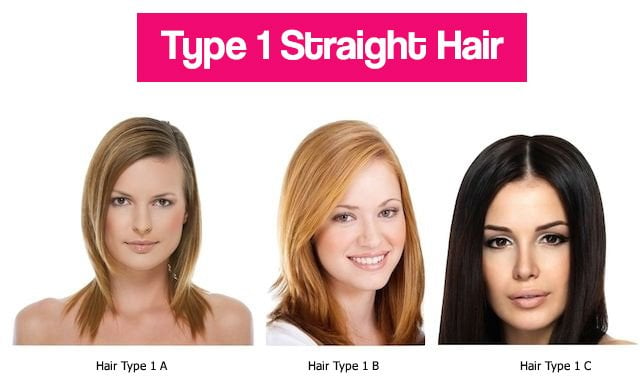 Hair Type 1 A
1A hair type usually has baby-like, fine, straight hair. These tresses do not hold curls and can be difficult to style. Certain drawbacks include oiliness and limpness. You can make use of dry shampoo on your hair and avoid thick conditioners that weigh hair down, giving tresses a greasy look.
Hair Type 1 B
Women with Type 1B hair tend to have fuller strands with slight bends at the end, with no curls. To give your hair volume and texture, make use of dry texturizing spray over the roots, before styling with a flat iron.
Hair Type 1C
The 1C category is primarily straight with little waves. It is super thick and susceptible to frizz. This type of hair can hold curls really well. But, in order to avoid frizzines after stepping out, you can make use of a smoothing serum and blow dry hair in the cool setting.
Best products to use:
Dove Radiant Shine Shampoo, Dove Radiant Shine Conditioner, Nexxus New York Salon Care Diametress Lavish Body Gel Spray, Nexxus New York Salon Care Hydra-Light Root Lift Mist and TRESemmé Beauty Full Volume Hair Maximizer.
(B.) Type 2 Wavy Hair
Wavy hair is categorized under Type 2 and ranges from fine and straight (2A) to wavy (2B) to coarse and wavy (2C). A type 2 hair develops its hair structure from the cortex shape and is divided into three categories including 2A, 2B, and 2C. It is classified as hair that is naturally wavy. Type 2 hair forms an 'S' shape in the hair. The stronger the 'S' shape is, the curlier the hair will be.
2 A
2As have fine and tousled texture that is simple to straighten out. People with this type of hair texture have to be careful about using heavy styling products that easily weight down their hair, leaving them lifeless. 2A waves mostly lack volume at the root. You can make use of an airy water-based mousse to add volume at the base and make hair look fluffier.
Hairstyles for 2A hair:
We suggest creating celeb-inspired long bob, which works wonders for this type of hair category. Such hairstyles for your hair complement your hair type. Or, you can even try a shorter version of the bob and opt for a chin-grazing bob to show off your luscious locks.
2B
2Bs are flatter at the top with a defined S-shaped waves starting from the mid-lengths. The tresses are thicker in diameter than 2A and you will need to apply a little amount of elbow grease for achieving a straighter result. To improve your natural beachy waves, make use of sea salt spray enriched with seaweed and algae extracts, for a sexy texture.
Hairstyles for 2B hair:
Type 2 hair looks amazing on longer hairstyles and with the much-desired beach waves, you can channel its cool vibes.
2C
2c waves are thick, coarse, and susceptible to frizzines. The S-bends are well-defined and start at the roots. For the best treatment of this hair type, you will need a sulfate-free shampoo for not stripping off essential moisture from strands. We also recommend a rich leave-in conditioner under a mousse to lock in hair's natural moisture and hydration.
Hairstyles for 2C hair:
As type 2C hair type feels heavy due to thickness, we suggest styling the hairdo on one side or off-center parting and pin it back if needed. In addition, avoid straightening your hair and wear them naturally in a short, shaggy haircut.
Treatment:
Women with Type 2 hair naturally possess beachy waves. This hair type has great versatility, allowing one to opt between straight and curly styles with little effort. While it is amazing to go for straight and curly styles, women with Type 2 hair, often struggle to understand the hair category they belong to.
Meaning, they do not fall under straight or curly hair category. The Type 2 hair also tends to fall flat and frizz off rather easily than straighter styles. This means, you have to look for products that care for your curls. This hair type provides moderate amount of sheen and natural body, and is also a hair type which is prone to frizzines. To fight these problems, make use of anti-frizz shampoos and conditioners, lightweight hair oils, and humidity resistant styling products.
Best Products to use:
Dove Anti-Frizz Oil Therapy Shampoo, Dove Anti-Frizz Oil Therapy Conditioner, Suave Professional Moroccan Infusion Styling Oil, TRESemmé Climate Protection Mousse New York Salon Care Humectress Encapsulate Serum.
(C.) Type 3 Curly Hair
Type 3 curly hair ranges from loose, buoyant loops to tight, springy ringlets, which have added sheen and is prone to frizzines. Curly hair is categorized as Type 3 hair and divided according to the curl tightness- loose ringlets (3A) to tight corkscrews (3C), no matter what your ethnicity is. You can consider a dry hair type owing to the coil that prevents sebum from fortifying and nourishing hair lengths. This type of hair is also fragile and prone to breakage and damage, especially when treated roughly. There is a difference in several hair type charts, with some possessing only two subcategories for Type 2 hair- 3A and 3B- and others. Other natural hair-friendly charts include a 3C type, which is classified as tight, almost Z-like corkscrews. People with this type of hair should use products that keep hair moisturized throughout the day and protect it from frizzines, without deflating your ringlets.
Type 3A
If you are not sure about finding out whether you have 3A hair, then here is how you can find out. If your curls are loose, light, and have a 'S' shaped curl pattern, then you have 3A hair. Without hydration, women with this curl type tend to experience frizzy hair and lack of curl definition which can be treated using a contour cream like TIGI Bed Head.
[sc:mediad]
Hairstyles for 3A
3A strands are mostly about large, loose curls. Scrunch it using de-frizz curling cream onto dry hair to enhance curl texture. But keep your hands off from touching your curls afterward. For maintaining springy curls, simply spray hair using curl refresher, whenever hair needs a boost.
Type 3B
Confused of what your hair type is? If your hair fall under the category of Type 3B category, your hair tends to be lot more voluminous and coarse. In addition, your hair type tends to have a lot more volume to it, as it can easily get dry. For best nourishment, invest in nourishing oil like Dove Advanced Hair Series Pure Care Dry Oil Nourishing Treatment. This all-in-all product can make your Type 3B hair feel smoother, shinier, and more manageable.
Hairstyles for 3B
3B features coarse, springy ringlets similar to a marker. This hair texture often gets dry, so you can try styling gels that contain humectants in them for added moisture to tresses. You can try a mild styling gel and apply when hair is wet to avoid frizzines.
Type 3C
Do you have tight corkscrew curls? If so, then you have Type 3C hair which tends to be dense and coarser, compared to Type 3A and Type 3B. In addition, you'll have to deal with hair problems like dryness, frizzines, and tangles. One of the best ways to tackle this type of hair type is to re-wash hair frequently.
Hairstyles for 3C
3C curls feature tight corkscrews that differ in circumference from a straw to a pencil. This type of strands are densely packed together to offer natural volume. This type of strands suffer from frizzines, so therefore make use of a sulfate-free, creamy cleanser to not dry out hair. You can make use of a mousse when the hair is still damp for allowing curls to clump together and dry faster.
Three Hairstyles for Type 3
Now that you know all the details about Type 3 hair, it's time for you to find inspiration on how to style your hair. Luckily for you, we've got you covered. So you can take a look below to see how these hairstyles type whilst styling.
Halo Braid
When you are bored of wearing your Type 2 hair, you can simply rely on updos. This is the simplest method to amp your hair game. You may try a gorgeous halo braid hairdo and you'll totally understand how good it makes you feel.
Pineapple Updo
The pineapple updo sits pretty on your head, is totally practical, and sure to become your new favorite. The sky-high updo can effortlessly show off your curls and keep them off your face. This look is ideal for lazy girls as it can be whipped up in seconds, making it a hot favorite for everyday wear.
Braided Ponytail
Braids and ponytails can never go out of style and are forever trending. Well, do you know your Type 3 hair can allow you to have fun, too? With this gorgeous braided ponytail hairdo, you can have all that and more. You can totally slay with this look even on work days or romantic date nights.
Best products to use:
Dove Quench Absolute Ultra-Nourishing Shampoo, Dove Quench Absolute Conditioner and Dove Quench Absolute Supreme Crème Serum, Suave Professionals Coconut Milk Infusion Intense Moisture Mask, Bed Head by TIGI On the Rebound and Dove Style+Care Curls Defining Mousse.
(D.) Type 4 Coily Hair
Coily hair is also known as afro-textured or kinky hair. It is naturally very dry and spongy in texture, soft, fine, coarse, and wiry. This type of strands are tight, has zig-zag small curls starting from the scalp and lead to major damage. The driest of hair type under this hair type category. Kinky hair falls come under Type 4 category in the hair type chart. It features Z-pattern to its corkscrews, which can vary from extremity, tight coiled with a definite curl pattern (4A) to z-coiled with no visible curl pattern (4B). There are few hair type charts which add another subcategory under this type: 4C hair which was seemingly added by using natural hair community to include hair with curl patter kinkier than 4B hair. As type 4 is more prone to damage and is fragile, you need to treat it with care. You can look up for gentle shampoos; leave-in conditioners, nourishing daily moisturizing butters, and super-hydrating, and non-petrolatum hair oils.
Best products to use:
Suave Professionals Coconut Oil Infusion Damage Repair Shampoo, Suave Professionals Coconut Oil Infusion Damage Repair Conditioner and Suave Professionals Coconut Oil Infusion Damage Repair Treatment, Dove Quench Absolute Leave-In Detangler, and Dove Quench Absolute Intense Restoration Mask.
Hairstyles for 4A
4As feature dense springy and S-patterned coils. If you have 4A type of hair, then can style your hair more frequently to keep the coily texture popping with pliable strands. You can make use of a curling cream and leave-in moisturizer for added moisture to hair strands.
Hairstyles for 4B
Women with 4B strands have dense hair, which can get bent in sharp angles like a Z letter shape. This type of hairdo can be styled in many ways. You can make use of a moisture spray to keep coils and curls hydrated after shampooing. For best maintenance, make use of hydrating curling creams as they are thicker and looks great on two types of product distribution methods that create coiled shape and clump together for better texture, definition, and elongation.
Hairstyles for 4C
4C is similar to 4B texture. But the tight coiled tresses are more flexible and have tight zig-zag pattern. This type of hair experiences the greatest amount of limpness compared to other textures. For instance, if you are a 4C, then your hair will be naturally versatile and stunning. You can have fun creating new hairstyles. This type of hair type is more prone to shrinkage and dryness. So make sure to use a liberal amount of leave in moisturizer to maximize the length of the strands. Castor oil is a great solution to hydrate and seal in your dry texture.
Now that you have learnt all about unique hair types- Straight, Wavy, Curly: Experts Decode Hairstyles For EVERY Hair Type you will know exactly what your hair type is. Style it accordingly and be ready to grab some attention.