The week that concluded was deep in the fervor of Lotus Makeup India Fashion Week SS'20. The Indian runway was riveting to say the least; with works of the best designers. The four day fashion fiesta saw over-the-top ensembles, swoon-worthy dresses, to the most unexpected hand-woven details. And we've tracked out all the breathtaking runway moments. Click through to see all the top collections for real.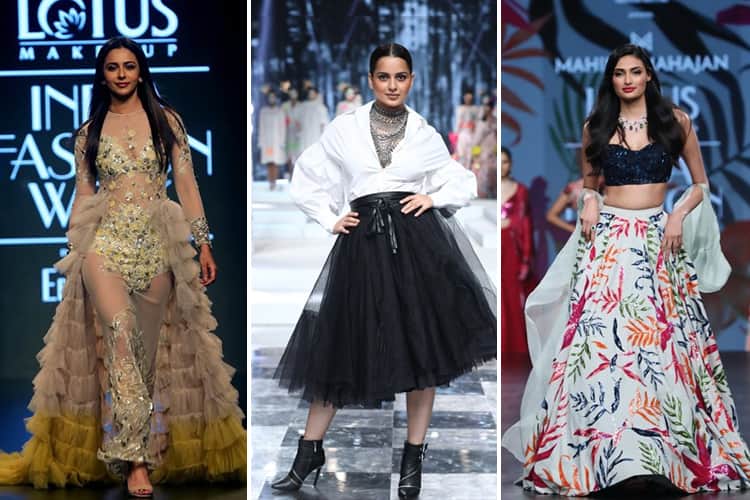 All the Highlights from Lotus Makeup India Fashion Week Spring Summer 2020:
Scroll below to see all the best looks:
Day 1 Highlights:
Here are all the highlights from Day 1:
Ragini Ahuja:
Opening Lotus Makeup India Fashion Week on Day 1 was designer Ragini Ahuja who created a sustainable collection that felt in tune with the women of today. Her collection Quam reflected tailored ensembles that included motifs in shades of rust, beige, navy, red, and mint dominating her silhouettes. Her creations were hugely inspired from Tibetan, Persian, Usbek, and Arabic cultures featuring sarees, A-line jackets, shirts, dresses, shirts, and salwar kameez.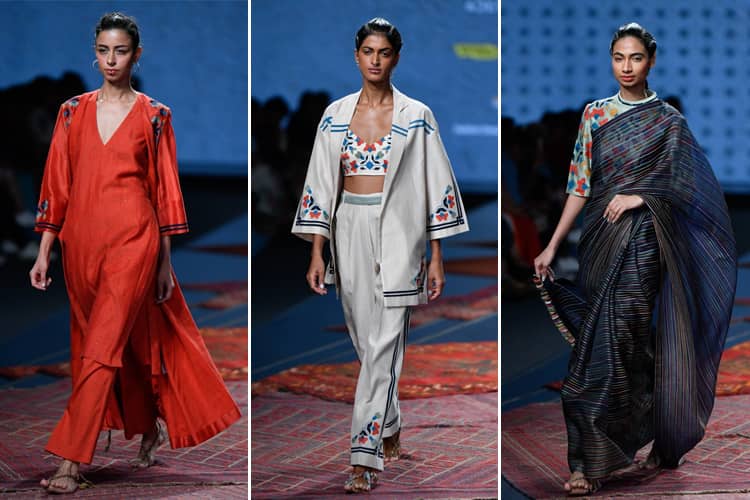 Pratima Pandey:
Following the sustainable path was another designer, Pratima Pandey with her collection, Dastaan. Drapes in chanderi, skirts in delicate, floral embroidery, and subtle tailored kurtas were an obvious nod to the easy-flowing style-one we're totally on board with.
The showstopper for this collection was Sakshi Tanwar.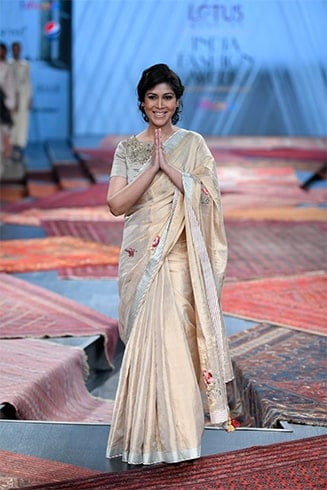 Amita Gupta:
Amita Gupta's collection 'Prith-WE' reflects sustainable fashion. All the ensembles were created using warp waste from handlooms. The collection also saw a vast mix of hand-woven fabrics like Khadi and traditional weaves like Batik and Jamdani. Notable pieces of this collection included sheer coordinate sets, trousers, sarees, and shirts with ruffle and tassel detailing.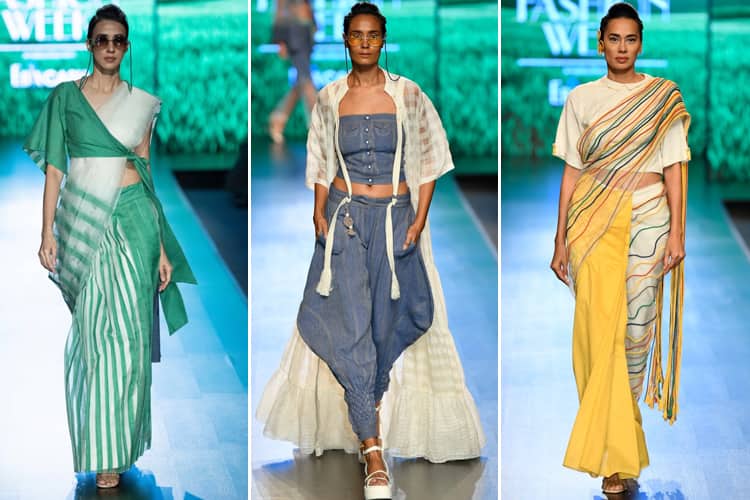 Diksha Khanna:
Diksha Khanna's 'Pine Breeze' collection was there, too which was inspired by beautiful landscapes of the Himalayas. Cut down denim pieces reigned supreme that was styled wit joggers. Maxi dresses, linen sarees, ribbed hoodies, statement capes, and tie-dye skirts with dip dye techniques were the other highlights.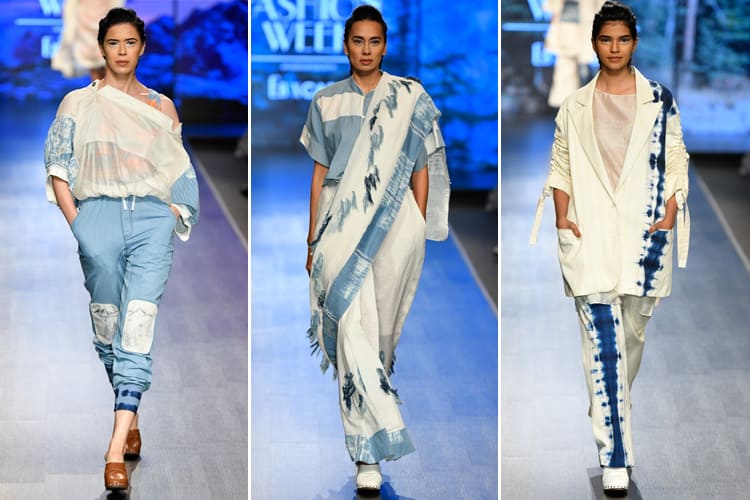 Nidhi Yasha:
Nidhi Yasha's collection, 'A pathway to Money' was taken inspiration from artist Claude Monet's paintings. The whole collection a dreamy range of exaggerated sleeves, ruffles, fringes, sequins, and structured jackets. Models sashayed the ramp in gorgeous garments in different fabrics including habutai silk, chiffon, organza, brocade, and satin.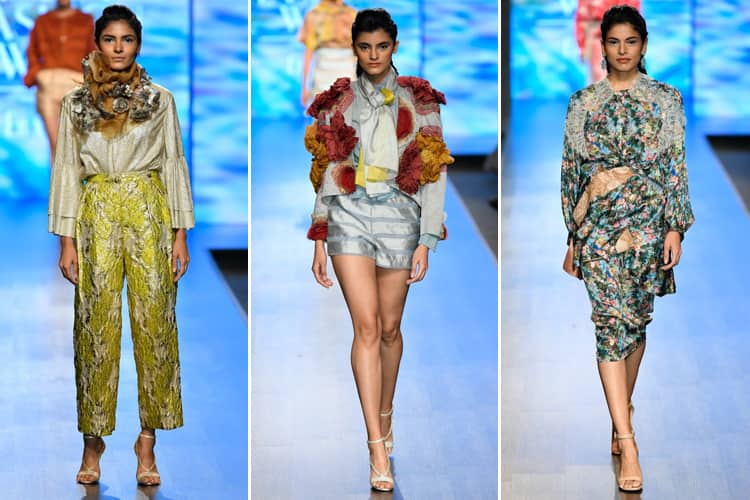 Samant Chauhan:
Samant Chauhan's collection titled, 'The Starry Night' depicted appliqué and embroidered garments. The wide-ranging use of colorful embroidery on skirts, trousers, gowns, capes, and corsets were the stealers of the show. Other noteworthy highlights were ruffles, bell sleeves, long trails, and asymmetrical designs.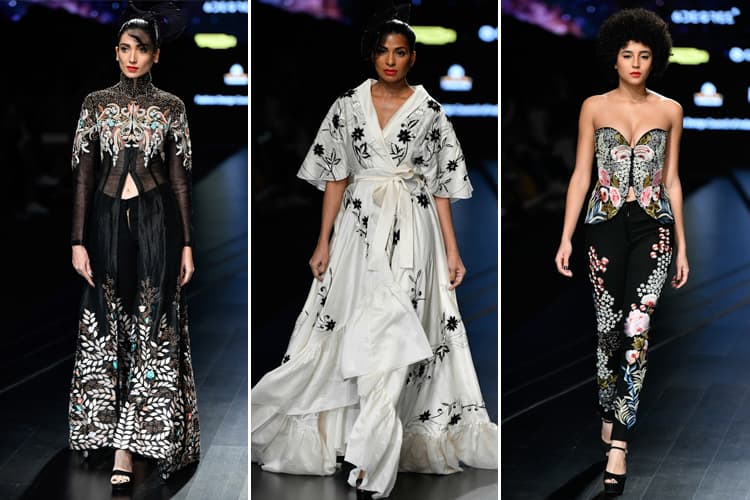 Rimzim Dadu:
Rimzin Dadu launched her menswear collection at SS/ 2020 show using signature textures, modern cuts, and metallic drapes. The collection also showcased the use of unique metal cords and steel wire designs in textured dresses, skirts, jackets, and sarees. Gold, silver, teal, and emerald were the colors that dominated her designs.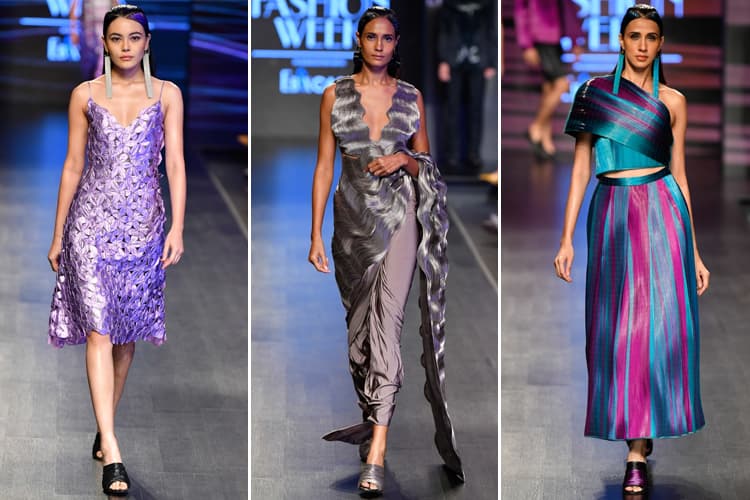 Pepsi X Huemn:
Day 1 ended with designers Shyma and Pranav from Huemn in partnership with Pepsi India. The collection PepsiXHuemn took inspiration from the Pepsi logo which included comfortable and sporty wear.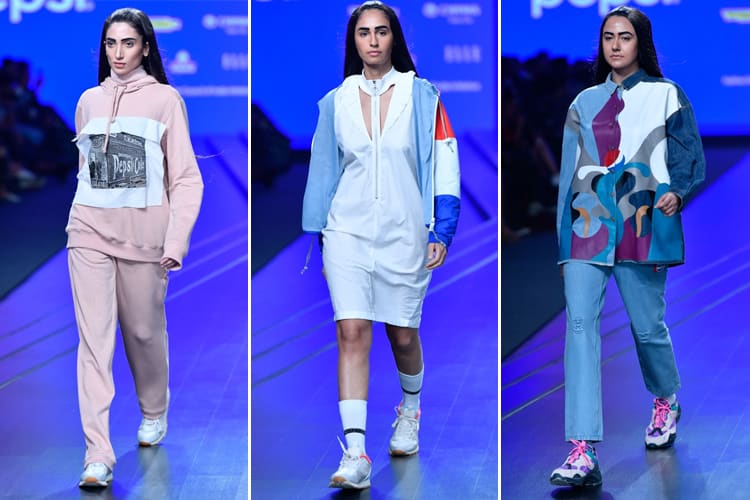 Disha Patani was the showstopper of the show and was seen wearing baggy denims and white t-shirt.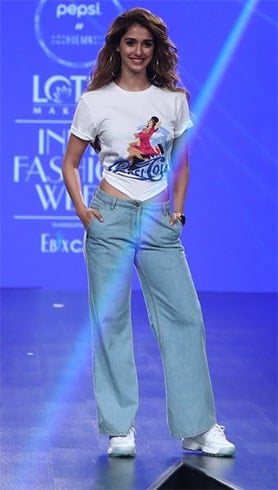 Day 2 Highlights:
Here are all the highlights from Day 2:
Sanjukta Dutta:
Assamese designer Sanjukta Dutta stayed true to her roots with her creations. She grew from strength to strength so it's no surprise that the designer nailed her S/S 2020 collection here at the Lotus Lakme Makeup India Fashion Week.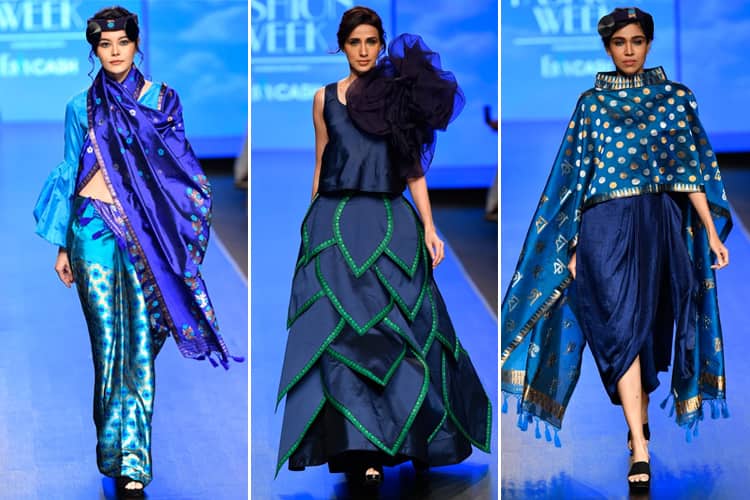 The showstopper for her show was dynamic mother-daughter duo Sharmila Tagore and Soha Ali Khan.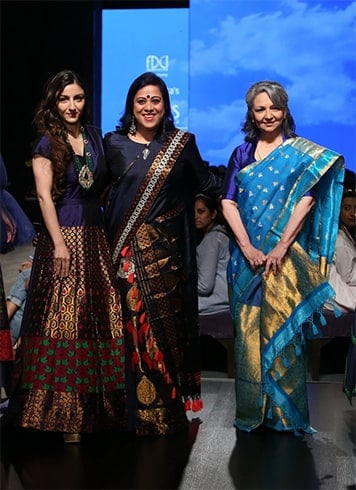 Parul & Ashie:
There was no mistaking the wedding-ready mood here done by the designers Parul and Ashie. Models walked the ramp in ruffled and fringed sarees setting the scene while Vartika Singh's final walk lifted the spirits high.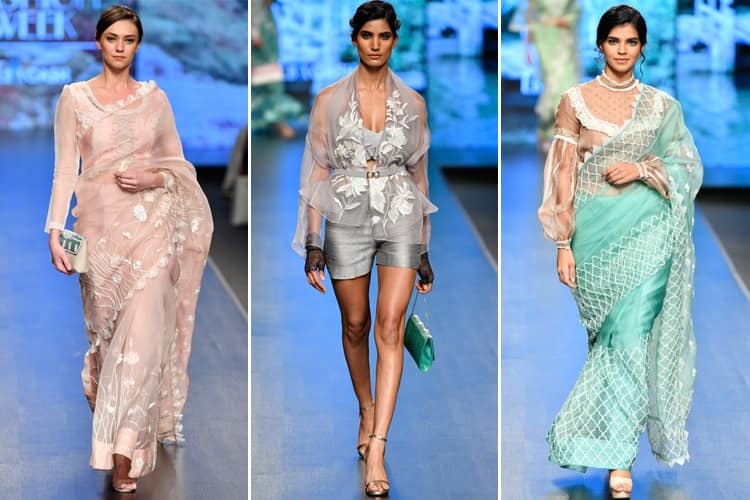 Yogita Kadam:
Yogita Kadam always nails effortless and classy staples and this collection was no less. From perfectly poppy hues to softer toned dresses and sarees alike, the designer took care of everything.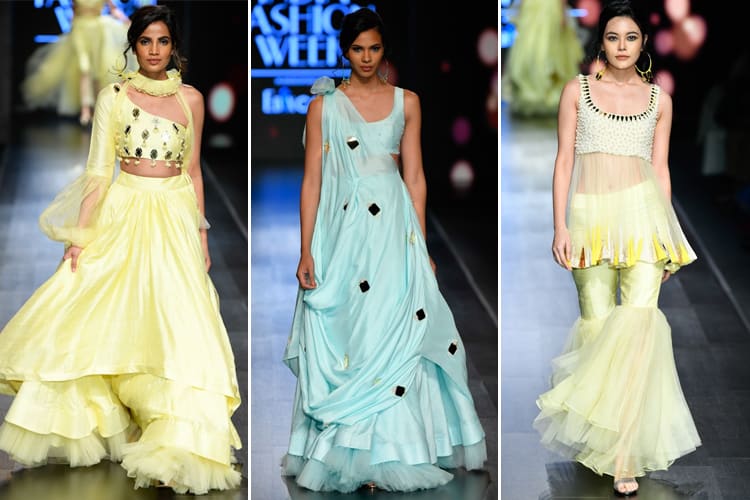 Shibani Dandekar graced the runway looking dreamy as ever.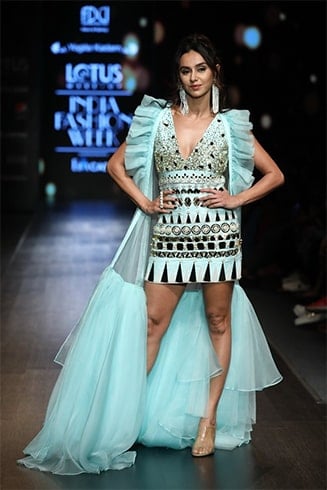 Priya Machineni:
Priya Machineni went on a colorful and assorted journey through time for summer and spring. There were references of the season's periods, hues, and designs. And amidst all these, there was a modernized version of structure.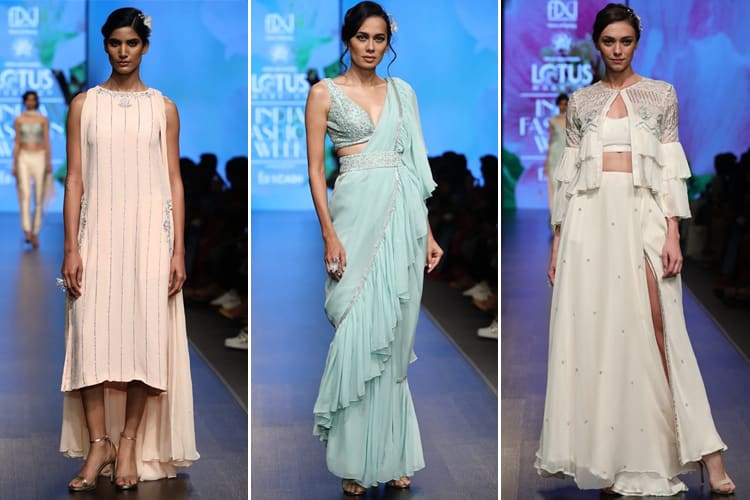 The rest of the show was beautifully carried forward by Shamita Shetty.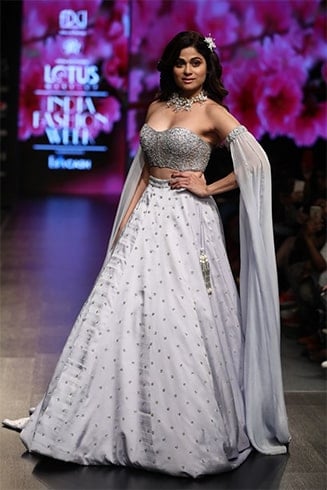 Fluid Elements: Gazal Mishra | Purple Feathers by Pinkey | Abstract by Megha Jain Madan | Just Like That by Anju Jain:
These designers collectively kept the fashion house fun and steadfastly versatile. Fluid ensembles, draped sarees, feminine tunics, summer jackets, and ruffled gowns bought the show to greater heights.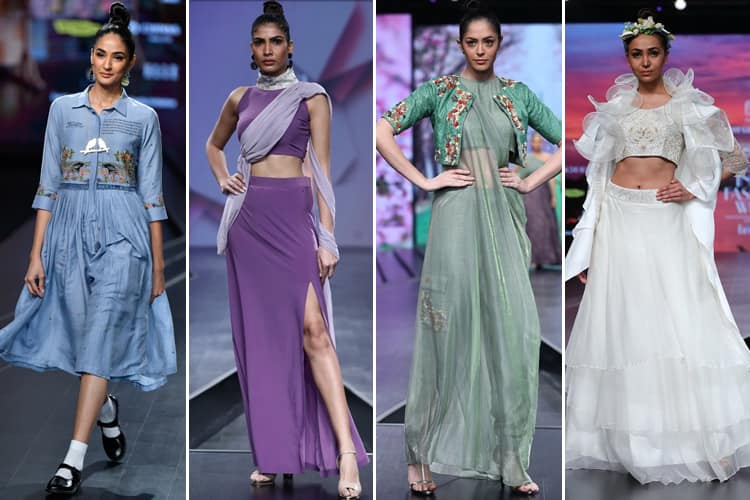 Munkee.See.Munkee.Doo:
Together, the collection by Munkee.See.Munkee.Doo is most wearable with their use of lightweight and clean cotton fabric dresses. Also note the designer's eye for detailing.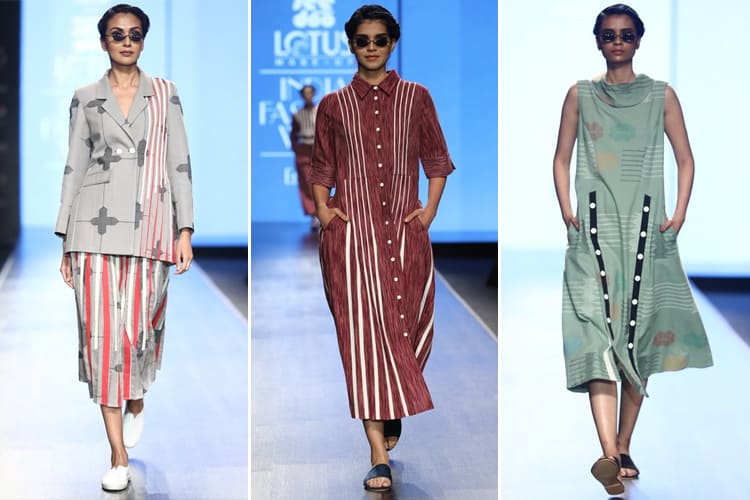 Naturally Anuradha:
While we may not realize the designer's approach of using Assam silk at a glance-but her offering of the sourced fabrics encompasses everything.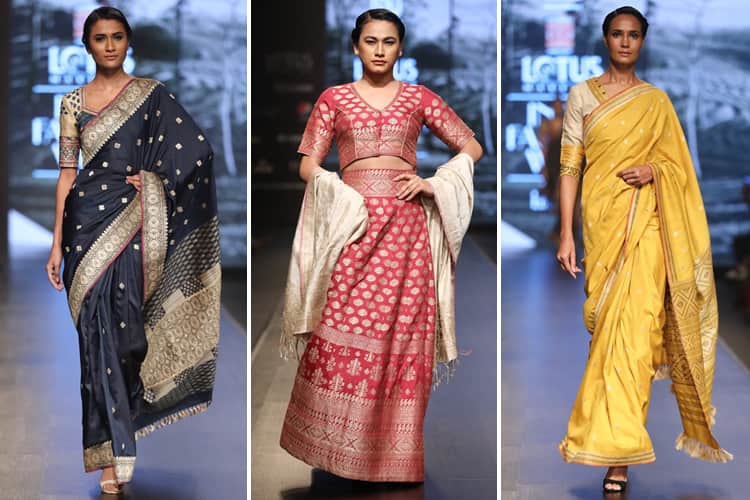 Dhi:
Dhi has won over all fashion hearts. We mean who doesn't fall for clean, pretty pastels ensembles? There were also monochromatic silhouettes that garnered gasps (of delight).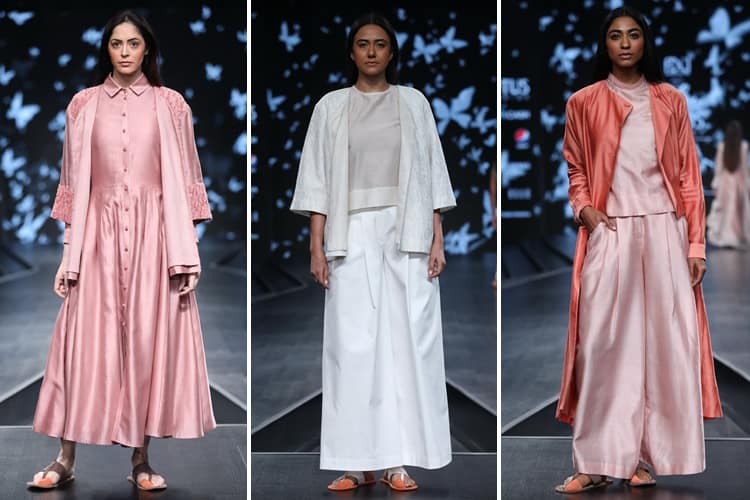 Shruti Sancheti:
Shruti Sancheti's collection rested upon power dressing. Heavy embroidery and appliqué work were the main focus and also the crowd's favorites.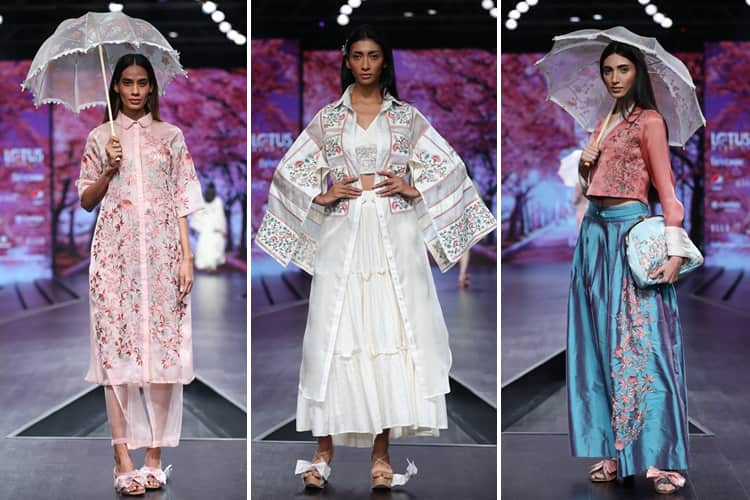 Nitin Bal Chauhan:
Perhaps the most impactful moment on Day 2 of the fashion week happened at designer Nitin Bal Chauhan's show. His collection 'Dementia' revealed the inner workings of the mind during a mental breakdown. The outfits that were represented included pointed collars and easy wear designs to bring contradiction.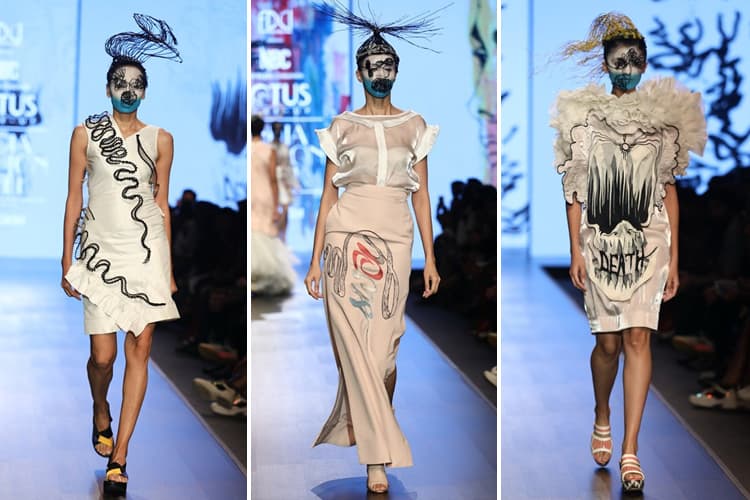 Falguni Shane Peacock:
Day 2 ended with on a high energy note with a live band and models walking the ramp in ethereal ensembles. The collection also included resort-wear creations in the form of dramatic finishing.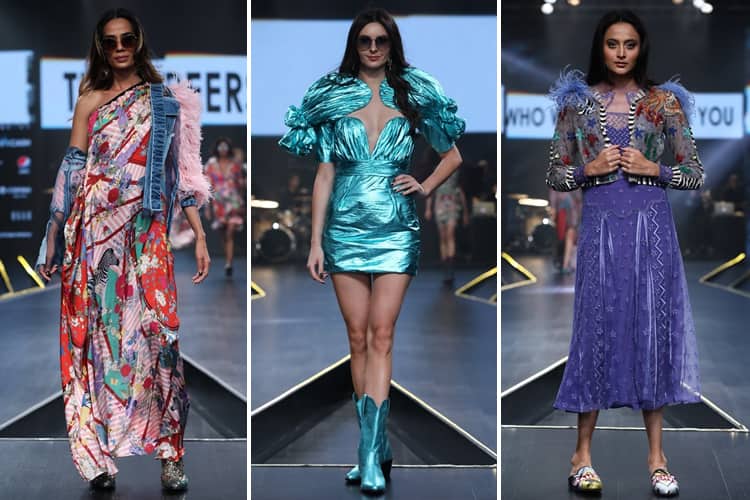 Yami Gautam made the final walk for the designer duo.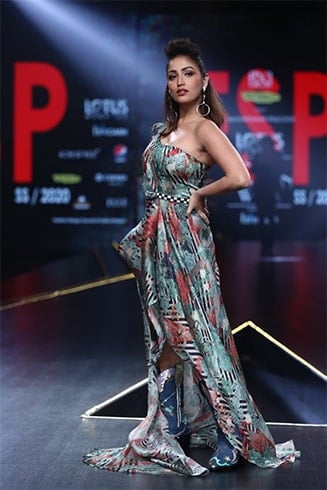 Day 3 Highlights:
Here are all the highlights from Day 3:
Nithya Reddy:
The designer looked to a vibrant mix of ultra free flowing silhouettes in the form of dresses, styled with a myriad of flat footwear. The colors were a muted mix of pinks, yellows, and white thrown in with floral prints. The other key takeaway was the whole basket of flowers that models sashayed down the runway.
Nidhika Shekhar:
Titled 'The Red Phase,' the collection was inspired by a women's menstrual cycle as evidenced by the red ensembles. The show notes was meant to illustrate the strength of a woman and to empower those that took menstruation as a taboo.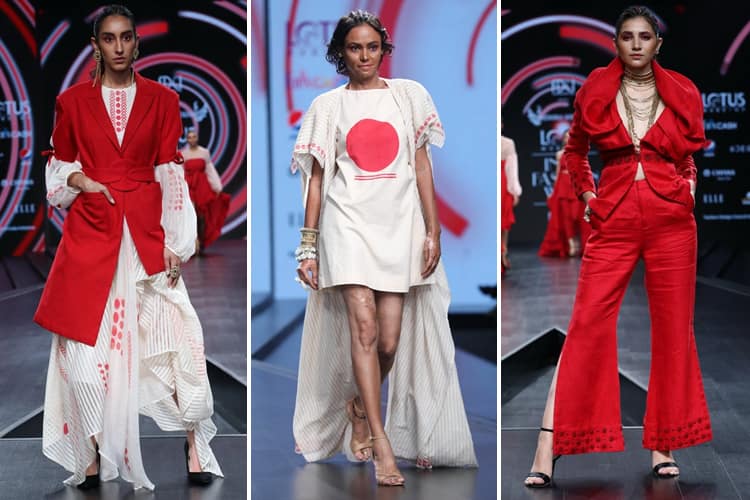 Neha Dhupia played the perfect muse as she walked the final walk in a fiery red number.
Rahul & Anushka:
The collection by the designer-duo was an essential vision of feminine qualities dipped in reality. She wears paisley fabric tunics, one-shoulder dresses, sarees, and kurtas alike. Face it, she's the urbane Indian woman, but not afraid to embrace femininity too.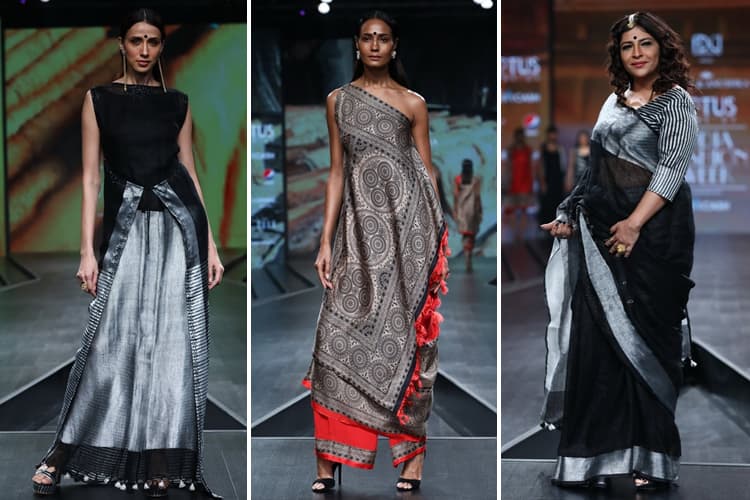 Mahima Mahajan:
Mahima Mahajan collection garnered inspiration for Spring 2020 through references from kaleidoscopic embroidery, tropical prints, and colorful shades. The whole representation was done wonderfully.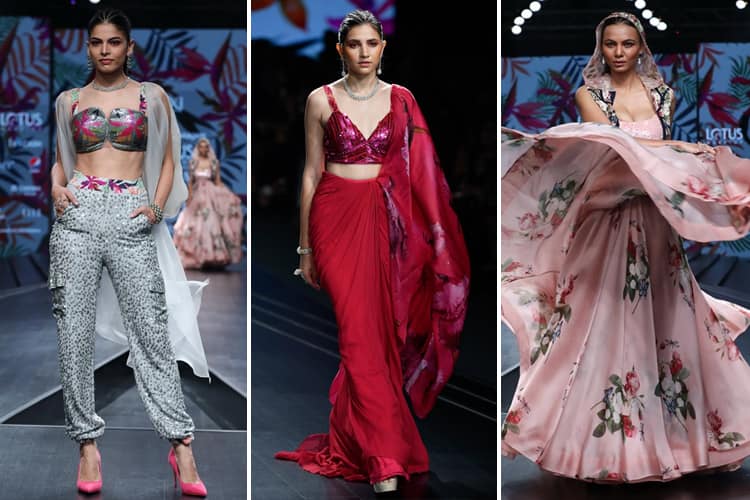 Athiya Shetty made the final walk looking stunning in a topical printed lehenga and choli.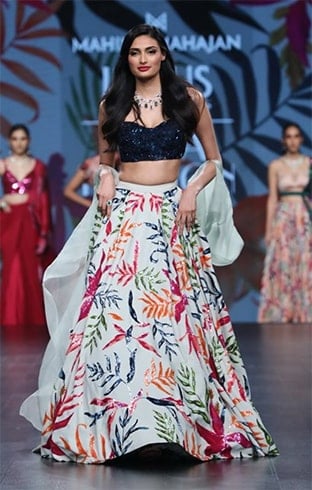 Bhumika Sharma:
The collection titled 'The Rejma Collection' meant explorations of Marrakesh and Casablanca reminders. The shades and the block prints seemed to be the main through the entire line.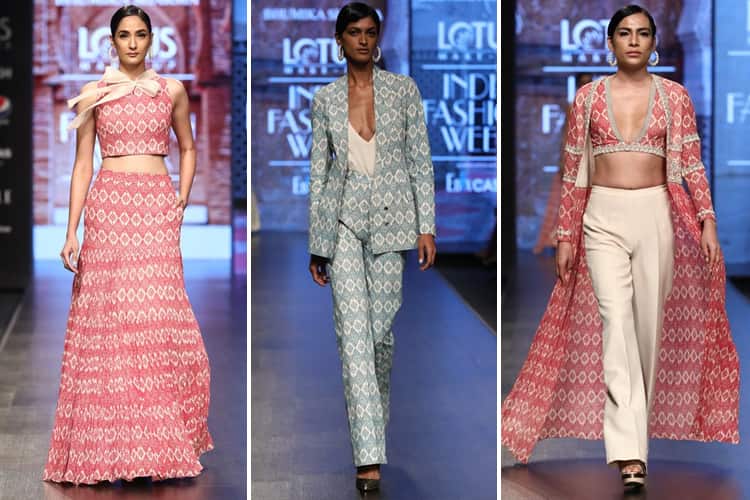 Shobhita Dhulipala made the final walk in a gorgeous belted saree.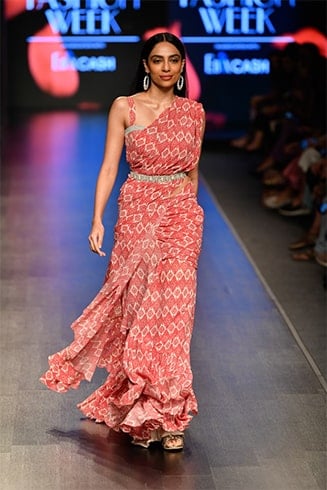 Divya Reddy:
The designer rolled out her collection in dedication to the environmental elements and to send a message across. Models enlightened the mood as they made their way to the ramp in cheerful designs that evoked the flora and fauna.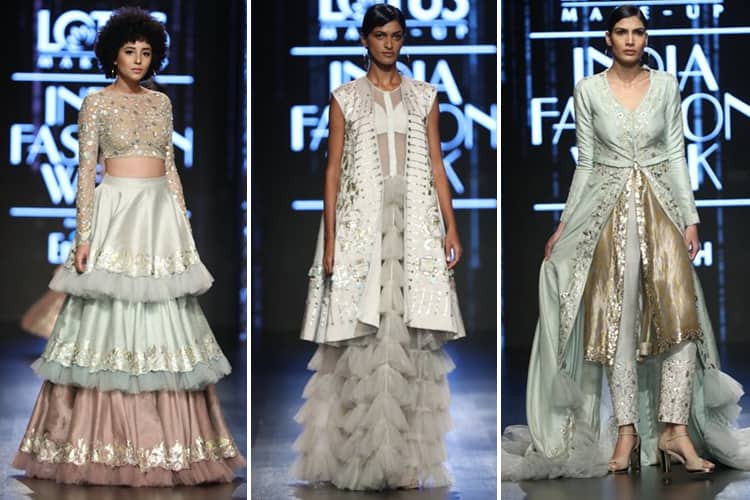 Rakul Preet added charm to the show in a gorgeous ruffled ensemble.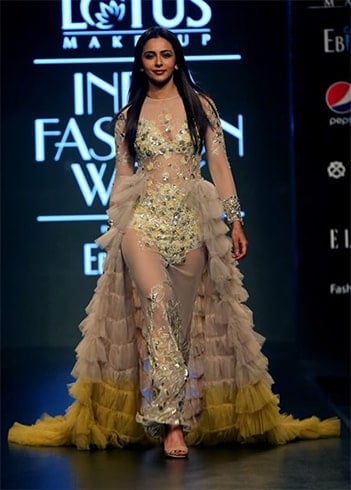 Nikita Mhaisalkar:
The designer's collection was another leap to the show. Charming gypsy inspired ensembles in animal prints, structured jackets, maxi dresses, paired with neck scarves, served as reminders to create a balance.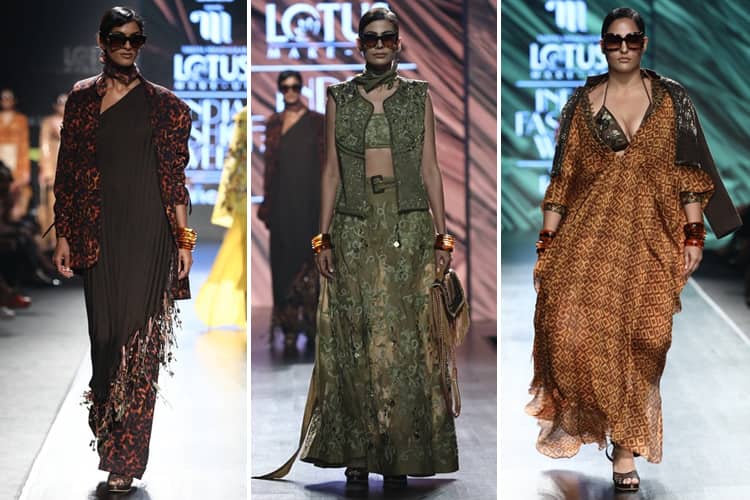 Amit GT:
Amit GT stayed within the dynamics of feminine realness, making it look a little modern. It may sound cliché, but the designs were really quite versatile. It was the type of things women want to wear.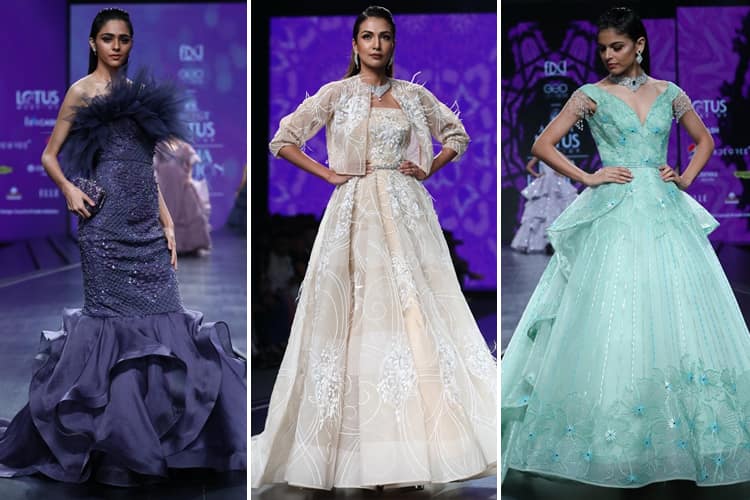 Dolly J:
In a true fashion sense, Dolly J show came up with an ultra-modern fever dream-evening gowns, bold shoulders, frills, feathery accents, and playful shades. The collection was full on maximalist, joyful, and exuberant.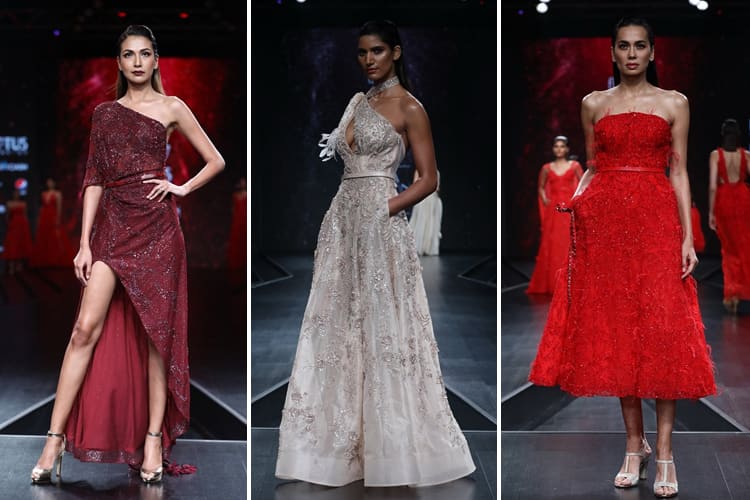 Payal Jain:
Designer Payal Jain paid tribute to her late father through her latest collection, 'Crescent Moon'. The ensembles in the form of gowns, sarees, and skirts were mostly in white with floral depictions. Natural fabrics like silk and organza were used extensively.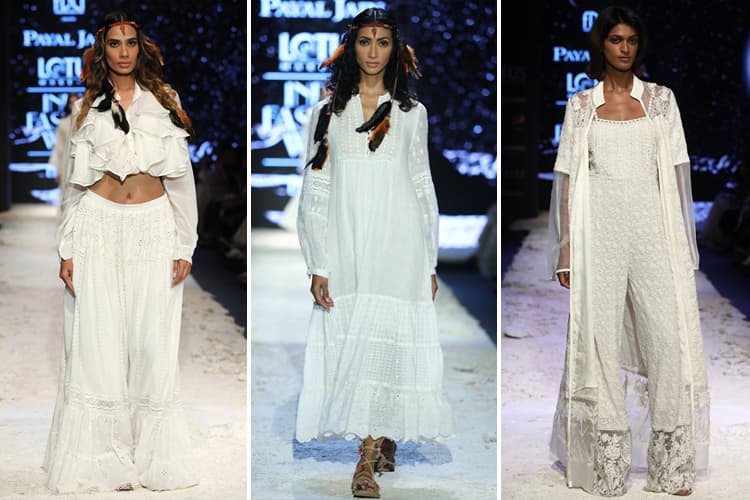 Suneet Varma:
Day 3 came to a glittering close with Suneet Varma's show as he presented his prêt-travel-destination collection. Mirror and sequined works were the main highlight of his show along with the use of neon, metallic, pastel, black, and blue hues.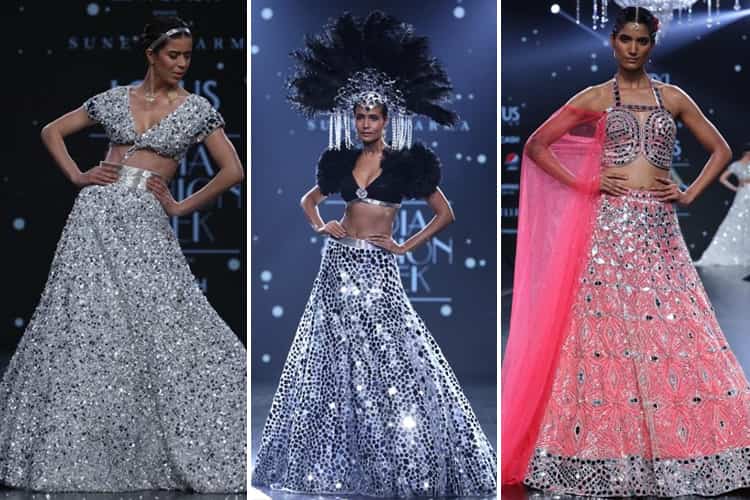 Day 4 Highlights:
Here are all the highlights from Day 4:
Lovebirds:
Lovebirds Studios collection was clean, crisp, and minimal. They took the extra mile to be distinctive from the rest with their breezy dresses, skirts and tuxedo pairing.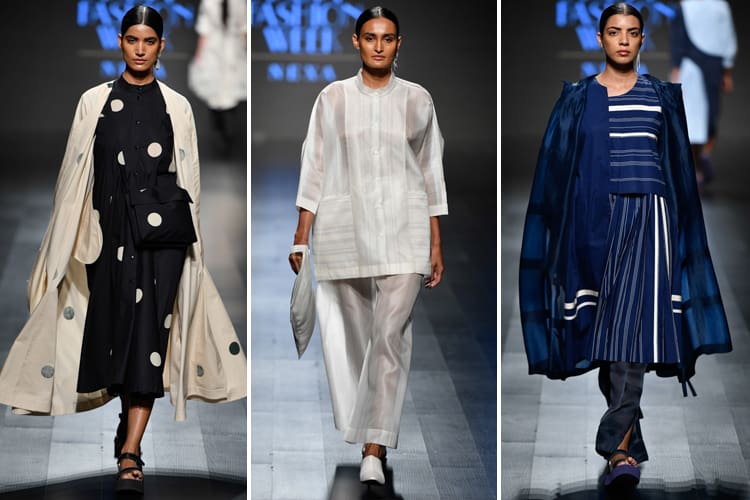 Notebook:
Notebook was part of LMIFW'S Young Guns representation of talented debutants. Chic and easy remained mutually exclusive throughout the designer's androgyny collection.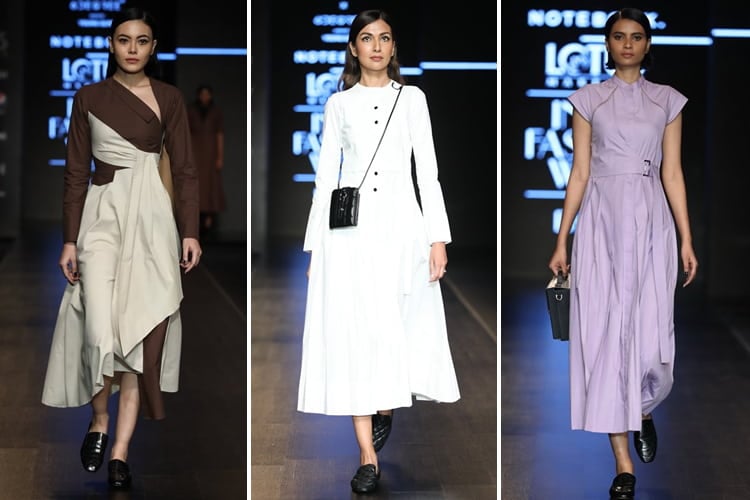 Sameer Madan:
Another designer to join the Young Guns club was Sameer Madan. The designer's collection, 'Time Capsule' was 90s inspired featuring statement blazers. Mustard yellow, lavender, burgundy, red, and brown were the colors used. Other accessories included handcrafted beads and dried flowers.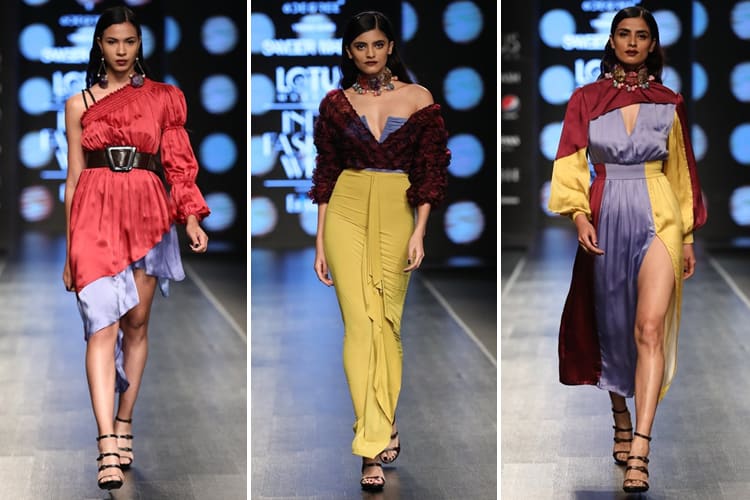 Shivan & Narresh:
Shivan and Narresh's collection, 'Seoul Series,' was clearly inspired by the South Korean fashion, art, and music. The lineup included luxe modern outfits and atheleisure wear. The fabrics used for the resort wear collection were handwoven Korean lace, Korean PVC, classic organza, and crepe.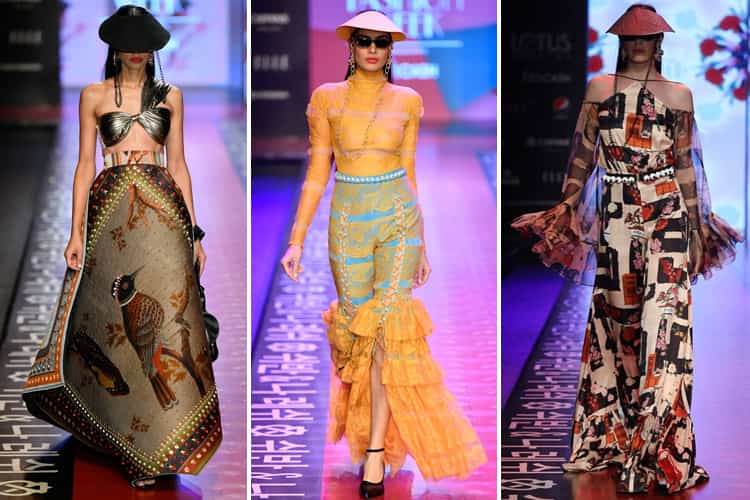 Final Show:
The final day came to an epic close bringing together four great designers of all times-Anamika Khanna, Wendell Rodricks, Manish Arora, and Rajesh Pratap Singh.
Anamika Khanna:
The designer's modern Indian collection bought the house down.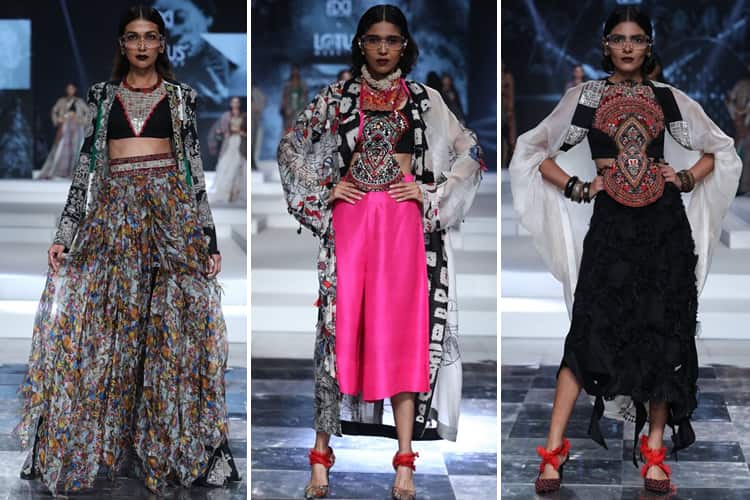 Manish Arora:
Manish Arora's collection, 'Glow in the Dark' was represented by his signature dramatic but cheery ensembles.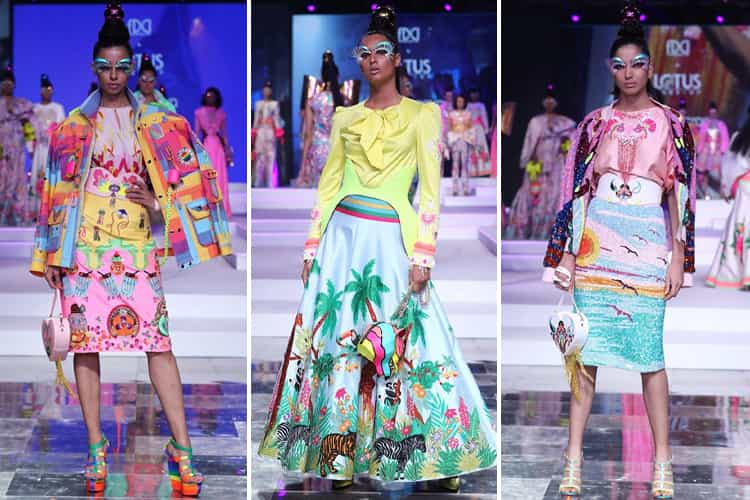 Rajesh Pratap Singh:
Maximalist was the theme of Rajesh Pratap Singh as the designer used pops of neon theatrics.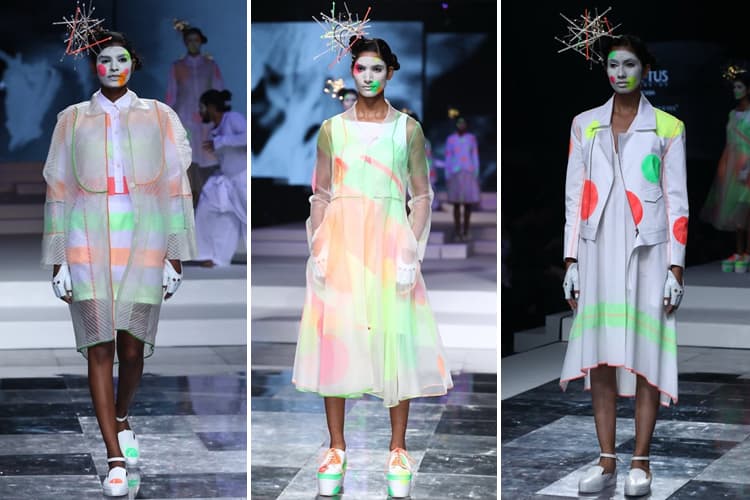 Wendell Rodricks:
Wendall Rodricks tribal collection featured his signature white, breezy silhouettes.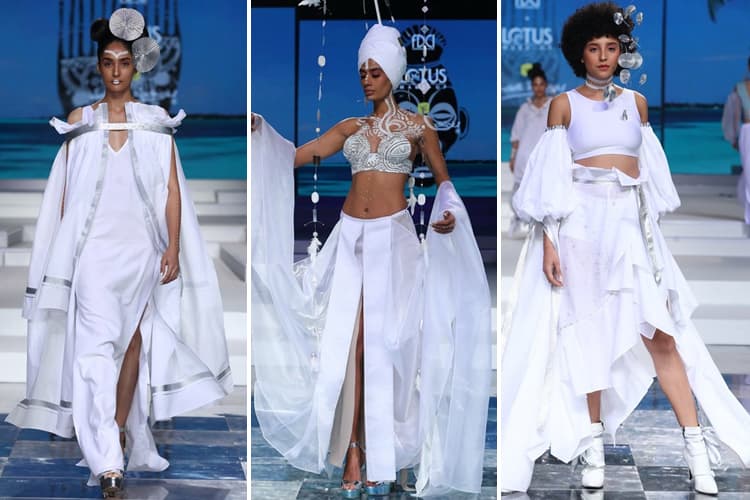 Finally, actress Kangana Ranuat made the final walk and closed LMIFW SS'20 in the most perfect manner.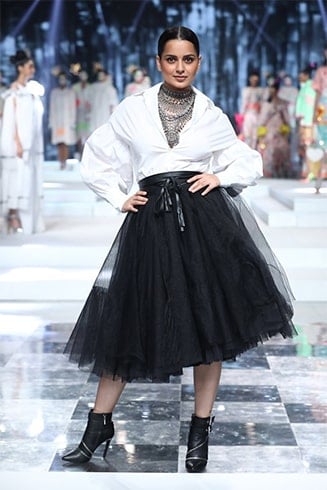 To say that LMIFW SS'20 was the best style events of the month is like stating the obvious. And we hope you enjoyed scrolling through the same.
October 16th, 2019
Author: Lima Aier
---
4 Days Highlights Of Lotus Make-Up India Fashion Week SS19.
It is the 32nd edition of India Fashion Week SS'19 and with a new sponsor Lotus Makeup and with a new name Lotus Makeup India Fashion Week SS'19, the show took off with an exhilarating start. The 4-day long fashion buzz seems to have a special ring to it and we can't wait to listen to every whoosh of the fabric, the high notes of fashion and the bold self-speaking styles.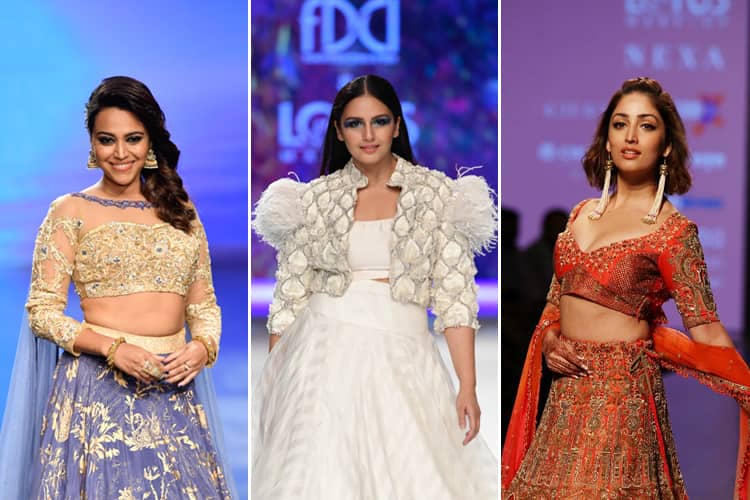 The prime focus of the Lotus Make-Up India Fashion Week in association with Nexa Spring Summer 2019, is to bring ensembles of the fashion architects that have a promising future and mark their label for decades in the fashion world. Here are the details for your perusal.
LMIFW 2019 Highlights:
Day 1 Highlights:
1. Pero:
Designer Aneeth Arora opened the LMIFW SS19 with her trend chic label, Pero. This season the designer brought 'Finding Pero', a collection that took us for a ride along the long-lost islands, the serenity of the deep blue seas and the beauty of colors and patterns of marine landscape. She showcased her collection at an offsite location, The Park, New Delhi. Every piece of the collection revolved around color blocking theme, a mix of frills and ruffles, crochet accents and beaded highlights.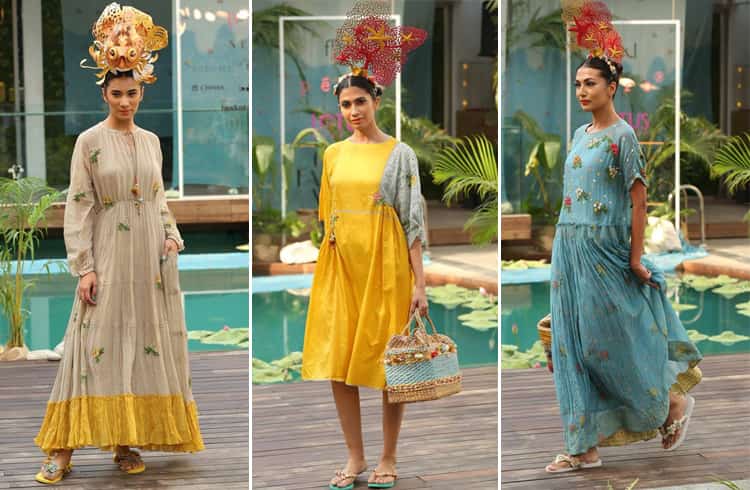 2. Anupamaa by Anupama Dayal:
Every designer's collection at every fashion show has a story to tell and Anupama Dayal this SS19 brought the theme of the Japanese art of golden repair with her collection 'Broken'. In a myriad of hues, with eclectic prints and patterns, she highlighted luxury styles in easy-breezy folds. The concept of 'every broken piece has its own beauty' spelled loudly through her collection. With starfish (which can regenerate new limbs when the old ones are damaged) motifs and patchwork are a symbolic way of her quoting that –we women break down in many situations and events but emerge brighter and much more beautiful with our strength.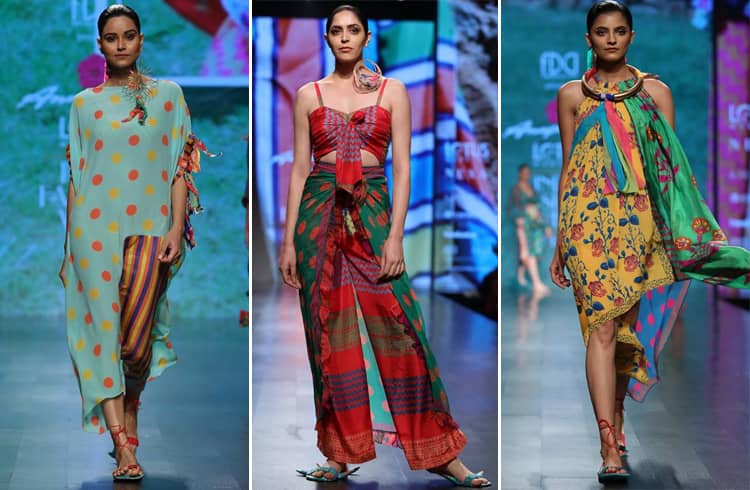 3. Samant Chauhan:
"At some point in your life, this statement will be true: tomorrow you will lose everything forever." – Charles Wu was all Samant Chauhan's collection was based on. Inspired by Mumbai, the transformation of the city from Chawls to skyscrapers, and fast-paced present that is disappearing into the future, the collection was all about European influence and confluence. In muted palettes of whites, creams, and pale pinks, every garment translated a strong feeling of the city of dreams. Tissue and organza fabric in falling and drape patterns left a feel of transparency and the detailed embroideries brought to light the rich architectural beauty of South Bombay.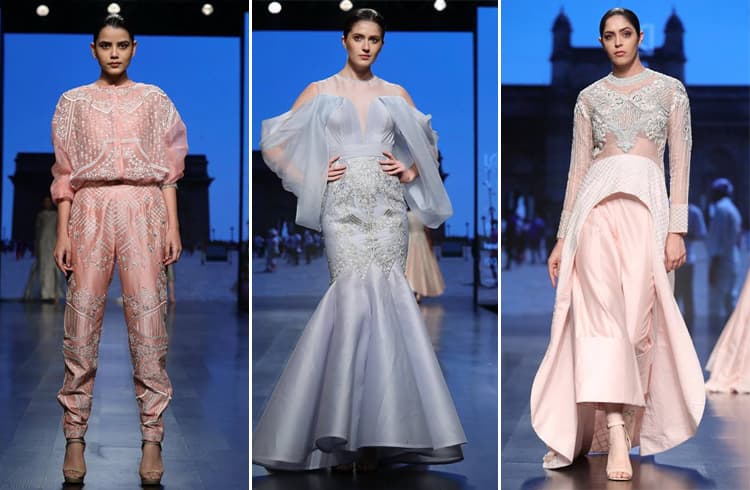 4. Huemn:
The conflict-ridden Kashmir's cultural and socio-economic situation was what inspired the Huemn SS19 collection. The label presented a wide range of styles that were drawn to signify the city's raw beauty and youthfulness that it holds despite the conflicts it deals with cultural and socio-economic terrains. There was multidimensional patterns, comic book prints and cut out details, athleisure styles and many more edgy styles with Huemn SS19. Rendering a playful, modern and fierce picture with day dresses, sweaters, t-shirts and many more in cotton, knits, and denim, the collection was colorful and high-spirited.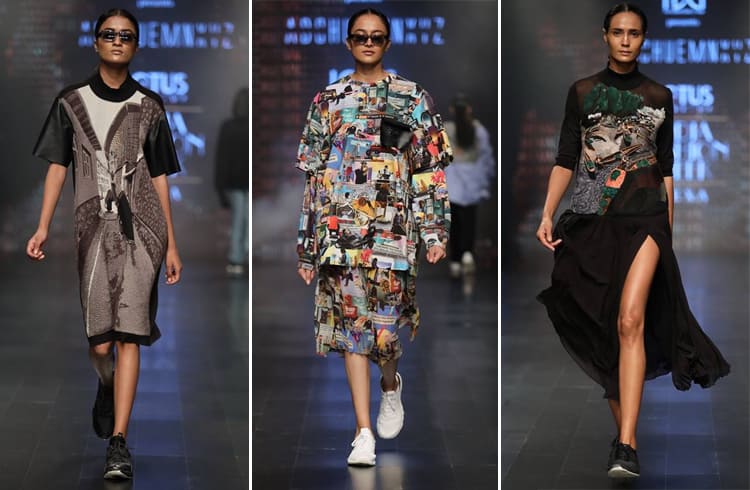 5. Rimzim Dadu:
Rimzim Dadu's collection, which is famous for the textures and re-engineered wired fabrics, is back at the LMIFW SS19 with a new theme. This season the designer chose the traditional techniques of lace making and stenciling and blended with her signature materials like chiffon cords, wires, and metallic cords. The designer collaborated with artist Harshvardhan Kadam of Inkbrushnme and an interactive experience technology studio-Digital Jalebi to communicate through virtual reality. The artist used the virtual world to interpret the designer's collection with Google Tilt Brush and gave the audience a feel for every brush stroke that bounced on and off the walls of the show.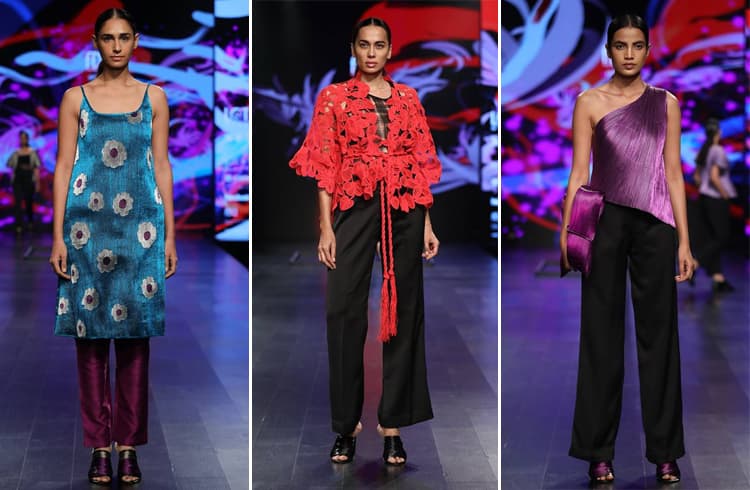 6. Ministry of Textiles, Government of India and the Australian High Commission in India Presents Romance was Born| We are Kindred| Cassandra Harper| Brothers Earth| Roopa:
Ministry of Textiles, Government of India and the Australian High Commission in India collaborated and brought five Australian designers to give a newer dimension to Indian textiles. This collaboration was encouraged to open the fashion gates for foreign intervention. While Romance was Born and We Are Kindred worked in developing collections with brocades from Uttar Pradesh, Brother's Earth collaborated with Naushad Ali and drew out natural indigo-dyed handloom textiles from Tamil Nadu; Cassandra Harper on other hand worked with Ikats from Telangana and Roopa chose to bring the beauty of silks from West Bengal.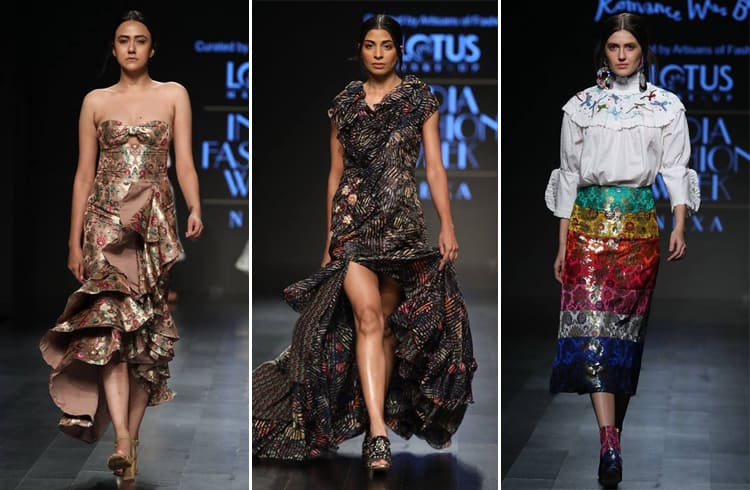 [sc:mediad]
7. Ashish N Soni:
The theme of Nexa this year was an interesting spectrum of hues comprising monochromes. Nexa chose to present Ashish N Soni, Rajesh Pratap Singh, and Rohit Gandhi & Rahul Khanna. Ashish N Soni's all black compilation was a true ode to construction, design, technique and technology in fashion.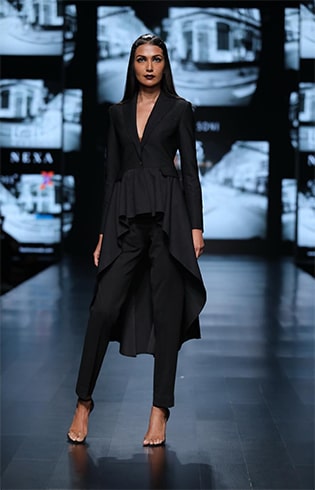 8. Rajesh Pratap Singh:
Unlike other designers, Rajesh Pratap Singh for Lotus Make-Up India Fashion Week Spring Summer 2019 collection sought inspiration in traveling, adventure, free spirit and derived his collection 'Above the tree line' from the pahadi roots. With rugged styles, asymmetric patterns, inside-out seams in wool-linen blends, weaves, ikat print handlooms, the collection stood out explicitly. Handcrafted shoes and gloves sealed the show.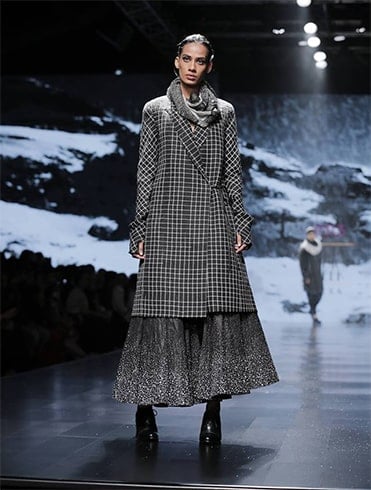 9. Rohit Gandhi & Rahul Khanna:
Rohit Gandhi & Rahul Khanna's 'Twilight' closed the day 1 of LMIFW SS19. The collection was derived from a monochromatic theme accentuated with silver glimmering elements. From handcrafted techniques like 3D applique, beading of black crystals, the collection set a starry night theme on the runway. The designer duo compiled each garment with intricate metalwork with either matte or glossy textures over satin and crepe fabrics in metallic hues.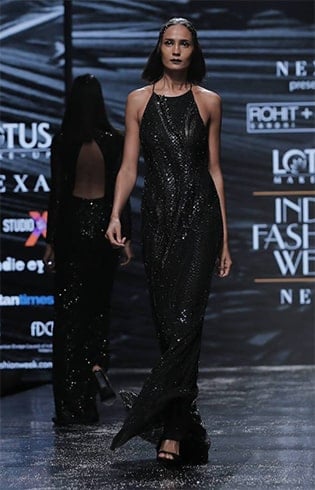 Sonakshi Sinha walked the ramp for the designer duo clad in a shimmery black thigh-high slit bodycon gown. With beaded sleeves, metallic blue eye make-up and ankle strap heels, she set the ramp on fire.
Day 2 Highlights:
1. Lightness of Being:
The lightness of Being show had an array of varied designers that portrayed incredible fashion. Starting with Abstract by Megha Jain Madaan, followed by Bhumika & Jyoti, Siyaahi by Poonam and Rohit and Vidhi Wadhwani, it was a great way to get started on day 2. Leaving behind a tranquil state of mind with their fashion exhibits, they won the hearts of the audience.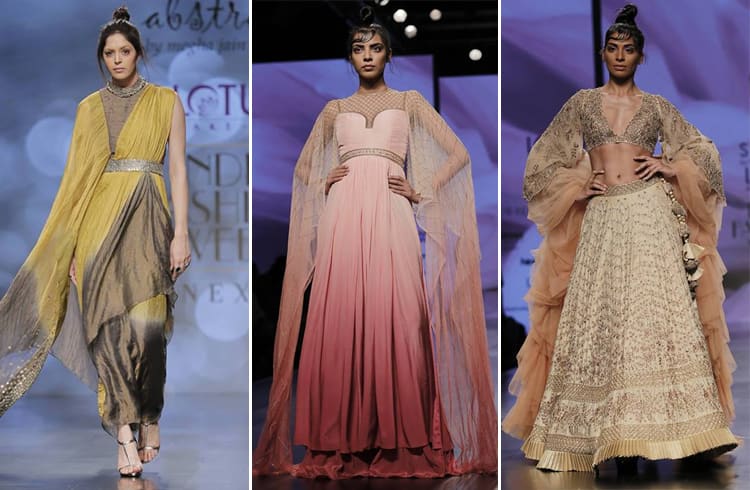 While Sophie Choudry walked the ramp for Megha Jain Madaan in a shimmery yellow sari gown, Sushmita Sen glowed in a ruffled green ensemble with a matching turban by Bhumika & Jyoti; And Diana Penty walked the ramp for Vidhi Wadhwani in a white pant, crop top and a jacket looking refreshing and pleasing.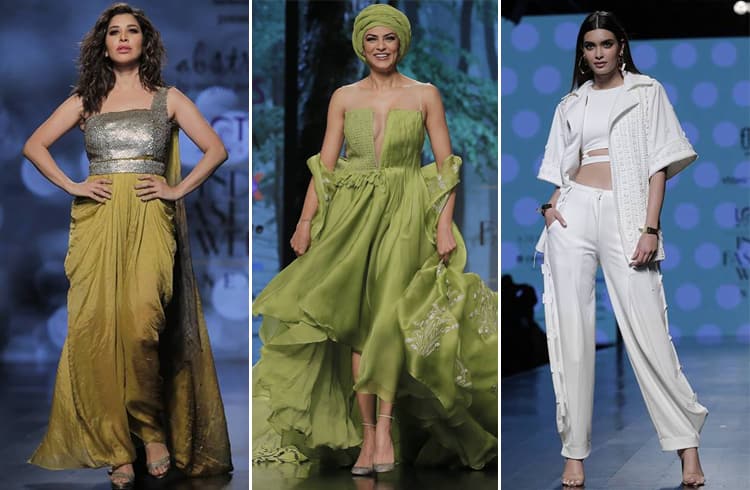 2. Aartivijay Gupta:
Wish we had more details but from what we know, we can quote that Aartivijay Gupta drew her inspiration from mud wall art for her collection at LMIFW SS19. From pant styles to dress styles in easy-breezy silhouettes, the designer chose trends with comfort.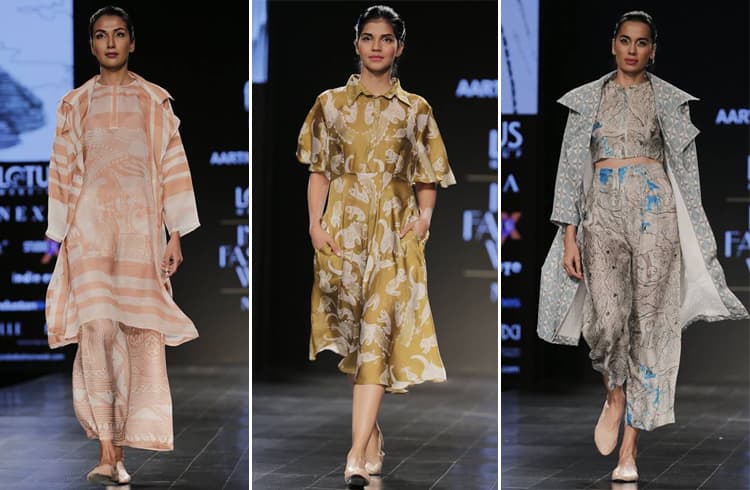 3. Pramaa by Pratima Pandey and Shruti Sancheti:
Pratima Pandey and Shruti Sancheti collaborated and displayed feminine styles that showcased aesthetic comfort in every frame. From weaves, stitch details and embroideries, the styles were truly classic at the LMIFW SS19. In pale pinks, cream and pastels to bright yellows, the collection was everything a modern woman can ask for.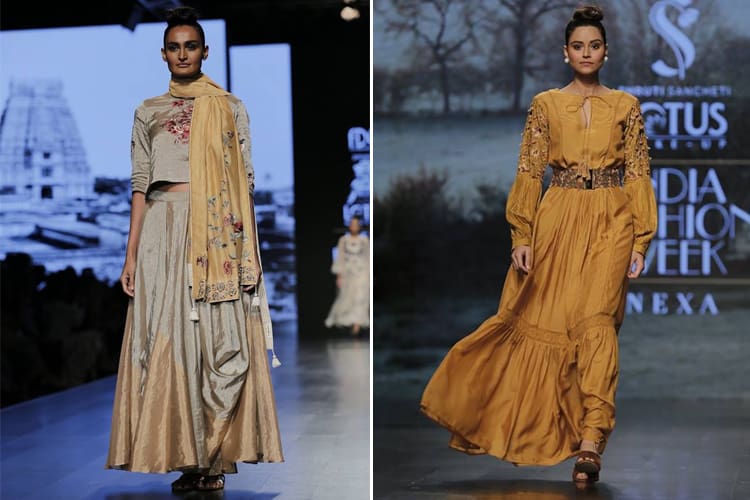 4. Prashant Verma:
Prashant Verma paid his ode to the couture form the 20th century with his nostalgic collection 'Maria' at the LMIFW SS19. With ruffles, flared styles, and stunning headgear, he went big, bold and edgy.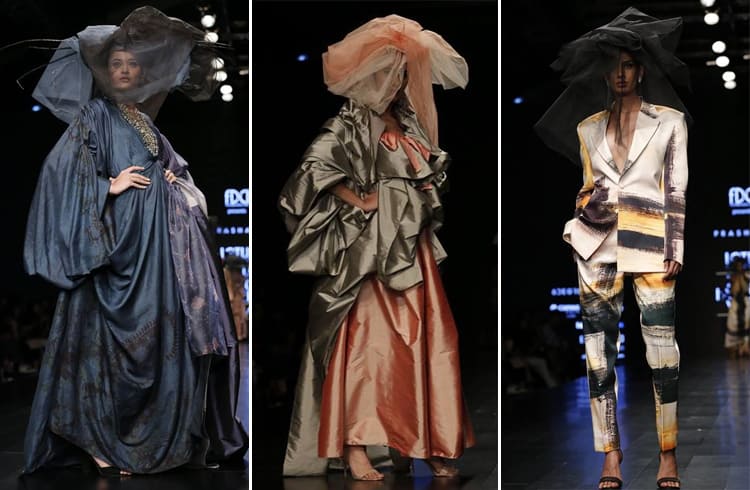 5. Nitin Bal Chauhan:
Nitin Bal Chauhan chose to recreate the decadence of kingdoms of the past at the LMIFW SS19 and he surely got the attention he deserved. With creative floral-patterned headgear, the models rampaged the runway looking absolutely fab!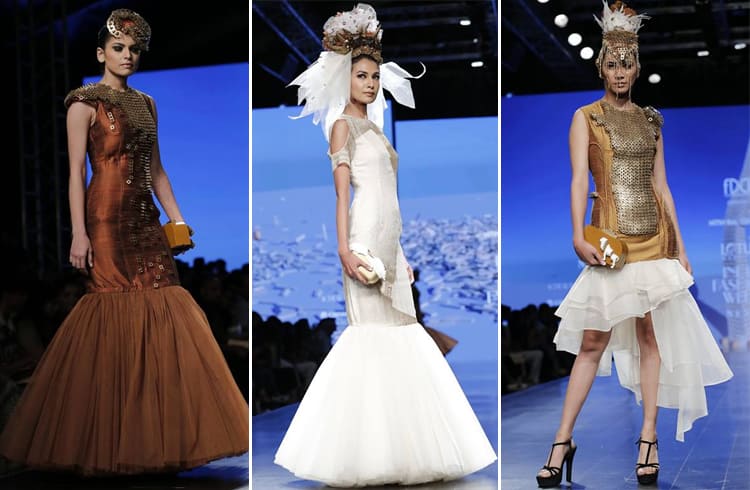 6. Wendell Rodricks:
At the Lotus Make-Up India, Fashion Week SS19 Wendell Rodricks unveiled a rainbow-hued collection that is utmost suitable for a vacation. The models sashayed in vibrant bikini styles and comfy color blocking easy breezy styles and left the audience totally stunned. With braided and knitted details over accessories, fanny packs and crochet accents, the designer rendered a perfect summer vibe with his collection.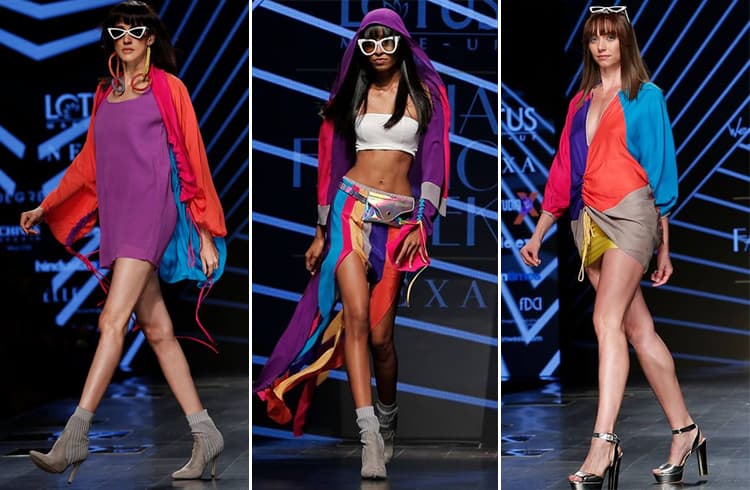 Chivas Studio Music CDs presents
7. Abhishek Gupta and Nandita Basu:
Bringing together a myriad of golds, greens, blacks, and reds in modern silhouettes, Abhishek Gupta and Nandita Basu compiled a desirous collection. Luscious silk brocades with butterfly motifs, printed modern pieces, cream and white self-embroidered styles defined their collection thoroughly. From brocade silk skirts, anti-fit trousers and tops, flowy maxi styles, the designers encompassed the passionate style beautifully.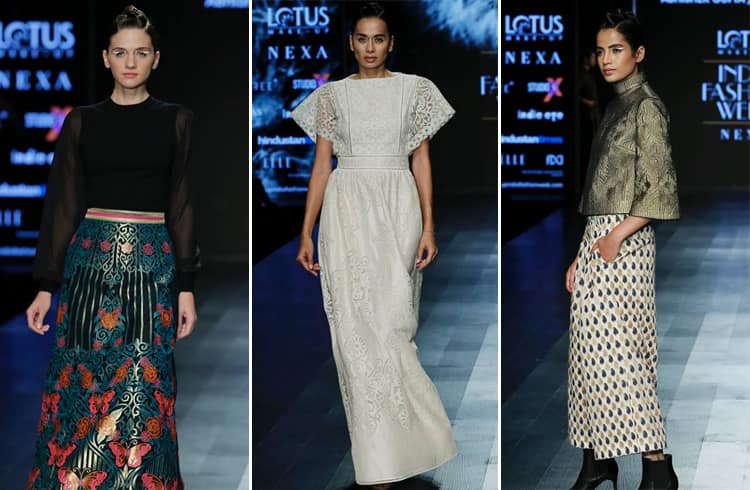 8. Gauri & Nainika:
Lastly, it was Gauri & Nainika's exemplary exhibits that closed the day 2 of Lotus Make-Up India Fashion Week SS19. The flouncy-ness, the ruffles, and the subtle glittery floral add-ons were too hard to look away from. The models walked the ramp looking splendid in cream, white, pale pink and striking red shades. Be it the asymmetric hemline styles, the bouncy dramatic sleeves or the trendy chic shimmering pant styles, Gauri & Nainika surely made a loud fashion statement to look forward to this spring summer 2019.
Day 3 Highlights:
Tribes of the world:
The Tribes of the World presented four designers namely Architha Narayanam, Poshpride, Sanjukta and WNW at the LMIFW SS19.
1. Architha Narayanam:
Inspired by Iranian tribes, Architha Narayanam defined her collection 'Garden Rose' in funky and unique designs. Prachi Desai walked the ramp for the designer in a light vibrant green outfit.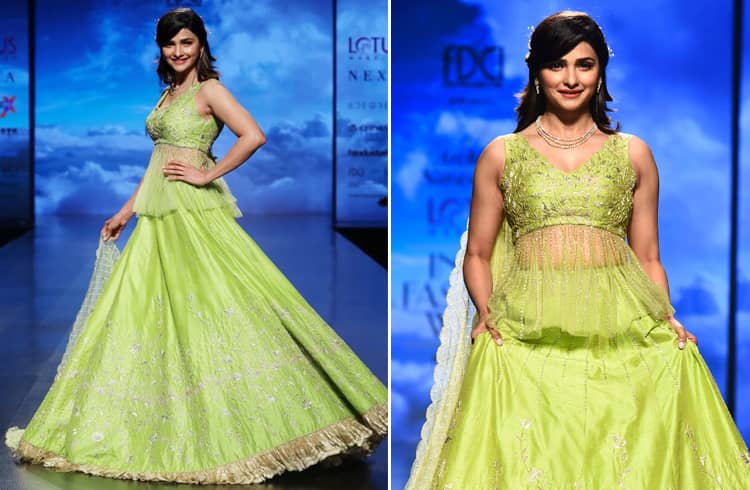 2. Poshpride:
Titled La Mariposa, Poshpride collection was full of vibrant hues and romantic drapes at the LMIFW SS19. Poshpride's collection was all about the city girl who moves effortlessly from place to place. From metallic pantsuits to ruffled asymmetric skirts, the collection was totally upbeat. Athiya Shetty was the showstopper for the label and she was stunning in a metallic red drape patterned gown layered with a metallic silver jacket.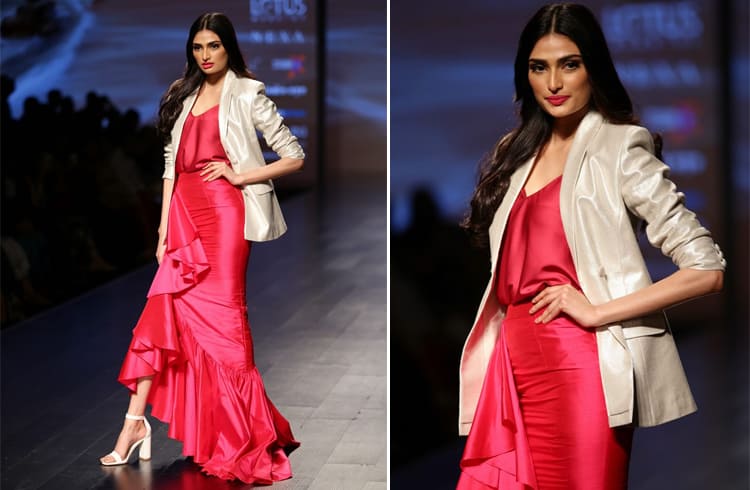 3. Sanjukta:
Flowy gowns and drapes skirts were the highlights of sanjuktas collection. It was a show where tribal meets desi in the most astonishing and appealing way. It was all about mekhela chador and walking the ramp for the designer in Mekhela Chador saree was Tabu. She chose to add a sleek updo to her style and with minimalist accessories, she left us spellbound by carrying the rich saree with immense delicacy and beauty.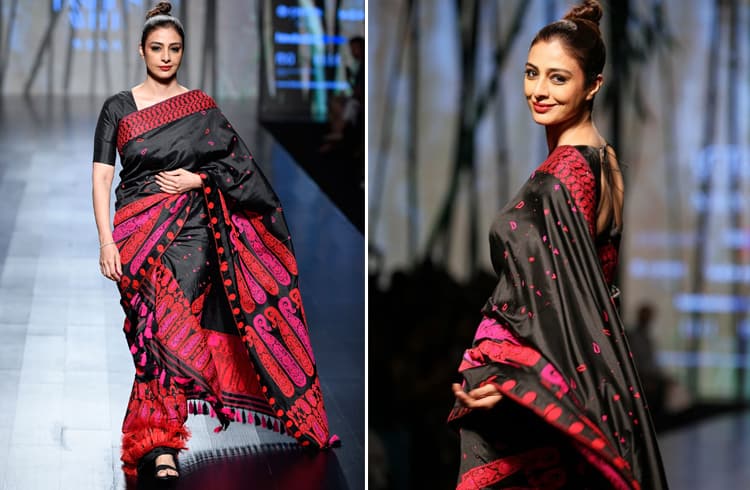 4. WNW:
WNW's collection was purely bridal themed with unique Kashmiri embellishments. Yami Gautam walked the ramp clad in a majestic red heavily embellished lehenga choli that spoke millions about the beautiful culture and history. With fringe earrings and coral lips, she closed her style with divine grace.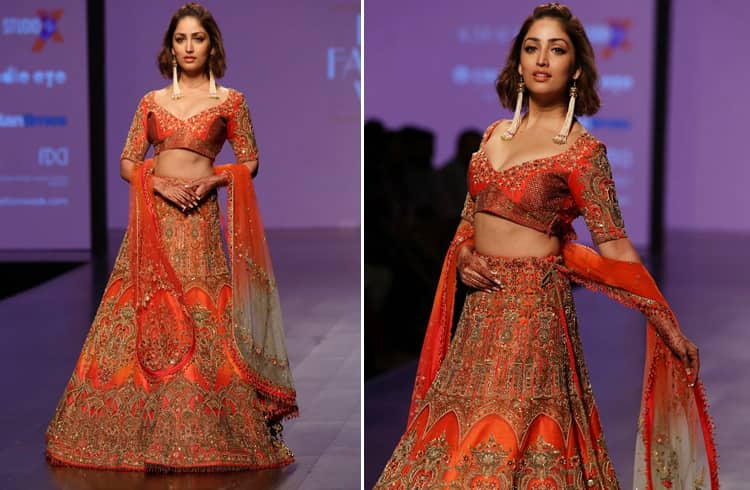 Diksha Khanna:
Titled 'The Escapists', Diksha Khanna brought organic handloom denim, sheer handspun linen and breezy chanderi with faux leather appliques and embroideries with every garment. Part Grecian and part street, Diksha focused on recreating urban wear and holiday styles.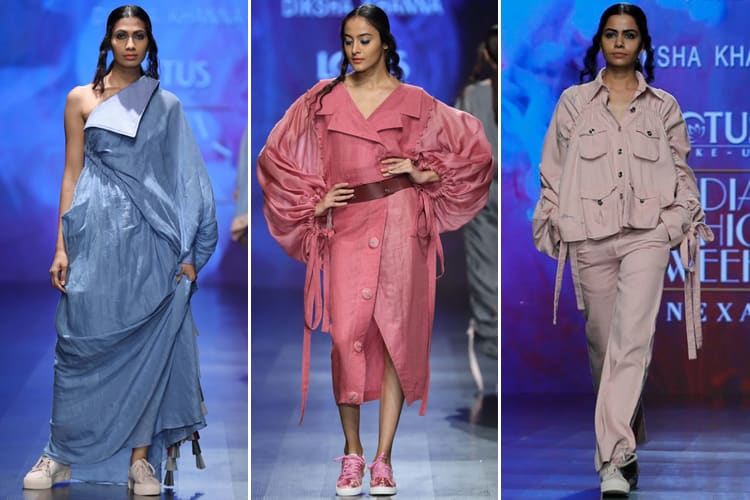 Munkee See Munkee Doo:
The collection by Munkee See Munkee Doo was breezy and lightweight. It had handwoven textiles with minimalist designs in shades ranging all the way from blues to reds. A-line jackets over trousers were the highlight of the collection.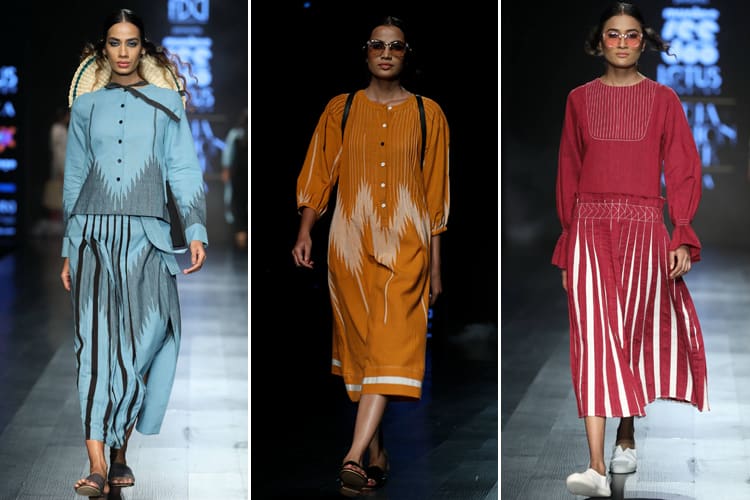 Lovebirds:
Lovebirds proved that polka dots are not just fun but also versatile enough for bags, jackets, and dresses. They focused on pleats, layers, and stripes with extra attention on oversized handheld clutches.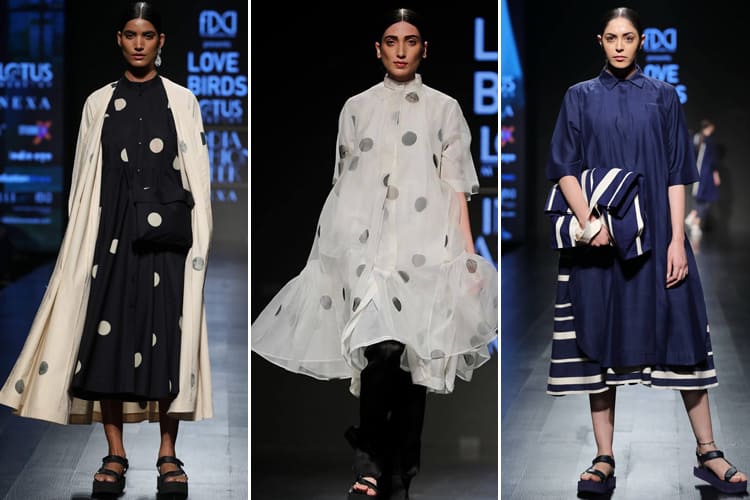 Amrich:
Amrich collection was truly oriented on tie-dye pastels in asymmetric silhouettes to flowy gowns. Linear patterns on natural fabrics and with elegant cuts, the collection had both day wear and nightwear patterned easy breezy separates. The collection was both chic and serene.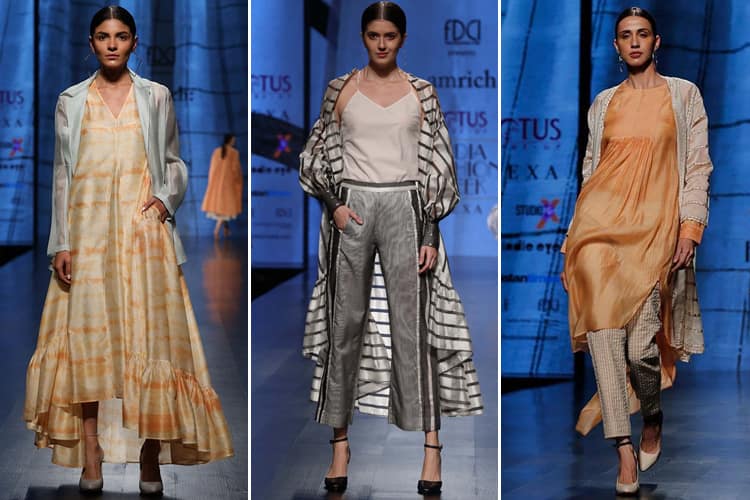 Embassy of Japan & FDCI present Atsushi Nakashima:
The winner of 20th Onward Fashion Grand Prix, Atsushi Nakashima presented his own label at the LMIFW SS19. Titled 'Revival', Atsushi Nakashima brought 1960's disco music and fashion on day 3 of LMIFW. From bright neon shades to pastel yellows, the collection had it all in suede, patterned dresses, bomber jackets, slip dresses, bell bottoms, thigh-high boots, denim etc.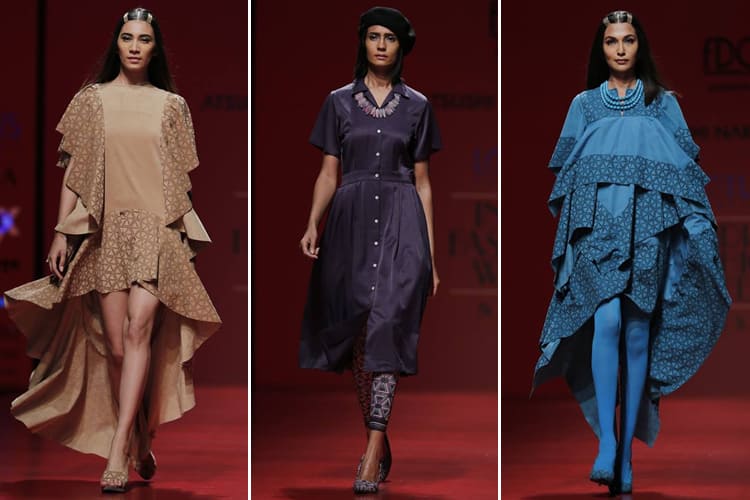 Payal Pratap:
Titled 'Sound of Silence', Payal Pratap exhibited a collection which was truly simple, wearable depicting the beauty of the forest. From maxi dresses in rhubarb reds and mustard yellows to floral embroidered styles, cool patchwork patterned coats, a subtle hint of vintage styles, the collection was exciting.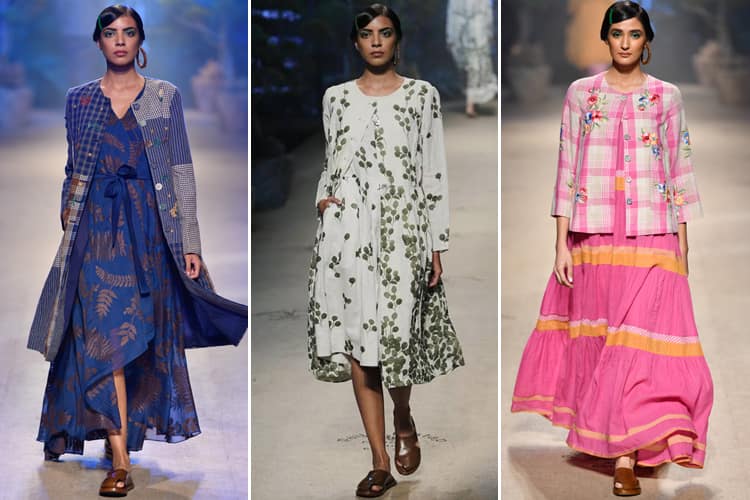 Rahul Mishra:
Rahul Mishra chose to flaunt off his successful ace collection from Paris Fashion Week at the Lotus Make-Up India Fashion Week SS19. He absolutely carried off repeating the display of his collection with the same spirit. Sheer fabrics, layered ruffles in pretty pastels, the collection had a lot to offer. From trendy stripes prints to easy breezy silhouettes, the collection was everything peppy and upbeat. He elevated the beauty of Daraz and Chikankari to luxury fusion fashion. His collection ranged over saw shirts, skirts, shirt dresses, drape dresses, trousers, pleated blouses and many more.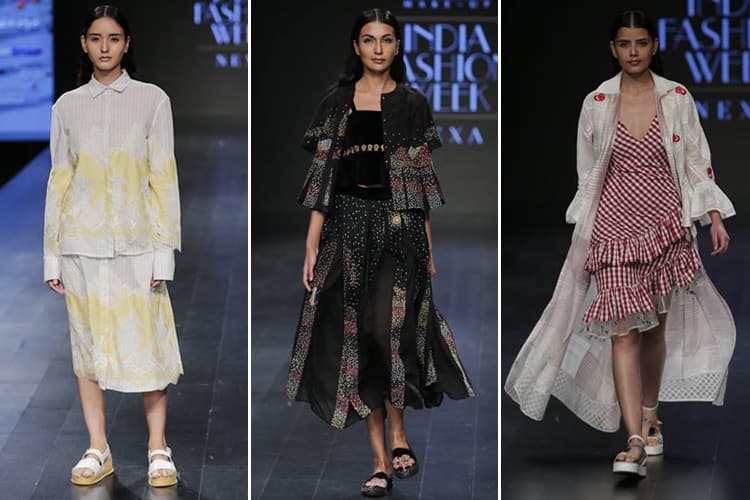 Day 4 Highlights:
Siddhartha Bansal:
Color pop and psychedelics was the theme of Siddhartha Bansal's collection titled 'Summer of Love' at the Lotus Make-Up India Fashion Week SS19.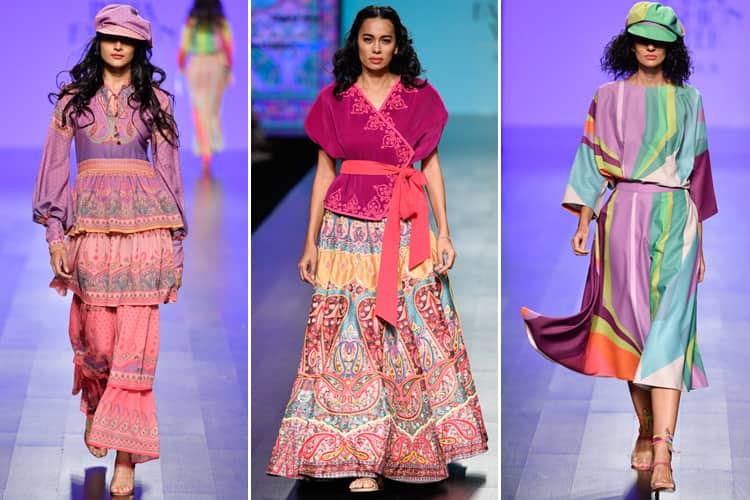 Swati Vijaivargie:
Swati Vijaivargie drew her collection totally inspired from prints rendering splendid summer styles. It was overloaded with fresh prints and summer layers.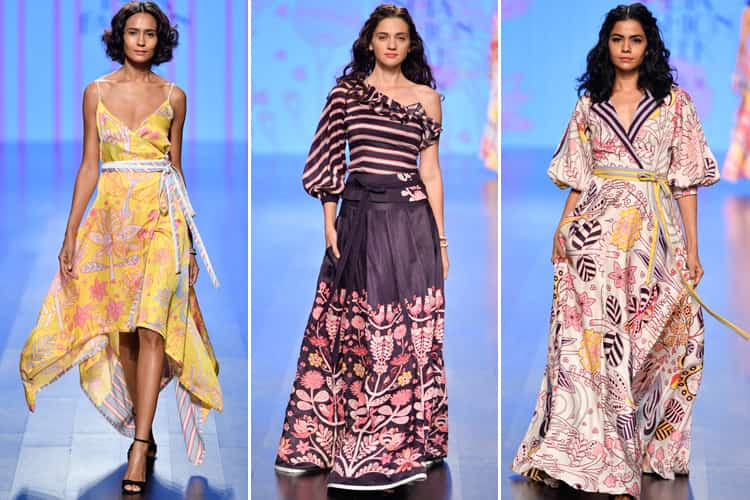 Deconstructed silhouettes, creative layerings, and understated colors were the theme of [email protected]'s summer collection at the LMIFW.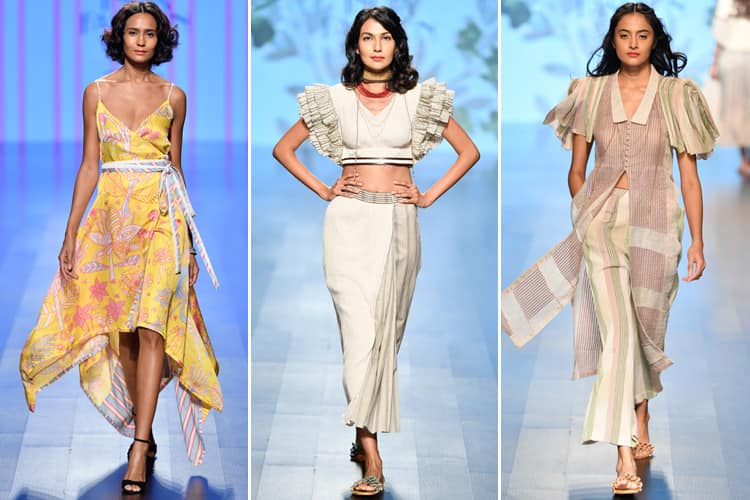 Anushree Reddy:
The renowned designer Anushree Reddy made her debut at the LMIFW SS19 with a collection titled 'Vintage Rose' that saw barely-there blouses over luscious printed and flowing skirts. Playful, sensuous and colorful was her collection.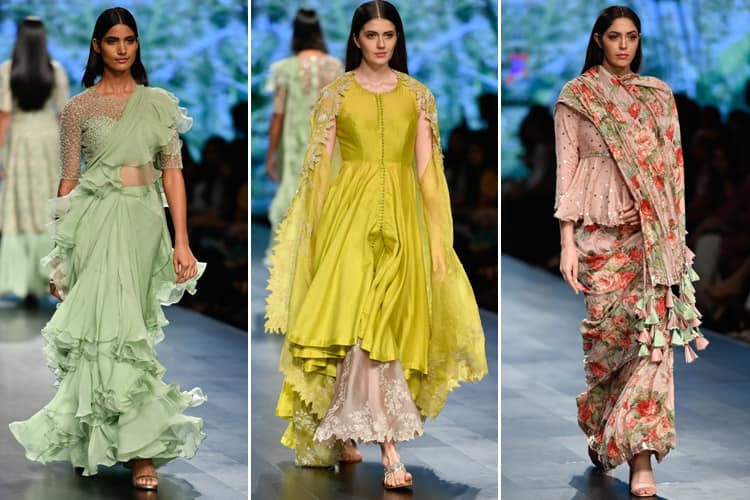 Karishma Deepa Sondhi:
Titled 'Inaayat', the collection by Karishma Deepa Sondhi was purely about summer brides. It was a celebration of the female spirit. Swara Bhaskar was the showstopper for the designer's collection and the diva looked mesmerizing in a cream-toned blouse and blue lehenga, along with Amrapali jewels.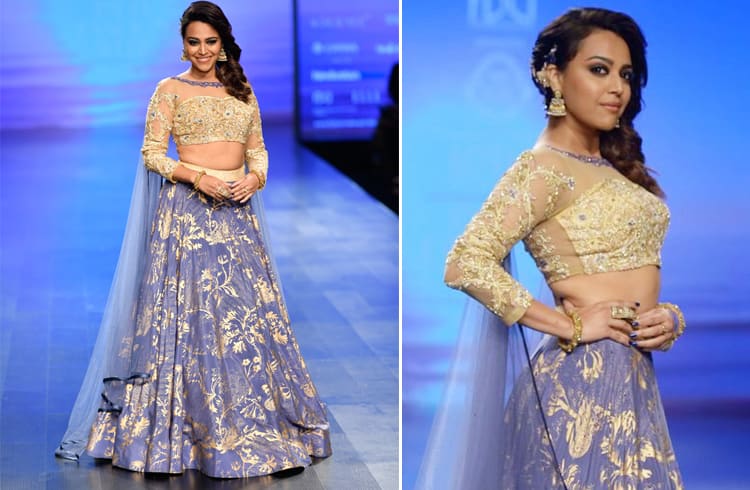 Dhruv Kapoor:
Dhruv Kapoor elevated his design collection to a new level with classy and chic patterns and styles. He coupled lace with sequins and stole our hearts with his creativity.
Shivan & Narresh:
Shivan & Narresh presented the "Koi Series' at the LMIFW SS19. The collection comprised of handcrafted paillettes sewn together to bring to life the festoons on lustrous fabric. Adding a pearl detailing, the designers tossed in an elegant luxury to the styles.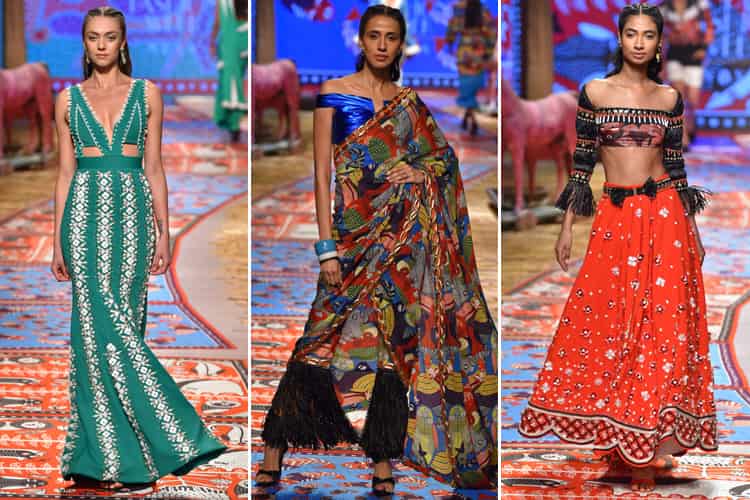 Lotus Make-Up & FDCI present Rainbow show:
Finally, towards the end, the scrapping of section 377 from the Indian Penal Code which criminalized homosexuality, began the theme for the closing show called the Rainbow show. Since fashion was a way of representing one's individuality, 40 top fashion designers including Manish Malhotra, Reynu Taandon, Abraham & Thakore, Wendell Rodricks, Varun Bahl, Raghavendra Rathore and many more, came forward to showcase the rainbow theme.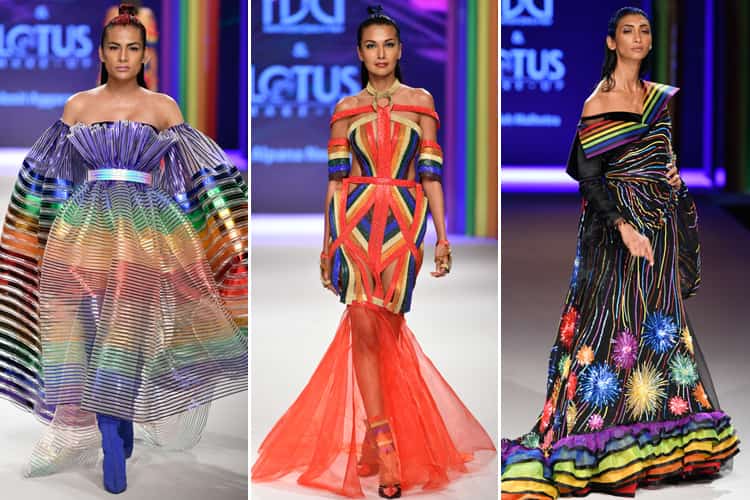 Each designer dressed a model in an ensemble based on the rainbow theme, an emblem created by San Francisco based artist Gilbert Baker using six stripes: red, orange, yellow, green, blue and violet. Huma Qureshi walked the ramp for this show clad in all white ensemble with a textured fringe puffed bomber jacket.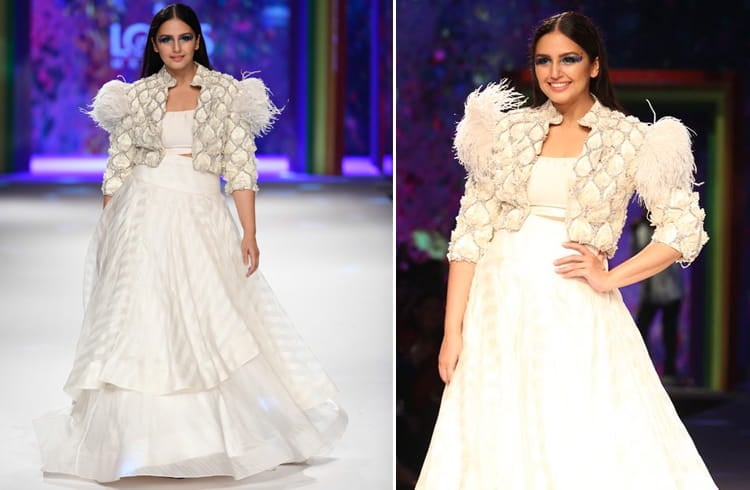 Finally, the LMIFW SS19 came to an end and we have to admit that the four days were pure fun with fashion. Don't you agree?
Hope you enjoyed it all!
October 15th, 2018
Images Source: facebook.com/TheFDCI/
Author: Sai Bhargavi Chintaluri