Alert: the season is officially set up for khadi material. Maybe you've already seen a number of khadi style ideas, or if you're us, plan to add it to your collections. But once your mind is sorted-accept that soirée invitation from your BFFs and browse through out outfit inspo below.
Our list of 15 khadi fashion and outfit ideas is perfect because they're easy to wear and gives out warm-weather vibes. Scroll ahead for more.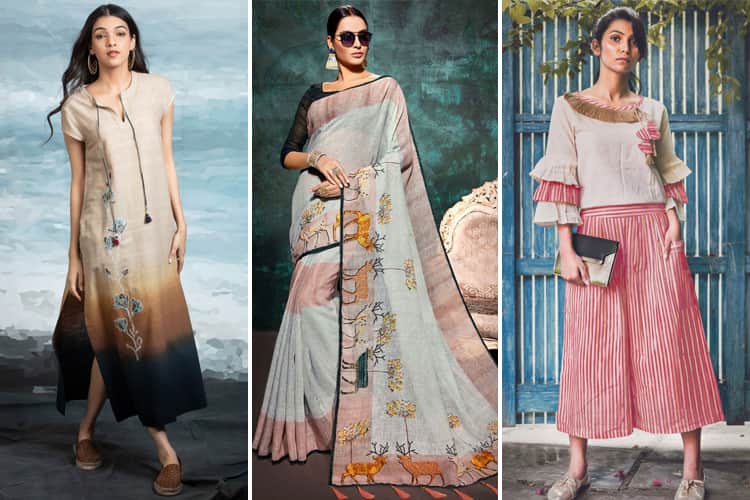 Effortless Khadi Outfit Ideas To Keep Your Eyes On This Year:
Here are the best khadi collections:
1. Top and Culotte Khadi Set:
You'll feel like spending every waking moment under the sun this season. And this top and culotte set will help you do that in style. The khadi set with its breezy cuts is perfect for a laidback weekend with your BFFs or vacationing.
2. Black Mandarin Neck Khadi Kurta:
Getting dressed any time of the day should be effortless. This is why we're thankful for khadi kurtis. Many brands have caught the drift of introducing fitted sets in their collections like the one shown below. Now hear this-who wants to wear coordinating sets with us?
3. Grey Khadi Print Lehenga Choli with Jacket:
The pain of finding a khadi printed lehenga choli is over; thanks to this set below by Ask Clothing. The brand is known for introducing relaxed clothing wear. You can wear this grey khadi printed lehenga choli with matching sandals during summer, but when fall arrives, wear the matching jacket over the top.
4. Khadi Cotton Kurta with Straight cut Pants:
This next khadi cotton kurta comes matched with straight cut pants for a put-together-ensemble look for workplace. You can layer them with kitten heels or dress down with sandals. The whole attire is a reminder of how chic can be conceived from the most comfortable piece.
5. Soft Khadi Shaded Tunic:
When designers like Anju Modi introduce soft khadi tunics, you know they're in vogue again. This creation is crafted from khadi and features the designer's hallmark easy, fluid silhouettes. Though maybe pricey for some, the tunic can be worn for several seasons together, justifying the cost.
6. Front Panelled Khadi Dress:
Even if you're warming up to the idea of khadi designs, you can't deny this one easily caught your fancy. It is made from pure khadi cotton material and is designed with a perfectly proportioned below the knee length.
7. Blue Printed Khadi Saree:
The attire everyone can agree on season after season is the khadi saree. Regardless of what style you opt for, it's the perfect transitional design to wear as you move through the seasons.
8. Mirror Layered Khadi Kurta Set:
Not sure how to start with the mirror trend? Go for a simple but modern khadi kurta piece like this one. It can be easily coordinated with nude heels and makeup come fall.
9. Grey Colored Khadi Silk Saree:
Already own a khadi kurta? Now explore outside your comfort zone and try something new like this grey colored khadi silk saree. The muted tone keeps that feminine touch, while the golden border makes it looks traditional and charming.
10. Pristine Khadi Anarkali Kurta with Embroidered Organza Dupatta:
Did someone mention khadi anarkali kurta? Because this is our selection! The fitted sleeves add statement while an embroidered organza duputta adds dimension. The full anarkali length keeps it fun and apt for daytime parties and can easily taken into the evening with heels.
11. Floral Printed Khadi Stole:
Dress up your easy breezy dresses and tops with this floral printed khadi stole. It's fun and flirty, which makes it wearable to wear for a day out with your pals and mimosas.
12. Brown Khadi Sleeveless Dress:
This is no ordinary khadi dress. The khadi material used to create this design is only one of its kind and distinctive. You won't find a unique piece such as this one here.
13. Mirror Work Crop Top Set:
We can upsize the mirror work trend, beginning with our crop tops. We can take influence from the beautiful top set that can easily blend in with your lady-like lifestyle. The next time you're leaving home, leave the heavy accessories. Add only the essentials.
14. Blue Khadi Crop Top and Dhoti:
Khadi crop and dhoti can come in newer hue palettes like this blue embossed design for summer. If you're worried about wearing the crop top alone-attach the matching cape across the body.
15. Printed Khadi Work Top:
The silk printed top is ideal for those who are looking for something more structured and balanced. Plus its silk material checks off the essentialities we look for in a clothing piece.
These khadi outfit ideas are the definition of chic. Do you have a favorite? Tell us in the comment section below.