Most people are lazy to clean their beauty blenders. But unaware to them, makeup tools invites bacteria when left unattended.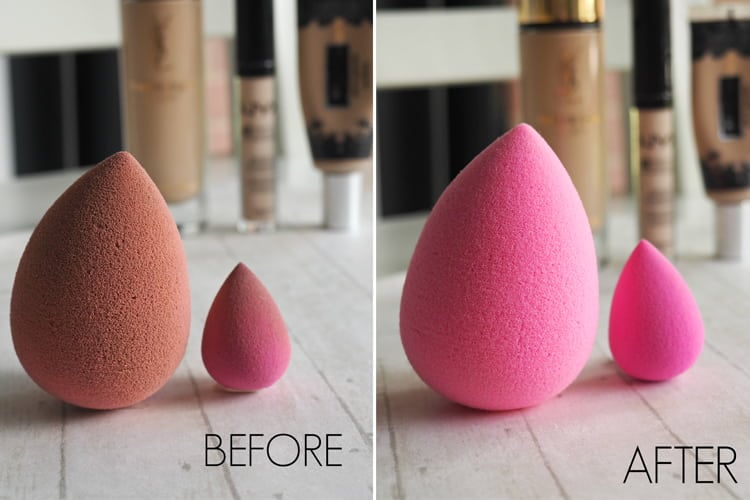 Sure, there are beauty blender cleansers around but you may end up buying a hefty sum of money. To simply avoid all these hassles, why not indulge in simple home recipes? Below, you may find nine homemade solutions ideal to clean your beauty tools effectively.
Take a look!
How to Clean Beauty Blender:
We've gathered nine cleansing tricks using simple recipes that teaches how to wash beauty blender.
1. Baby Shampoo:
Baby shampoo is a mild yet effective solution to cleanse your beauty blender thoroughly. And, it smells wonderful, too!
Steps:
Wash the beauty blender under running water until it is fully soaked.
Squeeze out a small dollop of baby shampoo or lotion.
Pat it around the beauty blender especially to the areas that have the darkest spots.
After you are done, start wringing it out under running water for a minute or two.
Then squeeze out a little amount of shampoo. Rub it on top and bottom of the beauty blender.
Rub it around your palms six or seven times. This can effectively remove heavy makeup.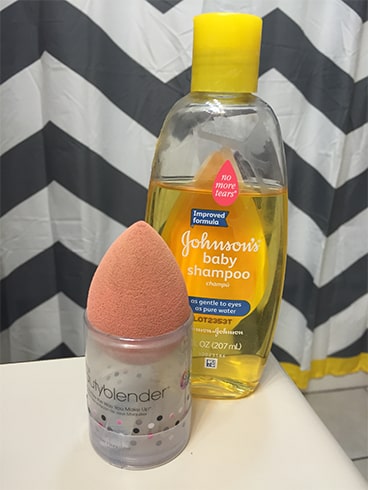 2. Dish Wash:
Cleaning beauty blender in a bowl of dish wash removes dirt and bacteria. Just microwave for few seconds and it is good to go! Here is what you need to do:
Steps:
Dip the beauty blender in half an inch of water in a bowl.
Microwave for 30 seconds.
Allow to cool before removing.
Then wash the beauty blender with a soap. This will remove the makeup and other dirt (the microwave can help to remove bacteria alone).
Wash off under running water. And dry using a clean cloth.
3. Olive Oil:
Olive oil is an antibacterial agent which naturally removes makeup and dirt. It can be used with few drops of dishwashing solution for best effect.
Steps:
Squeeze a quarter of dishwash liquid in an aluminum foil.
Then add half a teaspoon of olive oil.
Dip the beauty blender into the solution.
Rub the beauty blender using your palms.
Then wrap the makeup blender in the aluminum foil. Unwrap it before taking out the beauty blender under running water (This step is to prevent oil dripping on the floor).
Wash the beauty blender as normal.
4. Hand Wash:
Preparing a soap solution using a gentle hand wash or shampoo and water can remove dirt from makeup sponge.
Steps:
Soak the sponge for half an hour in the soapy solution.
Squeeze the sponge twice or thrice in your palms.
Allow it to dry off for 30 minutes. Then dip in the soapy solution.
Watch as the water changes its color. Do not make use of any abrasive brush to clean the tools.
Rinse the sponge under warm water without any soap.
5. Beauty Blender Cleanser:
The beauty blender cleansers can restore your makeup tools to its vibrant best. For stubborn stains, allow the soap to sit for few minutes to loosen the dirt.
Steps:
Pour some beauty blender cleanser.
Wash under running water until it runs clean.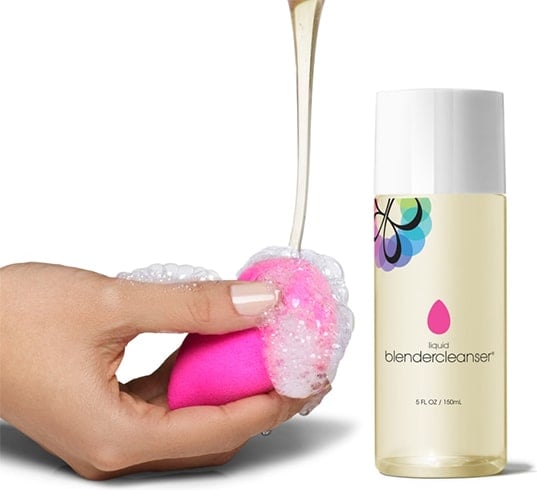 6. Dove Beauty Bar:
Beauty blender solutions are not cost friendly for everyone. Another similar solution you can try for cheaper is a bar of Dove's Beauty Bar.
Steps:
Rub the wet sponge onto the bar.
And watch as the stains washes off.
7. Paper Towels:
For proper cleansing, you may need to follow up with few steps as shown below.
Steps:
Hold the blender under running water or place the sponge in a bowl of warm water for five to ten minutes.
Dab gentle cleansers directly to soiled sponge.
Massage gently and wash off.
Wring out excess water and roll the sponge over dry, paper towels. Dry off completely.
8. Heat Sterilization:
It is essential to sterilize the sponge using heat once a month even if you clean your sponge once a week. This is especially essential if you are a regular user of beauty blenders. It is the best way to remove bacteria from the product surface.
Here is how you can sterilize your sponge at home.
Steps:
Dip the sponge in microwave safe bowl filled with soapy water. (Do not microwave a fully dry sponge as it can lead to damage).
Microwave for 30 seconds.
Transfer the makeup sponge in clean, paper towels.
Wait until the beauty blender is completely dry.
[sc:mediad]
9. Pack it Properly:
Make it a habit to store your makeup sponge correctly. This can directly affect the lifespan of your beauty blender.
Steps:
Allow the beauty blender to dry off completely after exposing in an open space.
Do not put it away in a plastic bag.
Do not store in colored bags whilst packing, too. This may cause the colors to transfer and stain the makeup sponge.
These are some of the best ways for cleaning beauty blender. If you have any questions pertaining to the same, shoot in your comments below.