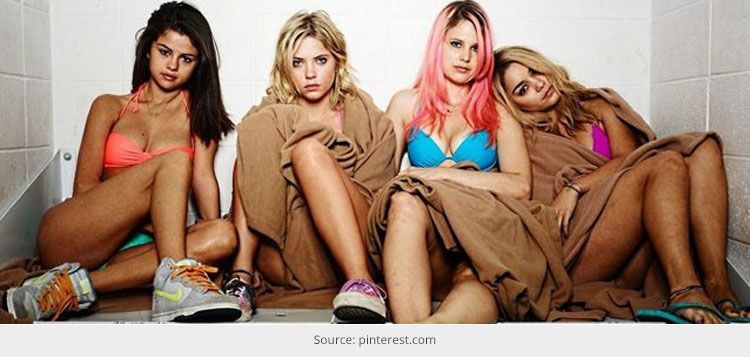 Bikini is a two-piece swimsuit for women. As per Merriam–Webster, bikini is a
"a woman's scanty two-piece bathing suit".
This is the most popular beachwear and is often worn in hot weather at beaches for sunbathing or swimming. The two pieces resemble the women's inner wear and the lower part is available in various styles from thong and g-string to briefs.
French fashion historian, Olivier Saillard had tagged this kind of garment as 'the power of woman rather than power of fashion.'
[Also Read: Bikini Styles]
Whenever you hit any beach on a weekend or holiday, you could have never escaped the sight of the 65 years old of fashion legacy. Although this two-piece bathing outfit is widely spotted in all sandy coastlines across the world, this particular outfit was not so commonplace earlier.
It had caused a stir, soon after its launch and many nations had also banned this outfit, including Vatican, who had declared it as sinful.
In spite of much speculations, this particular women's outfit, which was named after Bikini Atoll, revolutionized the fashion industry and the summers post World War II and has never been the same.
French engineer, Louis Réard coined bikini on July 5, 1946. His invention was made out of a scant 30 square inches of fabric. He got this idea, when he saw women pulling up their beachwear, to get a better tan.
Réard couldn't find any model who was daring enough to put on this highly sensual attire, so he ended up hiring a nude dancer from the Casino de Paris, Micheline Bernardini to market his invention. In this given image, the model is seen holding a matchbox, in which the designer claimed this outfit could fit in.
The ancestors of the bikini date back to the Greco-Roman era. The art mosaic in Villa Romana del Casale, Sicily, dating back to the Diocletian period (286–305 AD) depicts women in this kind of garment. These 10 ladies in this mosaic flooring have been tagged as 'Bikini Girls' .
With the onset of the 20th century, swimsuits had become quite popular, but were always under constant scrutiny. This kind of garment was slowly revolutionizing the women's apparel industry, which was not well appreciated by the conservative class. In this below image, a cop in Palm Beach,  Florida is seen measuring the length of a woman's swimsuit, so as to confirm if it comes under law.
Layers of clothing was eventually replaced by a single-piece costume, which no longer hid the contours of the female body. The forerunner to the modern bikini marked a historic moment in 1907, when Australian swimmer Annette Kellerman was arrested on a Boston beach for wearing a formfitting one-piece.
By 1940s, the fashion industry had pushed the conservative boundaries and was exposing more flesh than ever before. Soon after World War II, not only European nations, but American women were also spotted in this attire in the beaches.
Bikinis were banned for beauty pageants, after the first Miss World Contest in 1951, London, where the contestants walked the ramp in this two-piece attire. Soon after the ban was announced in Belgium, Italy, Spain and Australia also claimed that this form of dressing was sinful.
Bridget Bardot, is widely credited with popularizing the bikini. As legend goes, Bardot did more for France's international trade balance than the entire French car industry.
Other actresses including Marilyn Monroe, also picked up on the bikini's appeal and could be seen wearing them in various promotional shots.
[sc:mediad]
One of the most iconic bikini moments of all times in the history of Hollywood has been captured in this 1960 image, where Ursula Andress, the Swiss actress is seen coming out of the water in her customized bikini. She played the Bond Girl role in James Bond movie, 'Dr. No'.
[Also Read: History of Swim Suits]
In the same year, Brian Hyland helped increase the bikini fever through his catchy song, "Itsy Bitsy Teeny Weeny Yellow Polka Dot Bikini". This is a novelty song, describing the story of a shy girl, who wears a polka dot bikini at the beach. This song became popular overnight, thereby making the bikini a sought-after beachwear thereafter.
'Beach Party', which was first of the several movies filmed on beach parties was mainly targeted to the teenagers. The actress, Annette Funicello's pink bikini drove America crazy and had a great hand in making this movie a superhit in 1963.
In 1966, Raquel Welch dons a fur bikini in 'One Million Years BC' movie, posing as a cave woman. The rugged, tattered two-piece cloth that she is wearing in this poster ends up becoming more famous than the movie, thereby earning her a crowning achievement: Playboy's Most Desired Woman of the 1970s.
In 1964, Times magazine, while searching for a compelling story to write in sports events, ended up on a fashion piece, with Babette March on the cover page flaunting a beachwear. The edition covered models wearing bikini at exotic beach locations and this particular edition grossed US$35 million and the rest is history!
In 1997, the U.S. professional-volleyball player, Gabrielle Reece, promotes her sport in this 1997 photo shoot.
In 2003, Demi Moore made a comeback with 'Charlie's Angels: Full Throttle'. Her bikini pose is more remembered than her role. This beach poster has been credited with reviving her career.
[Also Read: Ways to Wear Your Bikini in Style]
Did you know?
The QT Gold Coast had geared up in 2013 to reclaim its crown on Bikini Parade. In 2011, the Coast had set the world record with 357 bikini-clad entrants, but lost in a year later when China's Huluado City organzied a Bikini Parade with 1085. A 20-year old QT Hotel waitress, Jessica Young was signed up for the parade at Surfers Paradise beach on May 2013. She had also roped in some of her colleagues to take part in the event.
The city will showcase the world's largest bikini beach parade.
Did you know world's most expensive bikini features 150 carats of D Flawless diamonds? 
It also includes a 51 carat D Flawless Pear Shape, a 30 carat D Flawless Emerald Cut, a pair of 15 carat D Flawless Rounds and a pair of 8 carat D Flawless Pear Shapes all set in platinum. The amount of this bikini is estimated to be  $30 million.
Well, these were some of the best bikini moments of all times. Hope you liked it!