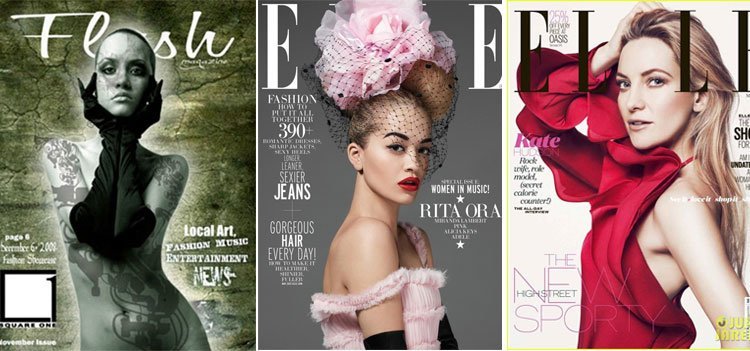 From Beyoncé's British Vogue debut to Emma Watson's revealing GQ cover, see the best of this month's glossy titles.
Fashion and glamor are correlated with each other. This spring fashion magazines get glamorous. From Beyoncé on Vogue India cover page to Emma Watson's revealing GQ cover, the magazines boast the best of their issues of this year. Check-out your favorite divas showing their sensuous avatar on the covers with glossy titles.
If you're wondering when is Beyoncé fever going to end, we guess not so soon..The singer has managed to grab another Vogue cover and this time of course to woo her Indian fans.
This picture is an excerpt from her Vogue US shoot, which hit US stands early this year. The singer has amassed more number of magazine covers in singles than any other celeb this year. Such is the charisma of King Creole!
When it comes to fashion, even our celebs are not left behind. Anushka Sharma is back on the cover page of Grazia for this month. We must say this gal is soon going to become an international fashion icon for youth.
When Justin Beiber's track Baby was released, it went viral across the globe and overnight he became a favorite pop star for young Indians. Justin had the honor of snagging not once but twice for Teen Vogue covers. The 10-year old entertainer is on the cover of this month Teen Vogue issue.
Sonakshi Sinha may be under constant scrutiny of her critics for her weight issue, but this Dabang girl knows how to shut their mouth. She is on cover of Atelier this month.
Shilpa Shetty, the proud mother boasts her sexy figure post pregnancy with her son on the cover page of Hello of this month.
After Priyanka Chopra and Katrina Kaif, Yash Chopra's new muse Sasha Agha is on cover page of the coveted magazine, Harper's Bazaar. Your remember yester-year Pakistani actress Salma Agha from Nikah fame? Sasha is her daughter who made a stir as she resembles so close to her mother. It's indeed a prestigious honor to snag the cover page in spite of being a fresh face in the industry.
Harper's Bazaar is the oldest, continuously published fashion magazine in the world; Harper's Bazaar has been the bastion of fabulous fashion for more than 142 years. As the 29th international edition, Harper's Bazaar India matches the exacting standards that its cousins have set around the world in the areas of fashion, editorial content, and photographic superiority. Harper's Bazaar India is a magazine that celebrates the best in luxury, design and style. It's where fashion gets personal. While it's a fashion magazine, and the emphasis is on fashion, it is also a champion of personal style.
Now a sneak peak from international fashion magazine covers. Keep scrolling!
Jennifer  Lawrence is on the cover page of Tatler of May 2013 issue, a Russian fashion magazine.
Kate Hudson, the 33 year old actress goes high on fashion in Gucci for the cover of Elle UK's May 2013 issue.
In an exclusive interview, Kate opens up about her relationship with Matt Bellamy and her raising 9 year old son from her previous marriage to Chris Robinson.
[sc:mediad]
Rita Ora, the 'Hot Right Now' singer gets inspired from Lady Gaga style and shows her unique fashion sense on this month cover of Elle.
She talks about how she got influenced by the Spice Girls and about her meeting Jay-Z for the first time.
Cara Delevingne, British Super model is on cover of German fashion magazine, Interview. Last year she was named model of the year at British Fashion Awards and has appeared in ad campaigns for Burberry, Chanel and H&M to name a few.
The cute Hollywood actress, Isla Fisher is seen on cover pages of dozens of fashion and fitness magazines this year. In her interview she has said
"I still love what I wore to the London premier of Wedding Crashers even though I wore it years ago. It was a Chanel pale pink strapless dress. I also love this midnight blue Herve Legere number I wore to the Golden Globes when my husband won for Borat."
The Confessions of a Shopaholic actress is on cover page of Fashion Canada for this month.
Chris Nicholls flaunts her fashion statement on the cover page of Fashion US.
While talking about fashion how we can just ignore Marie Claire. Scarlett Johansson looks ravishing on the cover page for this month.
Summer is in and fashion world has already started promoting swimsuits and bikinis. The Glamour offers a special swimsuit issue for this month.
Vanity Fair rewinds the 50's charm by putting Audrey Hepburn on the cover page of this month.
We're winding up this edition by the electrifying Beyoncé who is on the cover page of Vogue US this month.
Hope  you liked it.