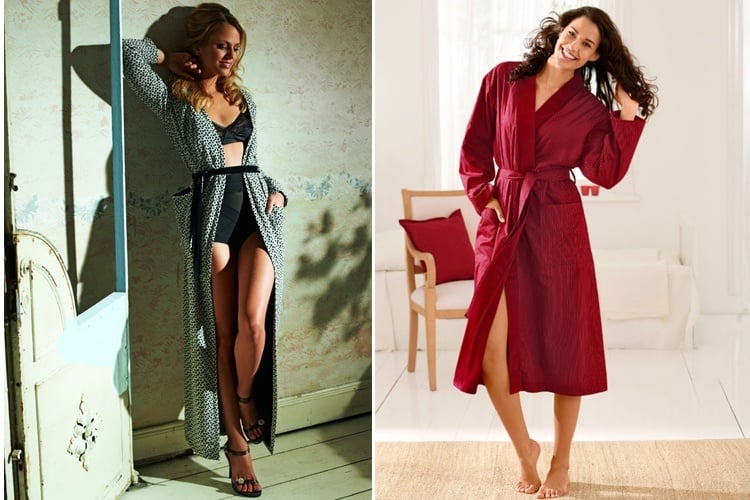 Well, we cannot blame you, for it is the humidity and the heat that makes us want to cool off. From spa therapies to pampering cold showers, we girls need a little more than the normal DIY skin and hair care. A bath thrice a day for some is a must, and for others it would be the mandatory two. However, when picking up toiletries, you would obviously choose the best, why then would you not want to robe in the chicest bathrobes when walking out of the shower? Beauty begins from there, and looking like a diva for yourself, once out of the shower is a mandate we ask you to follow. Check these super sexy and cute womens robes, and you would know what we are talking about.
Feel a little blue and gloomy
A rainy day may wash away your spirit or enliven it as well, and it all depends on the play of colours you choose to pamper yourself with. From bright oranges to sassy violets and deep blues, the lovely bathrobe collection on display by eminent retail stores across the world, tells us why a colorful bathrobe is a must-have!
Kimono styles
Fancy being the Geisha walking out of the shower and into the room? Stir things up a little with the cotton fabric geisha kimono bathrobes, and you would be happy to flaunt the garment as a seductive piece too!
[Also Read: How to Make your Bath a Fun Bath]
Blushed floral robes
Bring on the season of spring, each time you have a shower. Set the mood and let a little more than the usual vibrancy come around. A spa or a shower, whatever you choose, but a sexy bathrobe on the lines of a sensual romper is a must-have!
Let's play HELLO KITTY
For a pyjama party or a spa party for girls, when there would be dolling up and plenty of makeovers being done, get your clothes some protection. Wear the HELLO KITTY cute bathrobe and flaunt it in front of your friends. Let them burn with envy and jealousy, and you get to be the princess of the night in this cute number!
The Zen effect
Create a Zen effect whilst indulging in a spa the DIY way, and have a little more quirky fun than the usual with a green and floral bathrobe as shown. It immerses into the mood to flaunt and the sensual appeal for sure comes through!
[Also Read: The Kimono Fashion]
The Star Wars Chewbacca Bath Robe
Fancy a little role-play while you scrub yourself clean? In a good way we mean, the Star Wars Chewbacca Bath Robe is emulation from the famous trilogy, and as a STAR WARS fan, this would be your ultimate memento to have – closest to your body!
[sc:mediad]
Gorgeous pool parties
Make the pool parties your platform to shine and glitter, with plashes of bright colours and floral touches. There are gorgeous bathrobes that keep you covered, and with total style that too! Have fun with a dash of orange, a drink or the bathrobe we meant!
For the beach rave parties
Don't like showing too much skin while being at the rave parties down the beach? No problem with that! A fancy bright floral bathrobe is here for keeps, and would make you still the centre of love and attraction too!
Vintage and classic
For a special night with him, a simple bathrobe wouldn't do. What you need is a bathrobe that makes you look like a queen; a Goddess he would worship. The beautiful cotton wardrobe with flowers on the seams does its magic!
Sexy silk kimono styled bathrobes
We wouldn't want to say anything more, and would allow your imagination to run galore! Black is sexy, enough said – silk rules!
You see how Bathing Robes can make you look your sexiest best when walking out of the shower? Let us know your tastes and likes when choosing one, and we would like to talk about them too!