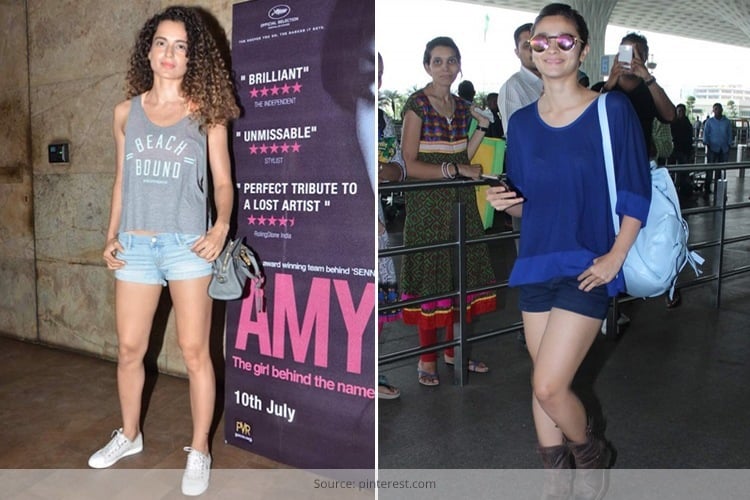 Age is just a number, age is just a number, and age is just a number! To be very honest, it really is just a number. While styling yourself, you shouldn't think of your age. What you should think of is – your body frame, your body type, your height and your confidence levels.
Because you could be 50 (years) and petite and look bomb in shorts, and you could be 20 and a little on the upper side and not look so nice in shorts (for those on the upper side, middy shorts are a blessing!)
Today we have taken two ladies from Bollywood who have quite the similar body frame and type and both of them rock shorts like nobody else can. Alia Bhatt is in her early twenties, while Kangana Ranaut maybe in her late twenties.
[Also Read: Boyfriend Shorts – The Next Big Thing]
Let's take a look at them!
Kangana Ranaut
Kangana Ranaut recently attended the screening of an upcoming movie – Amy. Her style screamed 'don't mess with me'. Her outfit included denim shorts, a sleeveless (ganji sorts) tee shirt by Victoria Secrets from PINK and white canvas shoes. To up her glam quotient, she also carried her new favourite, Alexander McQueen bag.
Her hair were styled the natural way with curly flowing all over the place and she had minimum makeup on! Can you guys spot hints of coral lipstick?
[sc:mediad]
Alia Bhatt
Last week, Alia Bhatt was spotted at the Mumbai airport wearing a cute pair of shorts with a baggy shirt. Accessorising her outfit were ankle booties and round Technicolor Ray Ban's (which we need in our life!!). A simple pony and her sweet smile finished off her look! We also love her pastel blue backpack.
We are sure, she skipped her makeup!