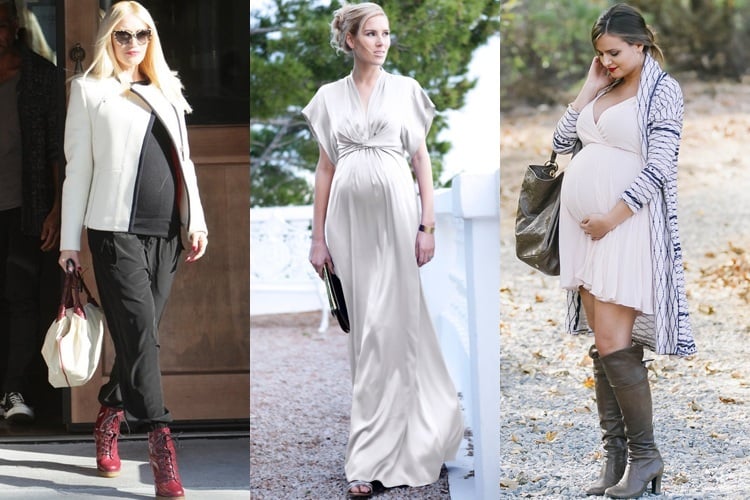 Pregnancy is the most special time for a woman. And amidst all the pre-baby preparations, baby shower, and other worries many women tend to side-line their wardrobe. Looking good or wearing dressy attires is often not a necessary thought for moms-to-be. While wearing comfortable, breathable or flexible clothes is necessary but that should not mean that a pregnant woman should end up wearing out-dated, drab, grand-mother style clothing to accommodate the growing belly. So, toss the old rules aside. Here's how you can nurture your inner diva by keeping a few easy steps in mind and shun the myth that pregnant women cannot style their baby bump.
What To Wear: Outfits For Pregnant Ladies
1. Maxi dresses will compliment your growing body. Full length dresses or A-line dresses in light weight cotton, linen, cotton voiles, rayons and poly crepes, jersey, crepe and georgette are apt.
2. Wear scoop neck, low cut or V neck or peasant cut ensembles and a little cleavage show is not bad. It simply elongates the neck and gives a slim look. The neckline has to be taken into consideration when pregnant. Because it's no longer just conceal and not to reveal!
3. You can also opt for your husband's longer length shirt and team it up with stockings and a scarf in gauze, silk or cotton around your neck. Makes for quite a modern and classic look!
4. Adjustable waist bands on the bottom, such as drawstring, dungarees or sweat pants or carrot pants or Mid-rise pants are the order of the day.
[Also Read: Cute Maternity T-Shirts]
5. Choose bright, neon, candy colours which make for happy hues for expecting mothers. Even solid colours create a slimming effect.
6. Empire waist tops or kaftans or flowing chiffon blouses with leggings or jeans is quite comfortable.
Continue reading for more outfits for pregnant ladies.