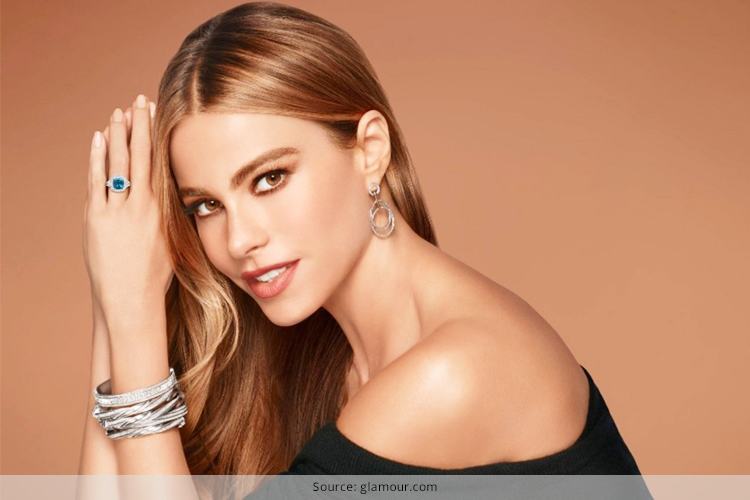 She loves her coffee, her boyfriend and her son, and in her forties, the bomber from Colombia with a figure to die for is the reason why many men do not have peaceful sleep. Sofia Vergara, a former Colombian model with a sweet Colombian Espagnole accent, made her entry into the glitzy glam world of the Americas back in the 90s, when she was spotted by a commercial ad maker on the beach, SUNBATHING! Today we are spellbound at the beauty, and wonder how she manages to stay so calm, look so good and dress to impress, while her counterparts the same age are running for cover. Ladies, let's take a look at the super hot Sofia Vergara, one of the most attractive female celebrities we all look up to for fashion!
How to look casual and sexy like Sofia Vergara
What we love about Sofia's look here is that a simple V Neck tee when paired with denims can bring on a diva look, only when you know how to flaunt your curves and be proud of it. The matte lips in red and the glossy blush too could be a reason which makes the Colombian star a hot piece of real estate!
Backless camisoles and denims
Perfect airport fashion, Sofia has an awesome body and doesn't have qualms flaunting her sexy back too. In a green camisole backless top, paired with light denims and heels for the feet, Sofia may have kept many pilots grounded before take-off!
Sofia in a printed one piece long dress
A summer coat long enough to cover for warmth and a printed green one piece summer long dress, zipped from hip to the neck with a polo-neck touch, and that's how Sofia steals the show when she's called to grace a ceremony with other stars around!
Curvy girls take note – Learn from Sofia Vergara
Inspiration for the curvy mommas out there, who feel that bikinis are meant for the slim PYTs only! Said no one ever if you have curves, you couldn't flaunt them nice at the beach. Go ahead and stun the sun with a bathing suit and a sarong for cover, and watch how the accolades pour in like a tsunami!
Quite a style diva, Sofia Vergara
A look so nice that MIL would fall for your sense of fashion; black top with dark denims and a chunky accessory to flaunt the pocket, which is what Sofia shows us to wear and flaunt when meeting MIL. Don't forget your heels or a pair of boots, either ways your entry would be noticed well!
[Also Read:  Colombian Fashion Statements]
[sc:mediad]
Sofia Vergara: Lady in red
We aren't singing Duran-Duran's favourite number here, but rather we would want to dedicate it to Sofia who looked stunning in a red sheer cocktail gown for an awards ceremony event (Emmy's). The red carpet shied away when the diva made an entrée, and needless to say, the shutterbugs could not stop clicking!
She keeps it minimal
A sexy long blue dress shaped in a pencil touch at the end, and in royal blue that too, makes Sofia look super classy and hot. The actress keeps it simple and she doesn't wear too much makeup or accessories for the evening out with friends.
Tres Haute Senorita
Marchesa and Lorraine Schwartz earrings to sport, Sofia matches up the hauteness with her long flowing gown in Pink and Peach, at a red carpet ceremony sometime back. The diva was a princess that the shutterbugs clamoured for, and she didn't mind obliging a pose for her fans too!
[Also Read: Princess Ball Gown Dresses]
Statement accessories are second to Sofia
One of the sexiest Hollywood actresses, is known for her penchant of loving all things large and nice, accessories included. At a recent awards show, she went ahead with a strapless number and sported the blue floral bib Lorraine Schwartz necklace with total chic and aplomb!
The off-work look
So what does Sofia do when she has a day off from work? Go socialising and shopping of course, and she deserves it too.
If we have to pen down more looks on the gorgeous Colombian yummy mummy, we would need all the bandwidth online to play with. For now, these were the ten best looks of the Colombian hottie! Wait for more, the next time we meet on more best looking female celebrities!