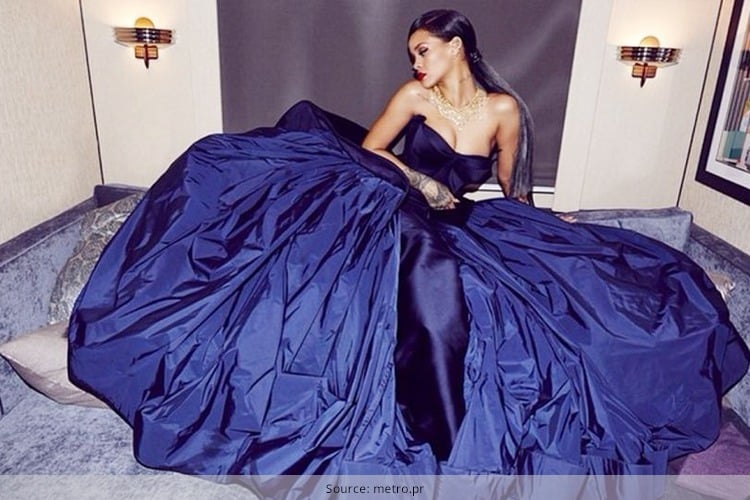 If there is a White Tie for men, worn as formal dress code in ceremonial occasions, formal balls and evening weddings, there princess ball gown dresses for the ladies too.
A ball gown is meant to be worn in social occasions as formal female attire. It is a full-skirted gown, made of luxurious fabric, and delicately trimmed to give that awesome appeal. Most of us have grown up reading stories of maiden queens and princesses dressed in ball gowns and sweep trains dancing with their male partner in the evenings with music, wine and cheese flowing. Imagine the swinging and twirling across the dance floor in ball gowns with sweet whisperings and raising glasses. How romantic and dreamy it sounds?
[Also Read: Sexy Low Cut Dresses]
Most of the ball gowns come in off-shoulder designs with cleavage-revealing necklines. They are worn with a stole, cape and sometimes a cloak to give a well-balanced look. As standard accessories, jewellery, opera-length gloves, dancing shoes, clutch style bag are worn by the lady. Married women sometimes wear a tiara. So, as you can see, a ball gown comes with so many trappings to make it look magnificent. Princess Ball Gown Wedding Dresses are sure every girl's dream to wear them at least once in their lifetime.
[Also Read: Most Expensive Wedding Dresses]
Features Of The Ball Gown
Since the mid of 19th century, things have changed very little for a ball gown dress and that includes its shape. The most common fabrics used are silk, satin, velvet that had lace, pearls and sequins trimmings with embroidery.
Ball gown dresses come equipped with a full skirt and a fitted bodice. That is why it looks so wide enough to give adequate volume to the gown.
As for the comfort factor, ball gowns with organza are easier to handle for the wearer, particularly brides. However, layering is important to get that full volume and shape. In order to acquire that, fashion designers mostly combine organza with stiffer layers so that a larger gown shape can be achieved. One very important thing to bear in mind is that organza fabric is liable for easy wear and tear, so brides and high society ladies wearing it need to be more careful of the delicate nature of the ball gowns. But the good part is that since an organza ball gown is flooded with layers and layers, there are fewer chances for any rip offs or any kind of tearing to happen.
Colours and textures of the ball gown
Solid colours are the most common ones that are used in ball gowns. However, texture plays a vital role in this fashionable dress through the use of feathers, sequins and punk. Some of the beautiful ball gown wedding dresses that we see are in ivory, white and cream colors.
Keeping white aside, pinks and yellows are unusual colours that can set the ballroom floor on fire. If you want to look dramatic, bring out the blunt reds, blacks and blues. Look sassy a bit and you will be able to woo anyone with your persona, drama, style and star quality.
[sc:mediad]
Occasion for the ball gowns
Whenever you are deciding on a ball gown, always think of the following things before deciding on the outfit. The music that will play, the guests who will be coming, and most importantly the impression you want to create.
All you need to do is keep flashing your paparazzi smile, ignore the page 3 photographers clicking you as you walk down the red carpet to the center of the ballroom.
Ball Gowns –A Retrospective
History brings us some cherished memories. Years ago, ball gowns could cost a fortune and took months to make. Whereas today's dramatic designs come from renowned fashion houses such as Christian Dior, Chanel etc.
Go down to Hollywood, and you will see ball gowns a staple wardrobe essential for the lovely actresses in Oscars and Golden Globe Award ceremonies.
Sofia Vergara in a Satin Strapless Ball Gown Evening Dress
[Also Read: Bollywood Celebrities in Evening Gowns]
Sonam Kapoor in custom Dolce and Gabanna for Cannes
Aishwarya Rai at Cannes
Kate Middleton's Princess Ball Gown Wedding Dress
So get ready to embrace the ethereal, angelic look by picking a ball gown to your desired taste, colour, size and embellishments. It will give you a soft and pristine look, no doubt.
Hope this article on Ball Gown Dresses was fun and helpful.