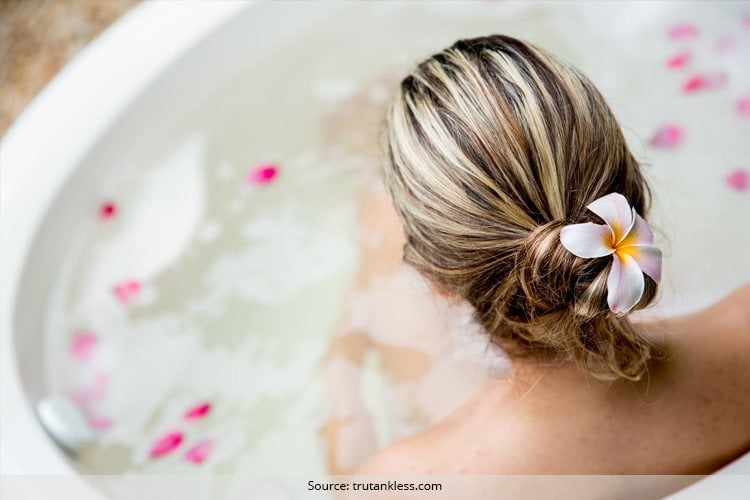 There is a difference between having bath and having fun in the bathtub (pun unintended)! A bath can be made relaxing and refreshing if you add a couple of products. Yes, we know candles and flowers would be the obvious choice, but the list does not end here. To make your bathing a fun time and a blissful experience, we bring you some ideas. Try them out and see how wonderful you feel. Chances are you might love to spend most of your time getting into a fun bath.
Scoop Whoop
If your sweet tooth is bothering you, do not resist the cravings. Dig into a scoop of Me! Bath Mini Bath Ice Cream. It's not a usual ice cream, but the one that has fizz-balls melting away while oils and organic minerals go about softening your skin. The brand offers both pomegranate (as shown) and mint flavour. Sounds yummy!
Mould Break
These are fun tubes (look so) made from Lush Fresh Handmade Cosmetics, and what do they do? It's all about moulding clay without any mess that makes you feel cleaner. All you need to do is choose your favourite colour of the mould (there are five of them), break a piece and add it to your loofah. This will give you an energising scrub. If you wish, you can add some moulds to the tub too to get a softening and colourful soak.
Foam Flurry
How about a foaming session with Mr. Bubble Foam Soap? It's soft and squeezable and scrubs your skin in a gentle way. The set comes in two colours – pink and blue. Stop shying away and call over your guy to join you in this foaming trip.
[Also Read: 19 Important Products that must have a Place in your Bathroom Shelf]
Pore Care
Yes we know how tiring workdays can be on you and your skin. Unwind the stress quotient with Tony Moly Face Mask Sheet. It has a rich formulation of red wine extract and there is jasmine and green tea too to tighten up the skin and reduce large pores from occurring. And it takes all of 20 minutes to leave your skin rejuvenated.
Hair Brightening
Our hair has to go through so much of pollution, humidity and temperature shifts that sometimes we wish we walked around with our head covered. That can't be. What you can do instead is apply Davines Alchemic Tinted Conditioner to your damp hair for 5-8 minutes and follow it up by combing. The conditioner comes in five colours – chocolate, copper, golden, silver and tobacco. Cool!
Buddy Scrub
Don't worry, there is no buddy we are referring to. It's a sea-salt-and-sugar concoction that you need to scrub your body with to get fresh sparkling and rejuvenated skin. The Buddy Scrub comes infused with moisture-packed ingredients such as coconut oil and vitamin E.
[Also Read: 15 Bath Salts You Can Buy in India]
Turn on the Body Wash
The Clarisonic Cleansing System Mia 3 is a powerful hand tool that makes body wash meaningful, efficient and enjoyable. The skin impurities vanish off thanks to the three-speed pattern.
[sc:mediad]
Staying Cool gets better
Reducing eye puffiness is a huge task but here is something which will make you look chic too. Invest in the Sephora Collection Glitter and Chill Cooling Mask that would remind you of your favourite sunglasses with its adjustable Velcro strap to provide you comfort and custom fit. Eye it!
Tequila Time
How about soaking yourself in a full-body cocktail? Sounds great! Well then, Philosophy Senorita Margarita Shampoo, Shower Gel and Bubble Bath is there to give you a zesty lime scent. You will be surprised to see the recipe on the bottle. What a thought it is for your skin!
Pump up the Excitement
If you are a girl man, you sure want to create excitement your way. Here is a better way in doing so which has a little music to make it sound 'pick-me-up'. All you need to do is suction this Abco Tech Water Resistant Wireless Bluetooth Shower Speaker to the wall and what will come out is your favourite song.
[Also Read: Essentials for a Perfect and Relaxing Bath]
Now get started on making your bath a fun bath and do let us know your experiences. Don't you feel shy, please!