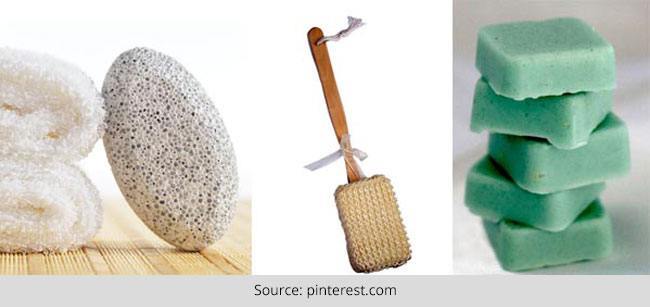 Your bathroom is your most personal space, for me it is the "me" time I like to spend to pamper myself. For some it's as good as hours that they spend in the bathroom. The early morning routine or a nice shower in the evening, a few essentials are a must in your bathroom. In the daily monotony of our work and schedules, this is that one time where you groom yourself and take care of your body the way it deserves. Never neglect your skin, your hair and your face for what looks good on the outside creates your impression.
Even in the long run, a few bath essentials will prove beneficial now more than ever. So, here is a list of a few must haves on your bathroom shelf. If you have missed any, grab your shoppers basket and get going
BARE ESSENTIALS
1. Toothbrush, Toothpaste and Mouthwash
We start our day with our teeth brushing and cleaning of the mouth, with the innumerable variety of toothpastes and mouth wash flavours, you have the independence of choosing the one you like or want to smell like. Gel, paste, herbal, with salt, extra white etc, you choose whatever your situation demands and head to the next step of morning grooming.
2. Shampoo
Go with your hair type and pick a shampoo for your daily use and one for your scalp needs that could be used during the weekends. Alternating between two shampoos is a good idea since the contents of each may differ and your hair will get the benefit of both.
3. Condituoner
It's usually a said rule that you pick the conditioner that comes along with your shampoo, because they will complement each other and work best for your hair. In case not, you pick a conditioner depending upon your hair and scalp type and stick to the one.
4. Soap
Get the by FabIndia for they are non chemical, handmade and leave you feeling clean and smelling great. A personal favourite, soaps like these come in different fragrances and flavours and a refreshing change from the otherwise available bathing bars.
5. Face wash
An exfoliating face wash works best for mornings, especially the ones with the micro beads. They dissolve as soon as you press them in between your palms and work on your skin. Don't forget to read our article on common mistakes made during washing the face.
6. Cleanser &Toner
With pollution killing your skin, you need to be a tad bit more careful about your face. Use a cleanser instead of a face wash at the end of the day to remove dirt, oil and also tanning to an extent. A cream based cleanser should be used, with gently circular motions all over your face. Continue this process for 3 to 5 min and rinse with water. The next step would be using a toner and cleaning the remaining dirt that wasn't cleaned the very first time.
7. Body Wash/ Shower Gel
Substitute your bathing soaps to these scented shower gels for that after bath freshness and glow. It helps maintain the moisture in your skin and removes oil and impurities. If not every day, make sure you use the body wash/ shower gel at least twice a week. It's like treating your skin to shower love.
8. Body Lotion
Moisturising your body is as important as moisturising your face. Remember to apply the body lotion right after a bath cause moist skin absorbs the lotion well and the skin will be rehydrated. A layer of lotion will also protect your skin from the dirt which could be washed off at the end of the day.
9. Body Oil
Body oils get lost every day during your shower and start to become dry and flaky. Help the situation by oiling your skin once in a week with massage oil or just some almond or coconut oil. This will help regain the balance of oils in your skin, making it look livelier and healthier.
10. Hair Oil
When our grandmothers forced us to apply oil in our hair, we couldn't care less and now we make sure we do it at least twice a week. Oil helps clean your hair and scalp and keep it hydrated. Like your skin, even your scalp is prone to dryness.
11. Hair Mask
Usually required to do only once a month and you will not have to bother about it for 30 days. They help make your hair shinier and healthier. A hair mask could be home made customised to your requirements or bought in a pack from outside.
12. Foot Scrub
Our feet are our least dealt with areas, so make sure your look after your feet like you do for your face. Since the skin there is not so delicate, you can use a scrub made from walnuts, tea tree oil, sea salt, all of which will help remove the dead skin. Remember to do this at least thrice in a week for beautiful feet.
13. Intimate Wash
Your down there is sensitive and needs special kind of cleaning, using your regular soaps might cause the sensitivity to be affected. Hence, these days a few intimate washes are available that are foam based and completely safe.
Bath Accessories
14. Loofah
A loofah that is not too soft neither too harsh for your skin is an absolute requirement for bathing. It helps exfoliate your skin and remove the dead skin cells that are formed everyday.
15. Scrubber
Scrubbing your feet is a good habit and should be done without fail. Hence, get a cute looking scrub that ll help make your mood do the scrubbing every time. Make it a fun chore.
16. Scrub Soap
These loofah cum soap bars are a must have in your bathroom. They are easy to use and can be utilised for scrubbing your feet while in the shower. It lessens the work of scrubbing and applying soap at the same time by mixing the two in a cute little bar.
17. Pumice Stone
It renews the circulation in your body and makes it feel rejuvenated. Have one by the side of your shower and use while you are at it.
18. Tweezer
Tweezing your eyebrows is a good practice, helps maintain the shape of your natural eyebrows and does not ruin your face with too many no-so-fully grown hair.
19. Band Aid
Here could be cuts while you shave, always have a box of band aids and cotton in your bathroom shelf or cabinet.
Hope you have all these products on your bathroom self.
Tell us what products you have on your bathroom shelf.