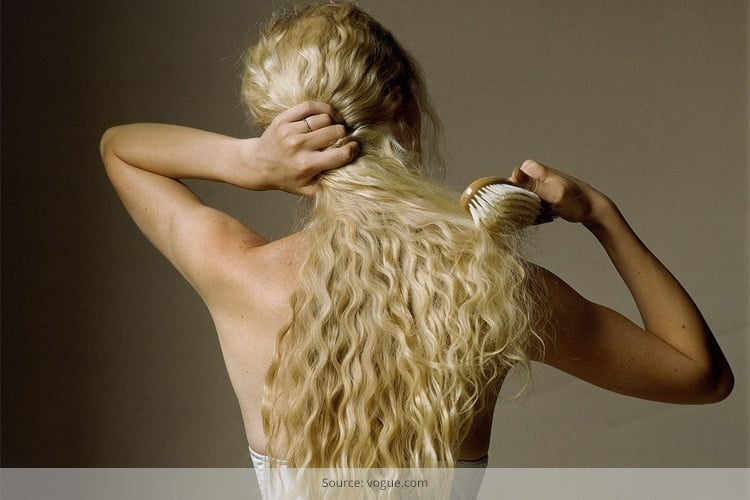 Your nearest beauty store never fails to amaze you, after all, the range of brushes that they have is so overwhelming! There are tons and tons of shapes and sizes and it gets a tad bit difficult to choose exactly the one that will serve you better. But don't worry, we have your back. We are breaking down each brush and the functions of each to help make choosing a brush lot easier.
Let's get started on different types of hair brushes.
For Your Wet Hair
Most of you will not be aware that for your wet and tangled hair, there is actually a special brush. This is called the Fine Hair or Brushing Hair Wet brush and is helpful for a couple of reasons. Firstly, it has flexible bristles which make the process of untangling wet hair quite a breeze. Also, for those of you who have really fine hair, this brush is perfect for your hair because the bristles are soft and they can work on all your tangles without snagging your hair. It also has a padded cushion which makes it easier to glide along the way on your scalp.
[Also Read: Are you Washing Your Hair the Right Way]
Hair Brush for Thick Hair
Yes, you need to have brushes for both kind of hair because the requirements are pretty different. For those of you who can boast of thick hair, you have to go for something like the synthetic hair brush. The synthetic bristles are much better than any other material because they do not create static and ultimately your hair does not look like a frizzy mess! Plus you can also find different lengths of these synthetic brushes which makes it easier to detangle thicker hair.
Hair Brush for Curly Hair
Ladies who have curly hair find it very difficult to manage hair because most of the brushes make them their hair look so woolly! Frizz is a big problem with many curly haired women so it becomes important to invest in a brush that will prevent your hair from getting into a mess. One brush that everyone swears by is the Denman Classic Stylish Brush. The good thing about this brush is that the bristles are very flexible and moveable and thus do not tangle your spirals. Also, the bristles are very wide which makes it easier to preserve your curls.
[sc:mediad]
Here is a list of the most common hair brushes that we use:
Paddle Brush
This is a multipurpose brush that you can use when you are on the go. It is basic and everyday use brush. The paddle brush also makes for an excellent detangling brush and helps to stimulate your scalp. Last but not the least, it also helps to prevent rough and dry hair. It cannot be used to create a lot of volume, but using it time and again will lend you quite some shine.
[Also Read: Hairstyles for Bad-Hair-Days]
Bristle Round Brush
If you want a brush which will give you an amazing blow dry, then the bristle round brush is your thing. It is mostly used on wet hair to impart shine and also to create a smooth silky blowout. The bristles here are not of the same size which makes it a lot easier to style wet hair. Round bristle brushes are mostly on a wooden stem and when you use them on your hair, you would also be able to create a ton of volume. Use with care however, it may tangle your hair.
There you go! A comprehensive list hair brush guide that can make your life a tad bit easier!