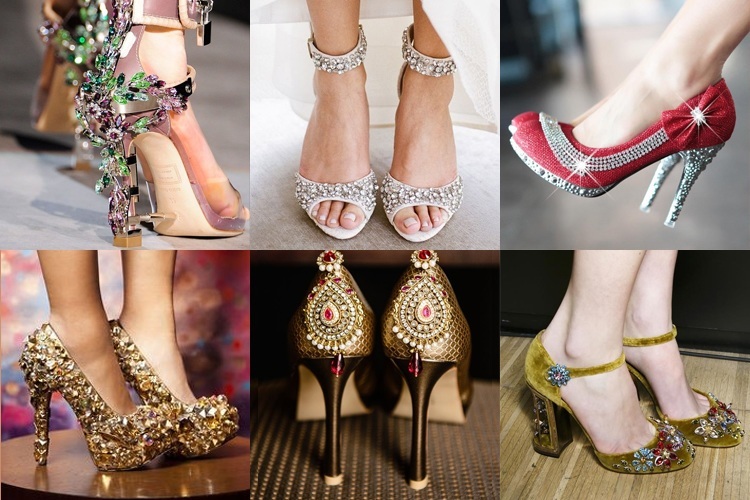 We girls don't need a reason to get all jiggy with it, when it comes to dancing and burning the disco floors. Yes, we love shaking our legs to hip-hop, swaying to the melodies of salsa, zumba it out for fitness and more, we dance like no one's watching. While one takes the day to decide what to wear for the evening out at the pub, the trend seems to be on the shoes we wear to the dance. Shoes, they make a difference, and without them we wouldn't be able to show off our moves and steps. Not just any shoes or heels; we like a little bling and hence wouldn't mind precious stones and jewel embellishments for company!
Here are ten chic dancing jewel shoes that help us tap the numbers right when the Dj belts out our favourite songs!
1. Jewelled Emerald For The Ladies Night At The Bar
While the hunky bartender pours you a mojito, entice the men around to come and ask you for a dance with a little more than the usual bling, but this time on your feet. Put your best foot forward and show them how to burn the floor tonight, in these babies!
2. Christian Lacroix Jewelled Sandals
Christian Lacroix jewelled sandals, who wouldn't want to own a pair of these designer babies! We'd kill for them and wear them to the best of all occasions. Perfect jewel shoes to wear with any ensemble and for every season or reason too!
3. Sweet Jimmies
There's always an X Factor with the famous range of Jimmy Choo Shoes, and this time with embellishments so sparkly and wow. Ladies, hold your breath as you slip into these puppies, you'd be shining like a star fallen from the heavens, all night!
4. Fancy Those Jewelled Pumps
Absolutely stunning and very minimal too, if you aren't a lover of too much bling or shine, the Aminah Abdul Jillil crystal pumps would be the safest bling bet to wear tonight. Irrespective of how formal the occasion is, these pumps would shine you through and through!
[Also Read: Must – Have's In Your Trousseau]
5. Attending an Indian Wedding
For an Indian wedding or if you are the Indian bride-to-be, you'd need the right jewel shoes shoes to wear and flaunt on your big day! Shoes with total bling would match the Indian bridal trousseau, and the collection from Argyris Prasad works wonders!
[Also Read: Tips to Help Indian Bride Buy Wedding Shoes]
6. Juicy Colourful Jewels For The Spinster Party
A little quirky and with a riot of colourful gems embellished on the sling back, makes a girl a sassy wild diva at her friends spinster bash! Have a little more fun and notch the raunchy heat up in these bad girls!
[Also Read: Winter Party Wear Shoes]
7. We Heart CHANEL
Chanel, Chanel, Chanel all the way, and we wouldn't go wrong blindly picking up a pair of jewelled beauties for the feet. Available in a wide range of styles and designs to choose from, Chanel Shoes adds the B to Bling and in a very classy way too!
[sc:mediad]
8. Christian Louboutin For The Bridesmaid
Without stealing more thunders at your BFF's wedding, and since you are her bestie and the bridesmaid she banks upon, wearing Louboutin with your ensemble makes you look chic and haute in your own ways, and doesn't overrule the beauty of the bride too!
9. Olivia Palermo's Selection For The Cocktail Event
Make hubby proud by putting your best foot forward and holding a glass while socialising with the cream at his workplace. The Olivia Palermo's collection thus fits apt with the Indian ethnic or western wear you choose to doll up in!
[Also Read: Heels or Flats?]
10. For an Evening Out to the Movies
Be the girl that shines in the dark, with the right evening sandals worn. The RENE CAOVILLA red evening sandals are thus the right pair to pick and flaunt, and maybe all eyes would be on your feet, instead of the 70mm screen!
11. D & G Jewelled Velvet Pump | The House of Beccaria
Sangeets to mehendis, shaadis to the band baaja affairs and the reception too, with your sarees, anarkalis, lehengas and more, the D & G Jewelled Velvet Pumps are a gracious pair to own!
Bling is in and we love flaunting them with total badass attitudes! Have fun girls and shine through the night!