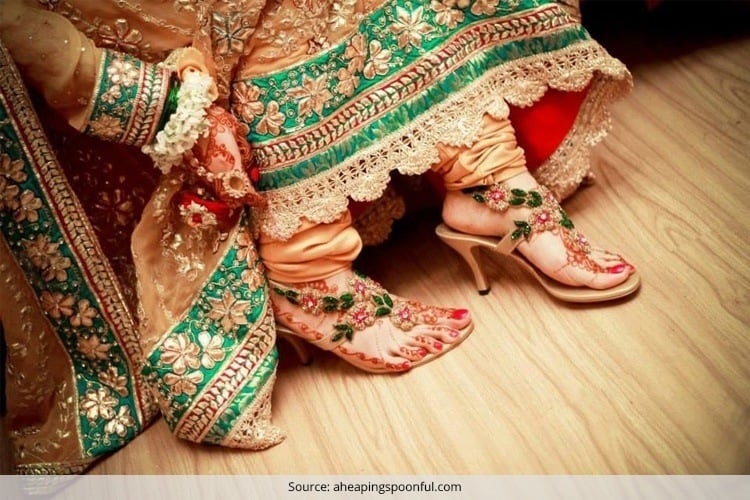 Before I kick start this edition, let me just congratulate some of my esteemed readers who're going to take their wedding vows this season. I had been receiving many mails from the would-be brides re wedding shoes and how to choose them to ease the pain without altering the fashion quotient.
[Also Read: wedding shoes]
With the wedding season fast approaching I thought this is the best time to share some useful tips with my darlings to help them prepare for their D day.
From Cindrella to Carrie Bradshaw, women's love for shoes has been dubious and fanciful. Footwears have always caught every woman's attention and as fashion designers rightly put it as this way –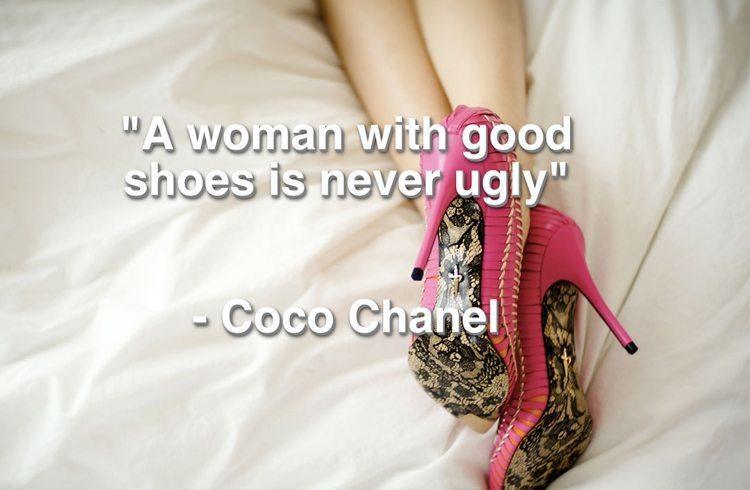 [Also Read: Tips to Pick Wedding Shoes by Bridal]
And per the shoe lovers, "Women can never have enough shoes". Shoes without doubt, are the most sought after fashion accessory and when it comes to wedding, a bridal look is only complete with an a statement pair of shoes.
The wedding is the perfect occasion to splurge on shoe-mania sans any regret. From sparkling towering heels to peep-toe sandals and crystal-studded kitten heels, it's the bride's day to score on such extravagant fashion items.
If you've already started your wedding shopping then before you blow a fortune on foot wears make sure the money is worth spending. Even though heels and comfort do not go hand in hand, just trail down these hot tips by Aruna Seth to make your bridal look perfect in all aspects. Do have a read!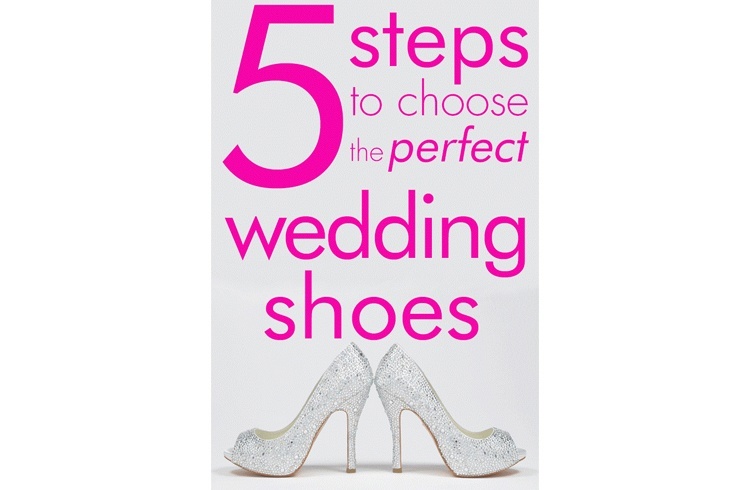 I am a huge fan of Aruna Seth, the bridal shoe designer from UK. You can read about her here.
Aruna Seth, the international bridal shoe designer, shares her expertise to would-be brides on choosing faultless bridal shoes for their big-day.
Focus On Comfort
A wedding day demands lengthy hours of standing upright right from your reception to posing for photographs and thanking guests. Since everyone's attention will be on the bride, she is required to hang a smile on her face all the time. And she can only do this, when she is comfortable and at ease with her wedding outfit and footwear especially.
You do not have to compromise with your comfort only to stand on those heels. These days, comfortable wedding shoes are available in the market, some great numbers from Aruna Seth's store as well. The sole of her shoes contain a unique plush cushioned padding to give the brides a cashmere-like comfort to your feet throughout the event.
[sc:mediad]
Be Organized
I have seen most of the girls not paying that much attention as much as they focus on their bridal outfit. While they plan months ahead for their wedding dress, shoes are left for the last minute rush. Sometimes the last minute decision lands them with a pair of uncomfortable shoes and they've no other option but to wear them all day long.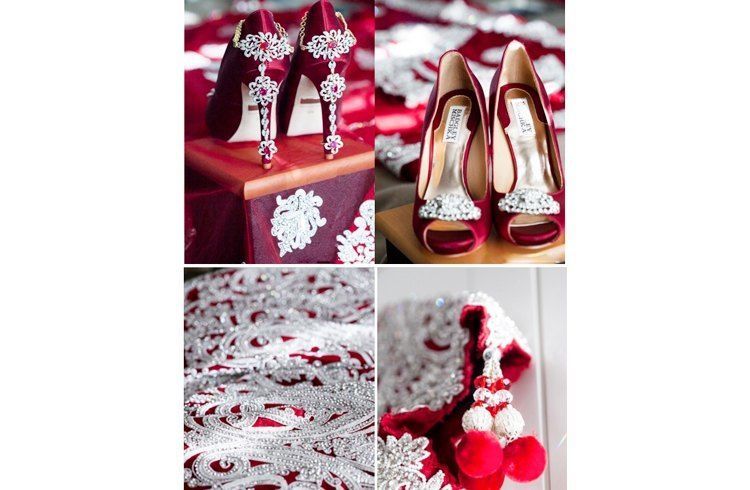 So, Aruna suggests these brides-to-be to pick their shoes while buying the wedding lehenga as well. Soon after you have purchased your wedding attire, you should head towards a bridal footwear store to grab the correct pair. Because the length of the lehenga or saree should determine the length of the heels and when you buy them around the same time, it helps get you a comfortable pair of heels.
Do Not Tower Above Your Spouse
No matter how much you love towering heels, you need to think practically when it comes to buying bridal foot wear. The heel-loving brides are required to compromise on inches. While comfort, being the major reason, you should also consider your husband's height as well. Imagine in your photographs, you are towering above him.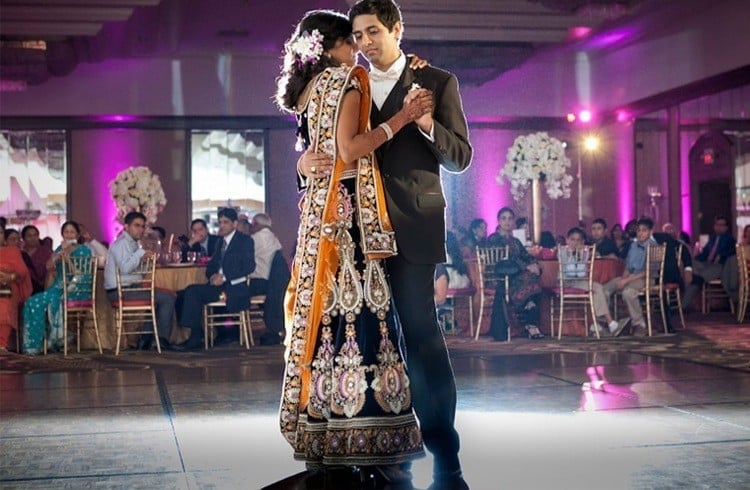 So, it's better to go for kitten heels in such cases to offer a suitable height to your wedding pictures and the onlookers as well. And if you're not familiar with 6″ heels then a sudden desire may backfire. So, be careful while picking the heels' height.
Let Not Comfort Jeopardize Your Style
I have now talked about how to stay comfortable in your wedding heels in length – this doesn't mean you've to compromise with the style. Always remember you can only flaunt a perfect look with the right pair of shoes. Since you're splurging a lot on your wedding shopping, unlike your wedding outfit, make a smart purchasing when it comes to footwear.
[Also Read: Outdoor Wedding Shoes]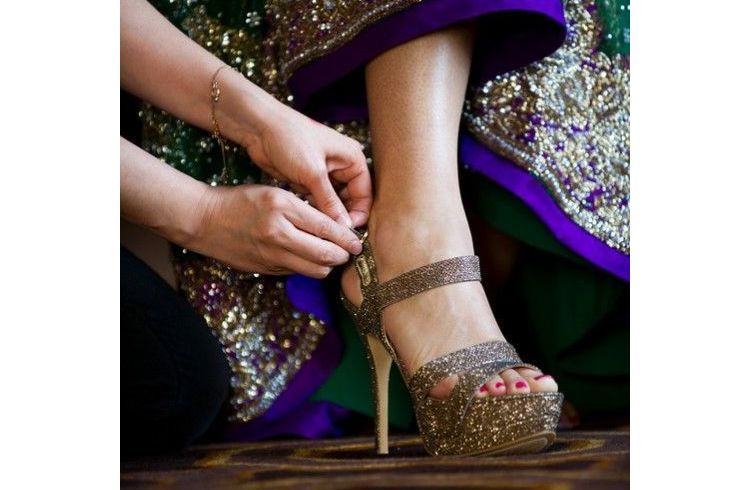 Buy shoes that can also be worn later on for other occasions. You do not necessarily have to buy a pair in matching shade of your lehenga. Silver and gold are the two best shades for fancy foot wear. You can do a bit of experiment by opting for a silver pair with a dash of blue or gold with red.
Walk Around With Shoes
After purchasing your wedding shoes, you should practice walking on them around your house. This will help you become familiar with their texture, making you comfortable on the D day. The before hand practice also reduce the risk of friction with your feet, saving you from the painful blisters on your wedding.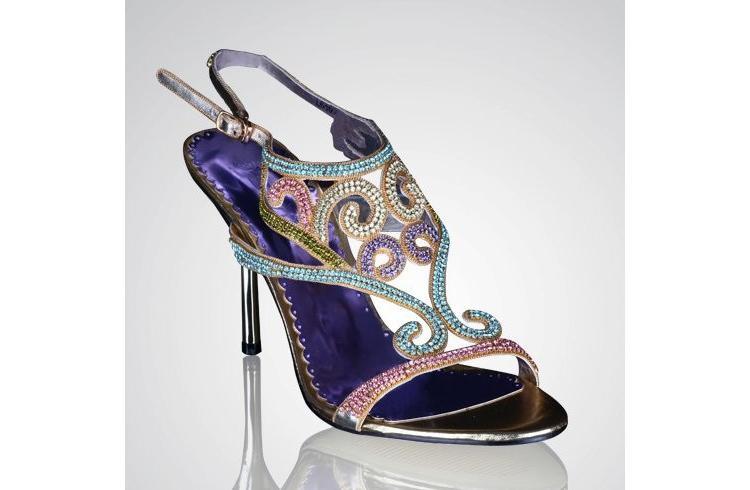 Hope you found this post useful!
Images Source: pinterest.com