In a bid to flatter the world around them, the fashionista have already taken cues from the Fall/Winter fashion runways in clothing, footwear, make-up and not to mention accessories such as bags.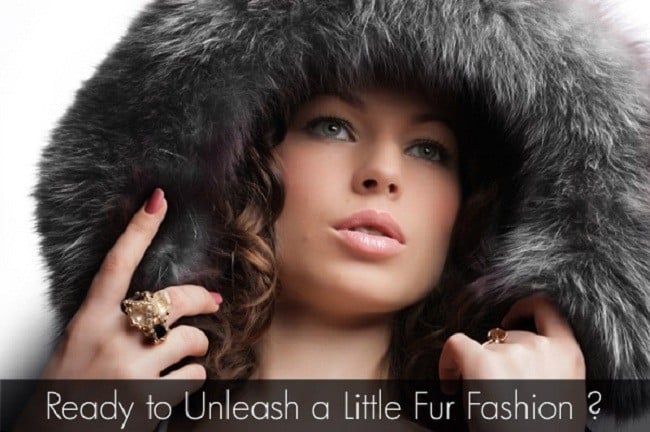 And this season, with such a huge variance, possibilities seem to be endless. Below listed are the top 6 winter fashion highlights, which are already being seen on streets of US and other fashion conscious nations. Do have a look!
Fur and feathers
No matter whether they are faux or real, the fur bags are quite a rage this season. If you're planning to invest on a good handbag then make sure you're well-read about the current trends, as this year the fur and feathers are back with a bang! While big fashion houses are busy reviving the bygone fashion interests along-with animal prints, the fashion streets have already started displaying fluffy accessories, such as bags, jackets and hoodies and caps.
From metallic elements on boots, bags and jewelries to coat buttons and even colors – you'll find almost every fashion ensemble in larger dimensions. The fashion domain is outlandish by all means this season. Apart from knee-length boots and over coats, boyfriend jackets, floor-length anarkalis, mod maangtikkas and sunglasses boast off the grandiose fashion state of 2013.
Either you go for a statement handbag or gorgeous necklace, you'll find plenty of dimensions in such stuff. Only if you combine these accessories with appropriate fabric and style them accordingly, you can come up with a great winter look, no matter it's just a regular day look or for any big event or just a hang-out with friends on a Sunday evening.
Try scoring on tote bags, bowling bag, Doctor's bag or just an envelope bag in earthly vivid colors to keep up the season's spirit.
This winter, the fashion industry is betting heavily upon strong shades, just like the emerald green in jewelry and some unique color plays in makeup. Since fashion and makeup go hand in hand, so the beauticians are also seen experimenting with some daring shades like burgundy, purple, navy blue, dark red along-with smoky grunge trends and cat eye styles. Even you can try out something different this season with your makeup.
Bold Prints
Apart from the animal prints, 2013 has also witnessed a rise in color block and Kaleidoscopic prints in acid colors, thanks to our designers like Manish Arora. His astounding arrangement of kaleidoscope prints have already electrified the runway earlier this year, where he had showcased color blocked designs and noticeable jeweled embellishments.
Psychedelic music-inspired fashion
Apart from the expected trending fads, this year the fashion domain has also taken cues from psychedelic rock music. Since this party is in air these days, you can go for rockish fashion to gel with the mood. Even the hesitant fashioners can try out a pair of leather trousers, jackets, long coats, metallic zippers, chains, tall boots and over sized buckles. This season try to flaunt your rebellious feminine side.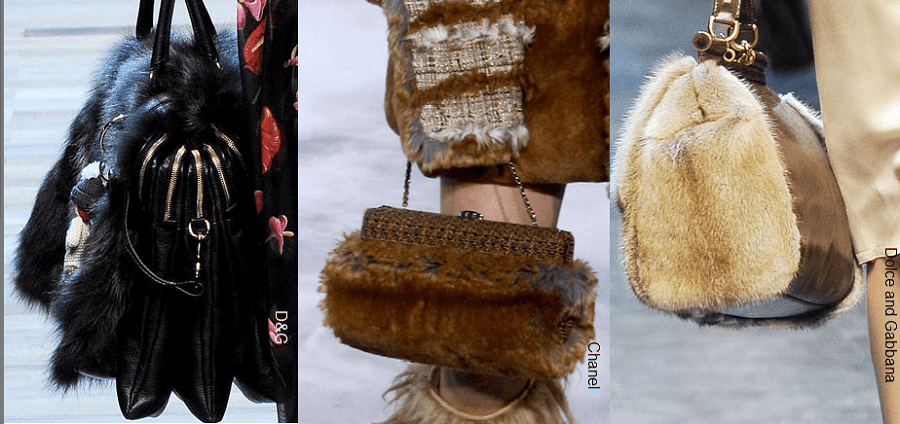 Let's have a look at the season's top faux fur bags!
When it comes to fall bags, the fashion word you should be talking about is ambiguity. Enigma is the magic spell for Fall 2013. Whether your likeness is in a doctor's bag, a hand-crafted satchel or stand-out bag, the Fall/Winter 2013-2014 has added some feathers to its contrasting elements. As I have already discussed about the psychedelic prints by Manish Arora, the trending fashion is all about deep black psychedelic accents, classic contours, androgynous mash-ups being punctuated with rebel spikes.
Here is an abstract from Vogue,
"This season, opposites attract for style that is endlessly reinventable."
Louis Vuitton Ivory marabout feather Speedy bag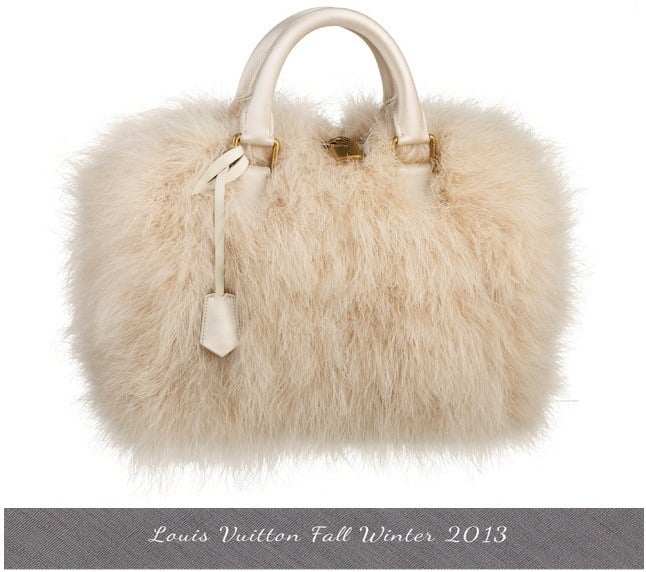 The Blush Speedy 25 is classic personified. This LV bag is made up of marabou feathers against a light satin base, offering a splendid, fluffy look, topped off with satin Toron handles. The gold hammered finishing on metallic hardware along-with engraved zip stop and coated embossed lock zip closure are other highlights of this Louis Vuitton Fall/Winter 2013 collection. Sheer luxury isn't it?
Louis Vuitton Caresse Pochette Accessories MM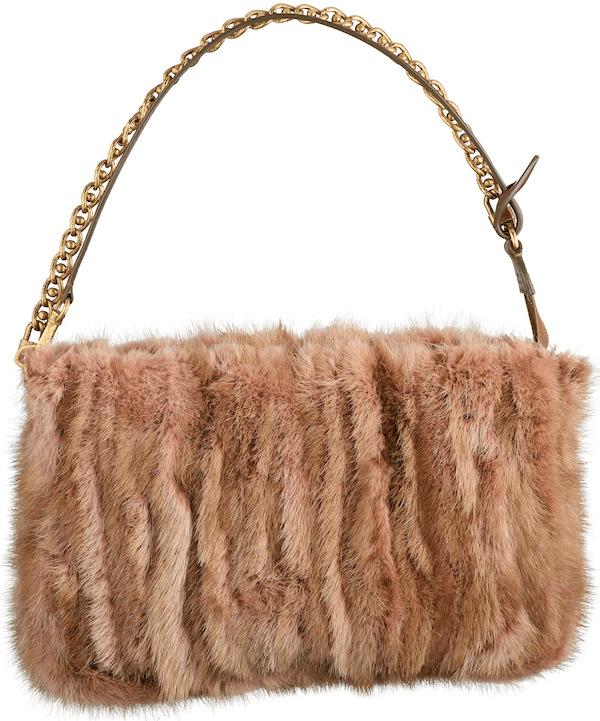 This is another high end LV fur bag, which is available in different sizes and shades. Different shades of mink fur are blend together to create this gorgeous Caresse Pochette bag. It is ultra soft and feminine and perfect for all occasions.
The fir bag features a  removable gold hammered pearl chain, goatskin lining and 1 flat with Louis Vuitton engraved mirror.
Céline Black mink bag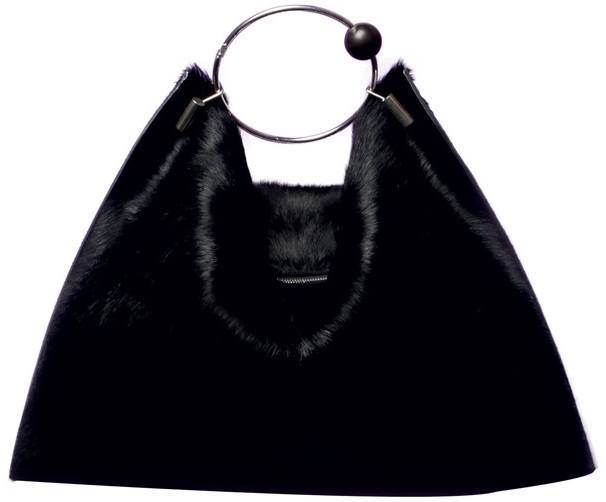 This mink bag just boasts luxury and elegance. When you're naive of donning a fur coat, but want to add a dash of fluffy element to your look then this high end bag is a great option. It can easily go with any occasion and mood.
Fendi Mink Fur Adele bag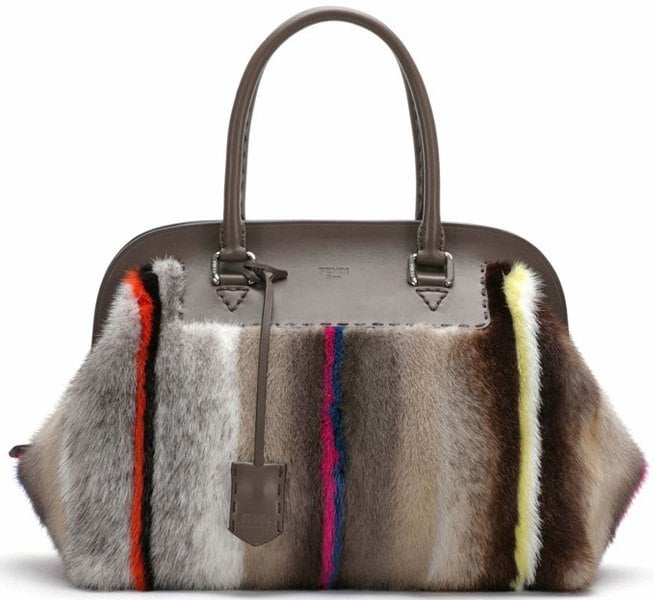 This is the most expensive bag in this post. A capsule edition by Fendi offers once in a lifetime opportunity to grab such a rare offer, especially for those who are mad after branded bags. The amount for this bag is set at $25,000. The online stores are asking an initial deposit of 20% for the purchase.
Stella McCartney Falabella faux fur shoulder bag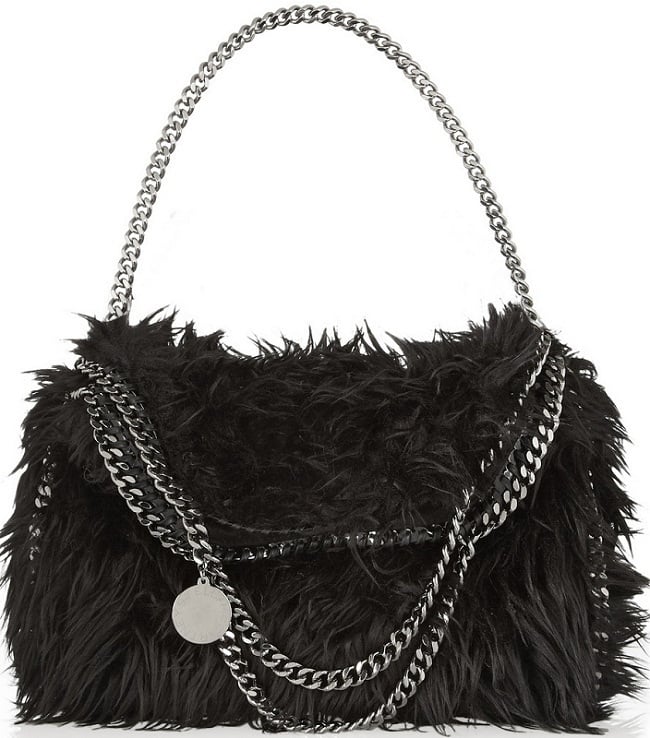 If you've the guilt feeling of using real fur then this is the best option for you. The Stella McCartney faux fur bag can easily enliven your party mood. Jazz up your look with this cute accessory.
Hope you enjoyed this post!