The Indian ace designer Tarun Tahiliani, who is famed for his exquisite collections and needs no introduction, has given his 2 decade fashion pursuit an interesting break. Tarun's bridal collections have always been appreciated over the years. This wedding season, he has shifted his focus to bling completely i.e. this year he has stepped into the world of bridal jewelry to give the Indian brides a complete Tarun touch to their looks.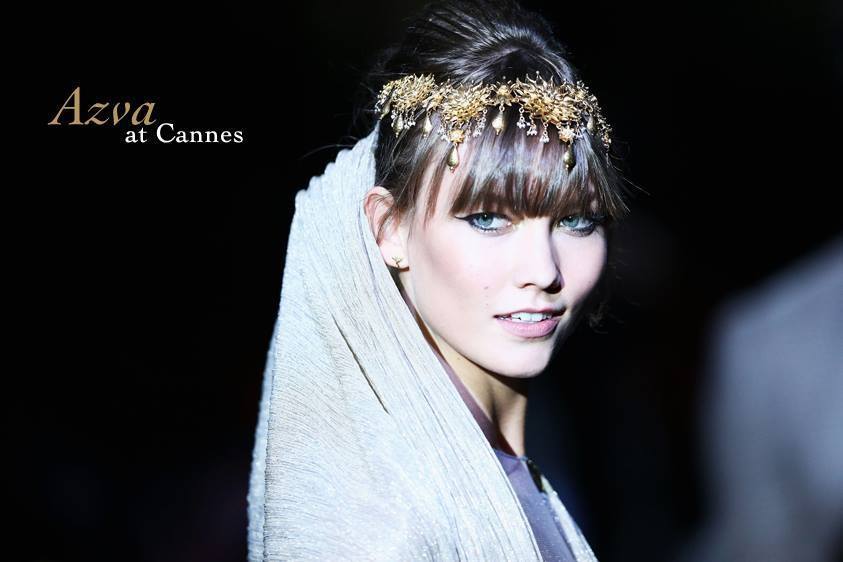 So, is Tarun taking inspiration from Manish Arora? As last year Manish had collaborated with Amrapali to release a contemporary set of gold ornaments, same way Tarun has now joined hands with jewelry line, Azva to create magic in bridal jewelry 2014.
The Azva bridal jewelry line by World Gold Council, has tied up with the ace designer to create an exquisite range of bridal jewellery collection in 22kt gold, under the name 'Tarun Tahiliani for Azva'.
This is first of its kind collection designed by Tarun for the first time, is deeply inspired by 'Saat Pheras' (seven vows) of the Indian wedding tradition. His recherché 22 karat gold pieces comprise of splendid choker, jaw-dropping necklaces, earrings and bracelets to name a few, in sets of 70 gms to 300 gms.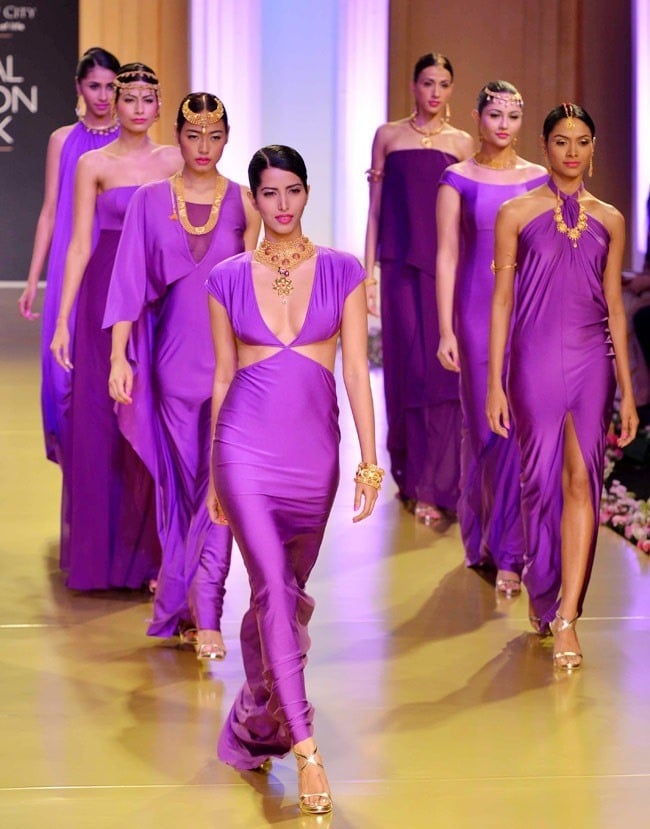 Until the recent procreation of diamond and platinum accessories in India, gold was extensively purchased during wedding seasons. Even though diamonds and platinum are in much demand these days (thanks to our economic boost), this precious metal has never lost its charm. The country, which was once referred as 'sone ki chidiya', has its riches submerged in gold since time immemorial.
Keeping this root essence in mind, Tarun rather choose to spell magic in bling rather with any other precious metals. The revival of gold jewelry was created by taking inspiration from the Saat Phere involved in an Indian wedding. Since these pieces are purely aimed at bridal season, so the designs strongly relate to the Indian traditional marriage.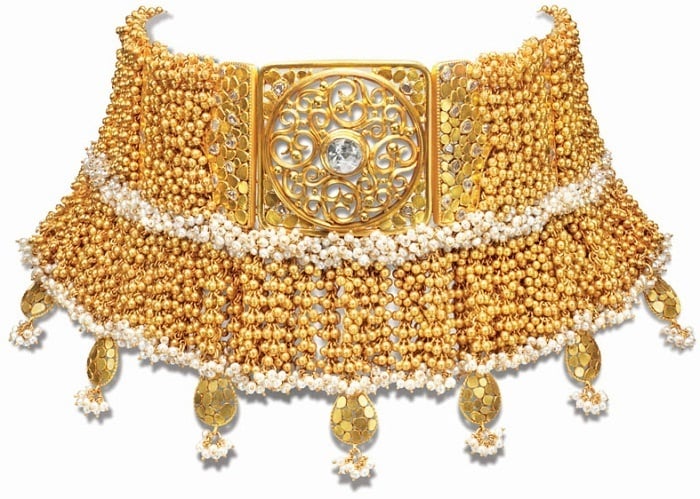 Here is an excerpt
Reviving the magic of gold jewellery, the World Gold Council, which launched Azva bridal jewellery in October of last year, debuted its latest collection last month, created in collaboration with ace couturier Tarun Tahiliani. Known for his ethereal bridal designs and magnificent drapes, the new 'Tarun Tahiliani for Azva' jewels were inspired by the 'Saat Pheras' (seven vows) exchanged by a couple during an Indian marriage ceremony.
The alluringly enunciated collection includes a 7-row beaded haar (gold necklace), pendants, choker, bridal earrings, kada and even bangles; made from 22ct gold. Taurn's fashion pedigree has been once again translated by ceaselessly fusing typical Indian jewellery-making techniques such as gold granulation, stamping and filigree and transforming them into gold beaded chains, ghungru-design, coins, accentuated with colored stones and pearls, which give off just the right amount of splendor.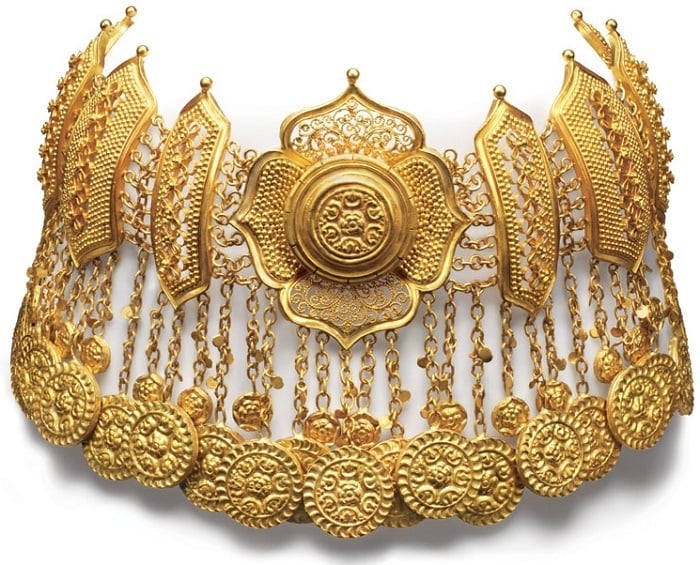 Tarun had this to say,
"This is not the first time I have designed jewelry. I have designed pieces for my shows. But, it is the first time I am doing gold bridal jewelry. I have been working on it for a year. Creating a range of jewelry based on the seven vows of Indian weddings is a concept that is inimitably associated with Azva. My designs represent a perfect blend of heritage and contemporary ideologies, bringing alive the real essence of the seven vows for the modern Indian bride."
[sc:mediad]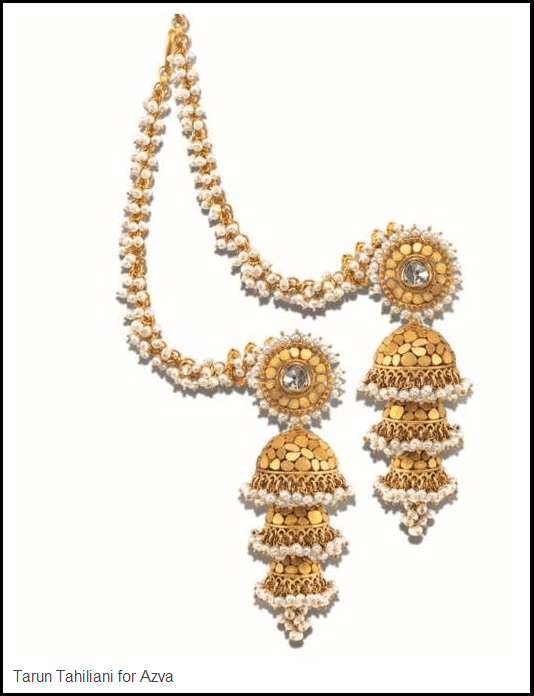 He further added,
"My pieces are so light and trendy that they can be worn on other days like for the mehndi and cocktail parties. I have created for the modern-day brides who do not want to be decked up on their wedding."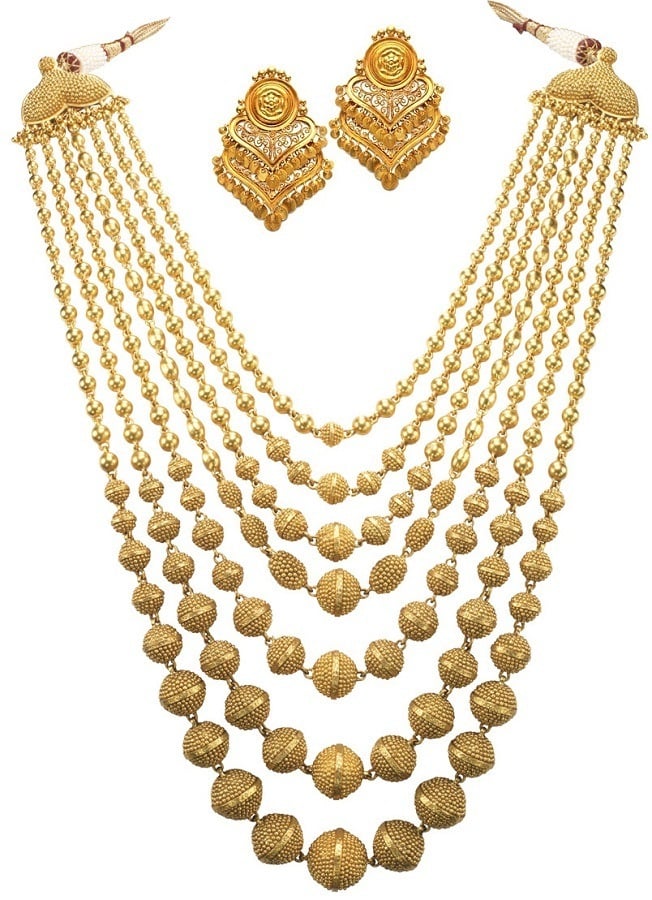 So, my dear fashionista, who is going to take her wedding vows this wedding season, has two great choices by fashion giants – Manish Arora and Tarun Tahiliani. If kitsch and contemporary designs are your choice then Manish is the ideal option and if you're looking for ethnic designs to complement your graceful traditional drapes then Tarun offers an exquisite range for you!
Some few more gorgeous bridal sets by Azva. Have a look!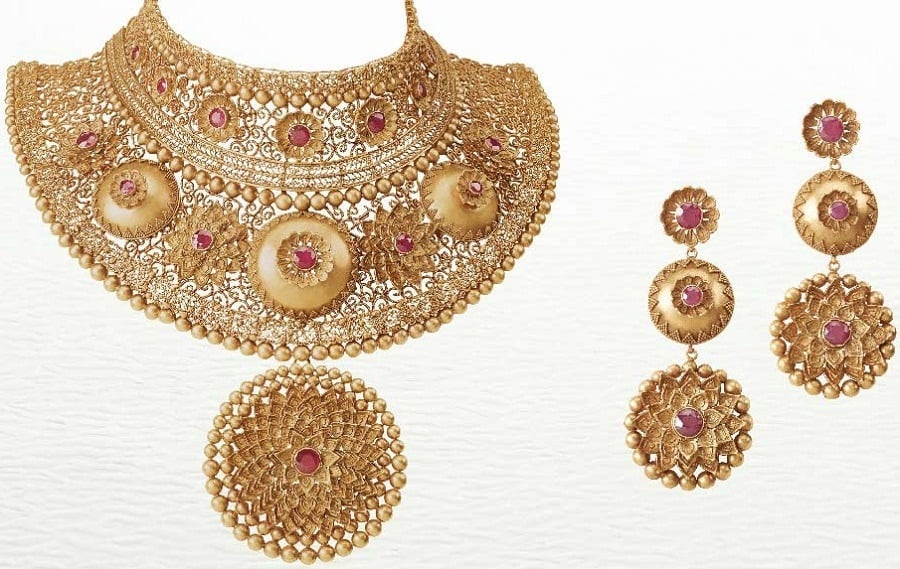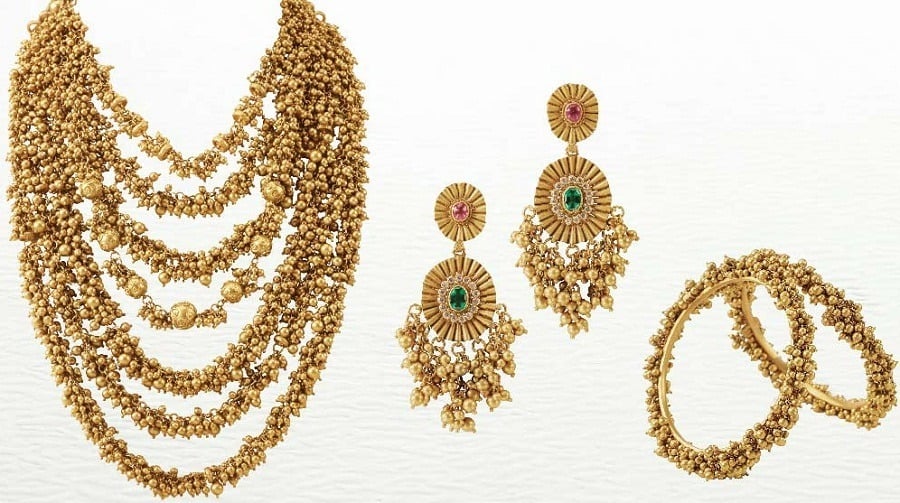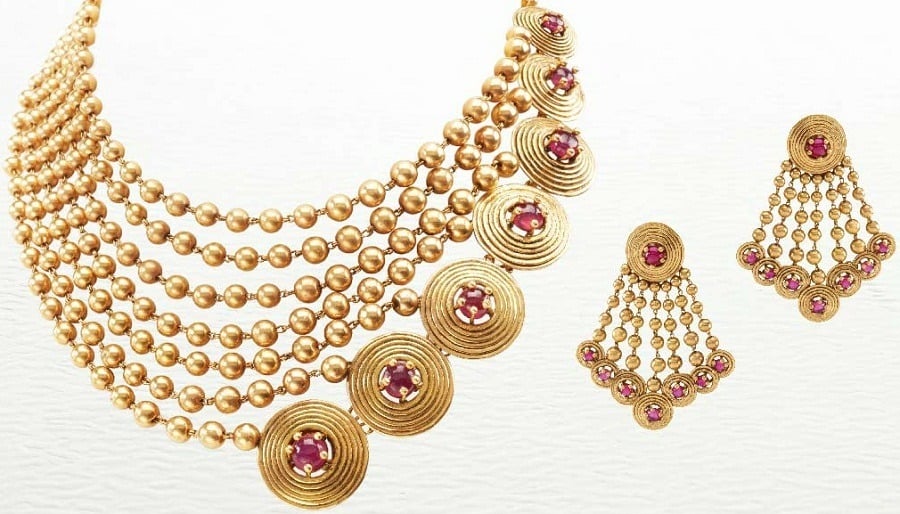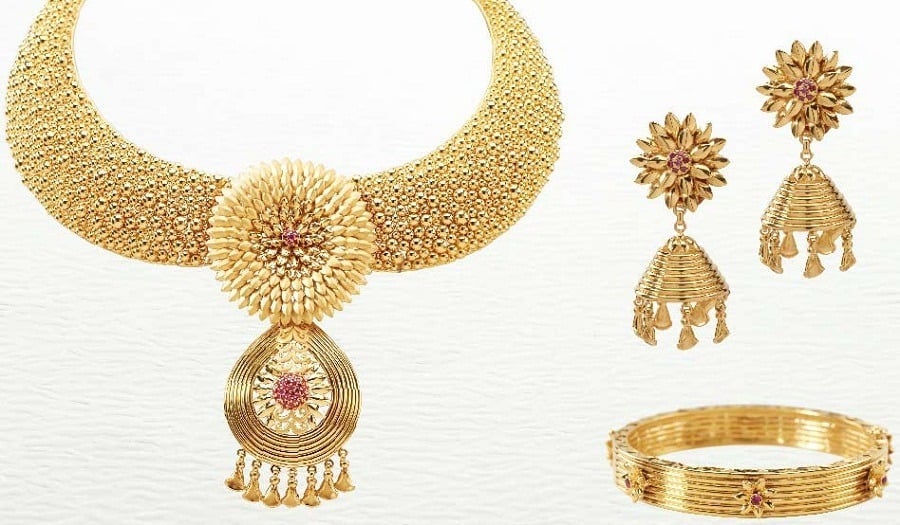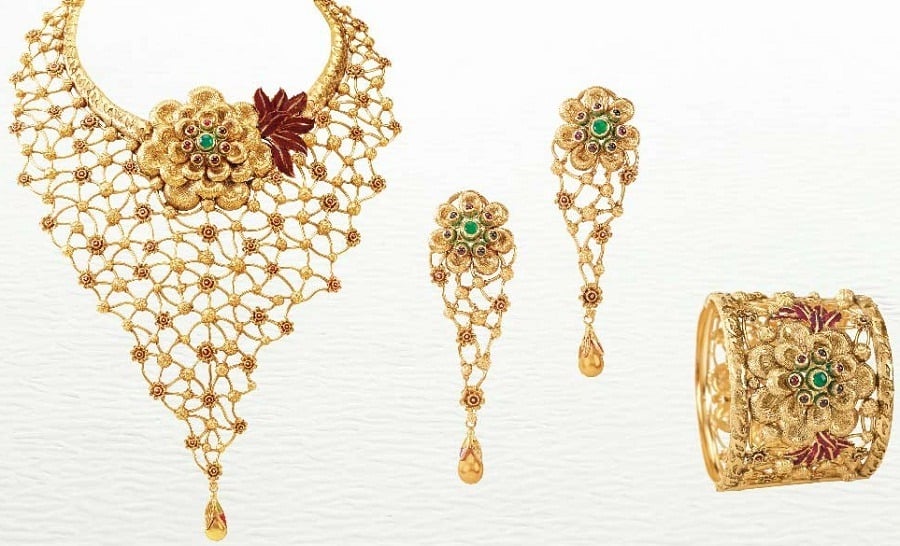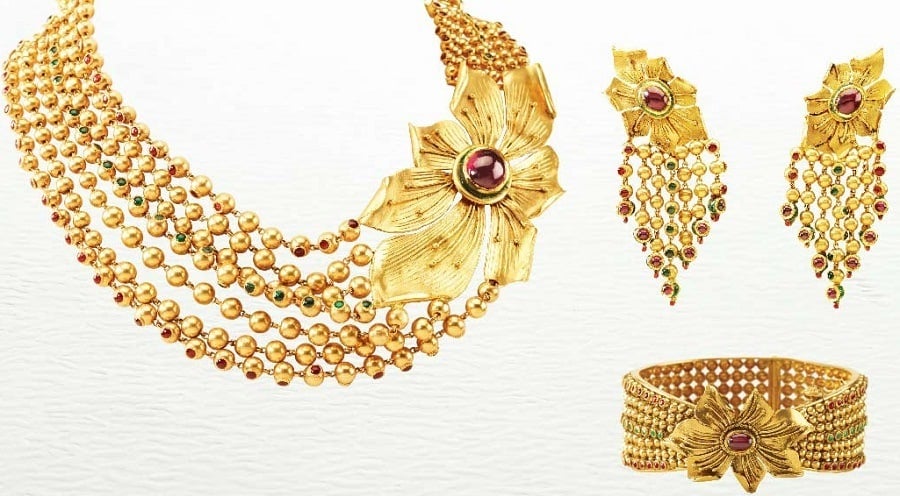 No matter which ever jeweler you're investing, do share your likeness and designs!