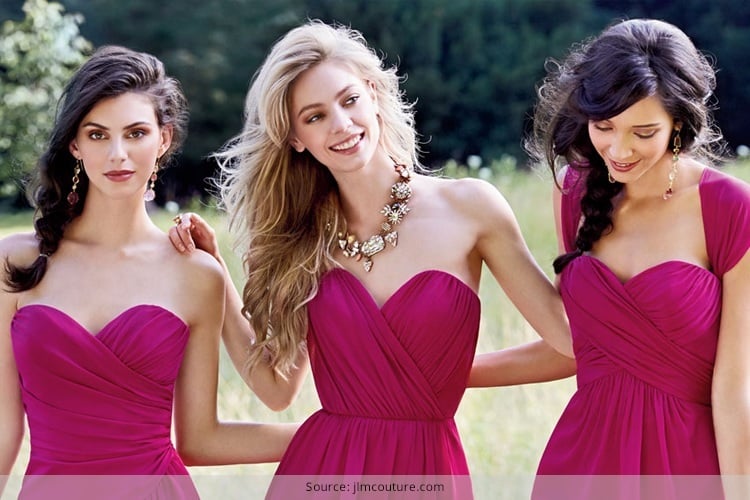 So your bestie is going to start an all new life and she wants you to be on her side both emotionally and practically on the very big event. Yes, you are asked to be the bridesmaid for her and you are pretty much excited about it! Aren't you?
Well, being a bridesmaid is indeed a huge job. There are proper planning, there are big decisions, there are accomplishment of duties, and then there are your own dress up game. We are quite sure that you have already planned a lot about your bridesmaid outfit and are getting prepped for it too. But have you planned for the hairstyle you are going to sport? If not then this article is exclusively for you.
[Also Read: Hairstyles While Exercising]
Bridesmaid Wedding Hairstyles for Long Hair
Learn 10 amazing dos that can be worn on long beautiful hair so that you don't end up ruining your gorgeous bridesmaid look:
1. Curly Low Pony with Puffy Crown and Braided Headband
Who says that ponytail doesn't go with a glamorous bridal party look? This low flowy pony featuring large soft curls is just perfect for graceful Bridesmaid hairstyles for long hair. A little height at the crown, a neatly braided headband and wavy bangs will glam up the look even more.
2. Double-Braided Half Up Half Down With Curls
A simple half up half down hairstyle can complement your designer bridesmaid outfit the best. Add a twist to the style by making it a double-braided affair. Also, create large thick curls at the ends of your layered hair and you are done with beautiful long hairstyles for bridesmaids!
3. Rosy Side Hairdo With Beautiful Curls
Gather all your amazingly colored locks over any of your shoulders and create luscious curls on them starting right from the nape of your neck. Take thin sections of hair from the top, coil them up into roses and secure with pins. Finally, spritz some god-hold hairspray. Voila! You love these hairstyles for bridesmaids, don't you?
4. Simple Loose Waves With Cute Bobby Pins
Textured waves look awesome on long layered hair. So, tease your crown a little, create pretty waves by taking locks in thin sections and let them embrace your back gracefully. Finally, add a few cute-looking bobby pins to amp up your style quotient.
5. Low, Messy and Twisted Flower Bun
When it comes to bridesmaid hairstyles for long hair, buns can never be overlooked. Smoothen up the top and create soft curls throughout the length of your hair. Then, twist and turn the strands into a messy flower bun. Let it rest at the nape of your neck in an elegant manner.
[Also Read: Color Suggestions for Bridesmaid Dresses]
[sc:mediad]
6. Beach Waves With Thick Braided Headband
If you think that beach waves are not for a bridal party look, you are totally wrong gals! Just get them on your blonde or highlighted mane and jazz up the style with a thick braided headband. That's all and you are absolutely ready to grab the eyeballs!
7. Waterfall Braid on Auburn Waves
Want to look like a fairytale princess on the D-day of your bestie? Simply wear a wonderful waterfall braid on your long auburn red hair. You can also create subtle waves all through the length of your mane for a more attractive appearance.
8. Casual Side Hairdo With Large Curls
This hairstyle is the right choice for sporting a casual yet feminine look, especially when you have lots of duties as a bridesmaid but still need to look striking. Create large soft curls on your long hair, gather it over one shoulder and secure with bobby pins at the nape of the neck. Quite simple, isn't it?
[Also Read: The Perfect Dress for the Bridesmaid]
9. Criss-Cross Pinned Half Updo on Straight Hair
For girls with super straight hair, this simple and easy-to-do style can be a great option. Start with a ponytail at the middle of the back of your head and cover it completely by securing thin sections of hair with bobby pins in a crisscross manner. Very smart, trendy and attractive for a bridesmaid look.
10. Fishtail Braid With Loose Braided Headband
Last but not the least; go fishtail if you are a huge fan of braided hairstyles. Check out the thick side fishtail braid in the picture below. Doesn't it look amazing? Be sure that you create a slack braided headband and keep the top of the head a little messy, while making the fishtail braid at the nape of your neck. Oh gorgeous!
[Also Read: Bridesmaid Dress Ideas]
So, these were 10 stunning Bridesmaid hairstyles for long hair. Now, you have enough choices to glam up your look on the wedding of your bestie as a beautiful bridesmaid, right? Pick the most suitable one from these for your long luscious mane and you will be done.