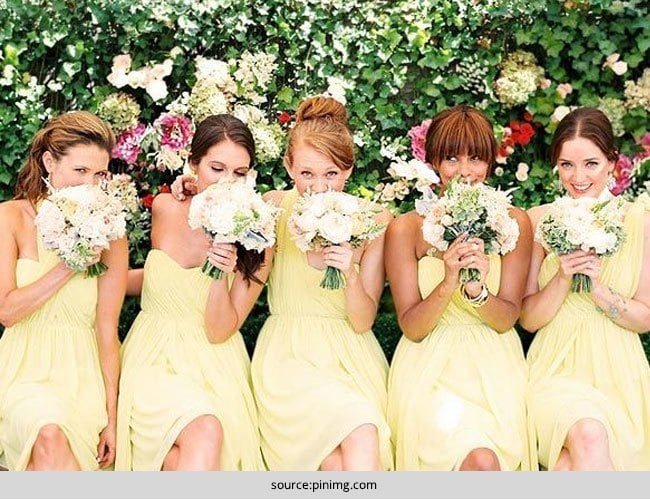 On the day of your wedding, it's not just you and the groom who need to look good. Spare some thought to your bridesmaids as well. You need to pick a dress for them that will make them look good in the photos and that will give them fond memories of your wedding day. After all, you wouldn't want your bridesmaids to have unpleasant memories of your wedding day, thinking about the horrible, unflattering dress that they had to wear, do you? Happy bridesmaids make for pretty photos as opposed to unhappy ones. And so making sure your bridesmaids have pretty dresses is definitely well worth your time and effort.
First things first, talk to your bridesmaids. Don't be a bridezilla who wants every aspect of her wedding to go the way she wants. Talk to your bridesmaids and get their opinions and ideas as to what they think would be the perfect bridesmaid dress. Once you have a clear idea of what each person wants, you can then go ahead and incorporate elements from each of their suggestions to bring out the perfect bridesmaid dress.
The second thing to concentrate on is deciding your wedding's colour theme. Knowing what the predominant colour is going to be as far as the decorations and flowers are concerned will go a lot way in deciding what colour dress you choose for your bridesmaids. Some popular colour choices are lavender, peach, and purple. You can even pick a colour that will contrast with the wedding decorations, thereby making your bridesmaids stand out.
Deciding on the style and cut of the dress is by far the most difficult step. As each of your bridesmaid will have some styles that suit them and some not so much, finding a style that suits all of them can be a bit tricky. One loop hole here is to go in for different styles. This way, you can allow your bridesmaids to choose the style and cut that they think suits them the best. Just keep some elements such as colour, material, and design the same to create a well put together bridesmaid party.
If you're going in for western dresses, then pastel shades work really well, especially if you'll be wearing white. For a typical Indian wedding, you can go in for brighter and bolder colours. Just make sure the colour looks good with your bridal attire. The aim is to pick a colour that makes your bridal attire pop and look good in photos. So a complementary colour that does not overpower your wedding lehenga or saree is what we're looking for.
[sc:mediad]
Check out these great ideas for bridesmaids dresses for both a white and an Indian wedding and take your pick.
Putting some thought and effort into picking the perfect bridesmaids dresses will actually help make your wedding photos even more amazing. Gone are the days when the brides wanted to look good by making their bridesmaids look bad in ugly dresses. The modern bride is not insecure, she knows she is the centre of attention no matter what and wants her bridesmaids to look pretty in beautiful dresses that complement her outfit.
So go shopping for your bridesmaids dresses. Whoever said that finding the perfect bridal attire is the most challenging task has not tried shopping for the perfect bridesmaids dresses. While with the bridal attire it is just the bride who needs to love it, with the bridesmaid dresses, every bridesmaid needs to like it and approve it. And till that happens, your search for the perfect bridesmaid dress shall continue.