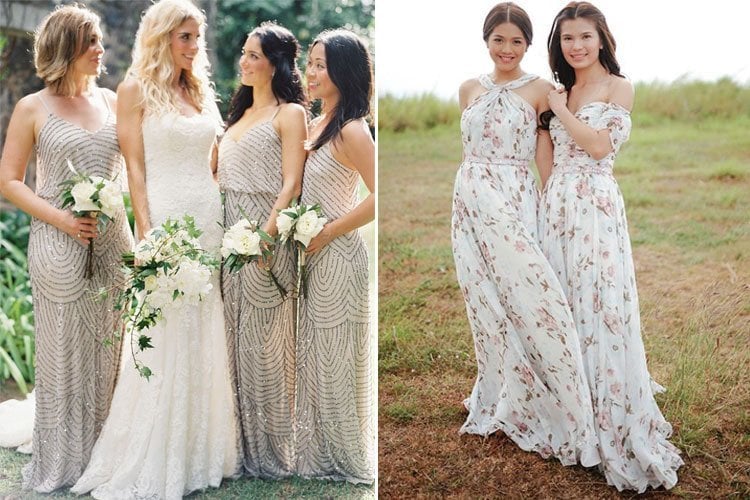 Your BFF is about to say "I Do" and she's made meticulous plans for her wedding too. Ever since the two of you with your gang of girls were little doting princesses, playing tea parties at her backyard, there was a scrapbook maintained by each of you for the fairytale wedding you wanted ahead. There comes a time when every girl would be married off by her father, and it is upon the girl to choose her row of bridesmaids to stand by her when the marital vows are taken. While the bride in question would look a million bucks on D-Day, you as a bridesmaid and without stealing the show should look nothing less.
[Also Read: Perfect Dress for Your Bridesmaids]
Matching up with the theme
Most brides would choose the gowns for the bridesmaids to dress up in, in accordance to the theme of the wedding. A bridesmaid gown has to be in sync (colour and style) with that of the brides reception bridal wear.
Be the best friend for real and help the bride choose the right bridesmaid gown for you. Here are ten best gowns to think of!
Ribbons and sequins
Peaches and pinks seem to be the popular shades doing the rounds for 2015, lace and chiffon with sequins and rhinestones embellished on the A-Line dresses and with a simple pink ribbon as a waistband, looks chic!
Satin and Goddess styled bridesmaid gowns
Look like a Goddess while BFF dons the Princess look at her wedding. Play with the necklines with these long flowy satin gowns for bridesmaid dressing options. V- Necks to one straps, off shoulders to full shoulders, we leave the choice to you!
Bling and shimmer mermaids
If the bride has decided not to wear too much of rhinestones, bling and shimmer on her bridal gown, as bridesmaids you girls can go opposite and shine! Mermaid gowns in dusty grey, off-whites and whites, with plenty of sequins and rhinestones embellished, why not?
[Also Read: Manish Malhotra Lehengas for the Brides & the Bridesmaids]
The unique shades of grey
Says who you cannot wear grey as bridesmaids at a wedding? When embellished well and that too with fabrics such as sheer, satin and lace, the gowns look stunning with any neckline you opt to flaunt!
[Also Read: Wedding Dresses]
A shade of plum
For an overall top to toe look try the latest maple and plum shades, and we aren't talking about lip gloss or makeup. Bridesmaids need to break out of the conventional tones of pinks, peaches and whites, bringing in plums to throw a mystical fantasia touch around!
[sc:mediad]
Sinful chocolate desires in satin
An off-shoulder satin bridesmaid dress in chocolate or ebony touches would not only raise the oomph factor around, but would leave the groomsmen fighting to have a dance with you!
Summer weddings and floral prints
Hailing the season of autumn ahead and with the summer wedding in full-swing, bridesmaids opt for light fabrics and lighter hues. Floral prints in chic touches are best to wear, which brings in the fun factor and vibrancy too!
The Midas Touch
If Midas himself was present at the wedding, he would lose his golden touch to the sensuality of a golden bridesmaid gown. A golden white bridesmaid, off-shoulder gown throws in more than just the bling and shine!
Aim for the sky
Bridesmaids in sky blue lace and chiffon layers, why not? The pretty bright and light shaded hues come forth as lively and vibrant, making heads turns at the wedding for sure!
[Also Read: Celebrity Dresses]
Wish her an evergreen wedding
Your BFF is taking her vows today and obviously from the deepest corners of your heart, you would want her wedding to last a lifetime. Wear green and think of the satin-green off-shoulder bridesmaid gown for the vintage diva to come out!
With many more sensual bridesmaids dresses to showcase and flaunt, we would need more than just a book to write about them. Get creative and invent your own designs, one that would make many eyeballs pop out and heads turn at BFF's wedding!