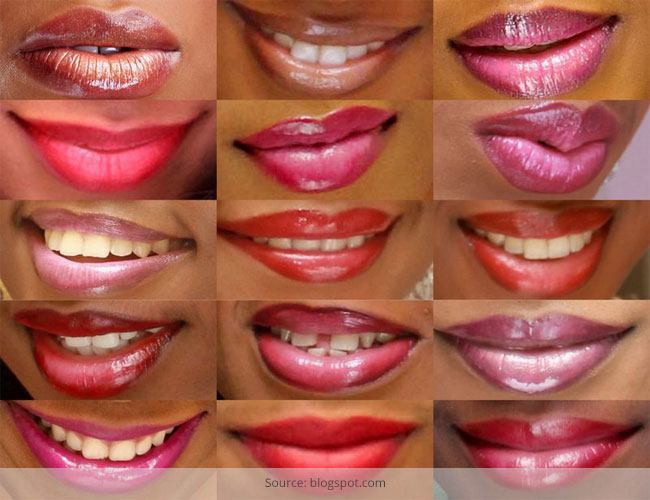 Wondering what are the hottest lip shades for 2015? What you can and cannot wear outside office? We've been focussing too much on the makeup you can wear at work- what about the makeup while being just you, outside work? There are many shades that can entice, and some that you wouldn't want to give a second look to. Some bright, some dark, some nude- so which one to choose- here are 7 lipstick shades to choose from!
All nude
Nude lipstick is trending this season. 2015 is talking high about the 'no-makeup' once the heat starts hitting this summer. Nude lips are hot and sensuous; they bring about a fresh look and anyone can pull it off. Our choice would be Bobbi Brown Lip Color in Nude- try it!
Brown plums
Yum! Plums and browns have a certain sexiness to them- raises the oomph factor too. Try the new Revlon Super Lustrous Lipstick – value for money and ups the beauty quotient on a hot summer day too.
Beige all the way
Trying to find the perfect lip color for your skin tone? Try beige. Matches all skin tones and infuses well when done with a little shimmer. Our choice- Yves Saint Laurent Rouge Pour Couture Golden Lustre Lip Color in Beige Iridescent.
Berry Colours
Strawberries anyone- your lips would love them for sure. 2015 has said it time and again, berries are in and hot for the lips- they have a natural tint too. Our choice- Clinique Chubby Stick Moisturizing Lip Colour Balm in Super Strawberry!
[sc:mediad]
Spicy corals
For many years, coral shades have ruled and it is no different in 2015. Brown undertones in coral shades are hot. Our choice- NARS Sheer Lipstick in Beautiful Liar- dolling up post work is fun!
[Also Read: Coral Lipstick Shades]
Cozy-rosy pinks
What is summer without that romantic touch and natural look- rosy pink gloss for the lips in 2015 is what you should follow! Our choice- Lancome Color Fever Gloss in Rose Petal. Get all vibrant with your girlfriends around!
[Also Read: Pink Lipstick Shades]
Sizzling mauve lipstick shade
Is it purple, is it pink- no it is MAUVE! Quite a subtle touch to the lips, perfect for work and play; a romantic date or with someone special while out for shopping, a movie or just a bite- mauve rules! Our choice for those kissable lips – MAC Kissable Lipcolour.
So these were some of the best lipstick shades for office or everyday wear we could come up with.
Let us not forget the latest Lakme lipstick shades from Lakme absolute. The shades are plenty. Below are the lipstick shades from Lakme Absolute:
Pink Sorbet
Candy Kiss
Peach Please
Orange Tease
Berry Pink
Plum Rush
Grape Hint
Wine Punch
For the best lipstick shades for your skin tone, we suggest you visit a store and try them on. Every skin tone will reflect a different type of hue.
This is for sure a small list, and you may have some more of your own to share- please do write in and let us know; your contributions makes the world a fashionable place to live in.