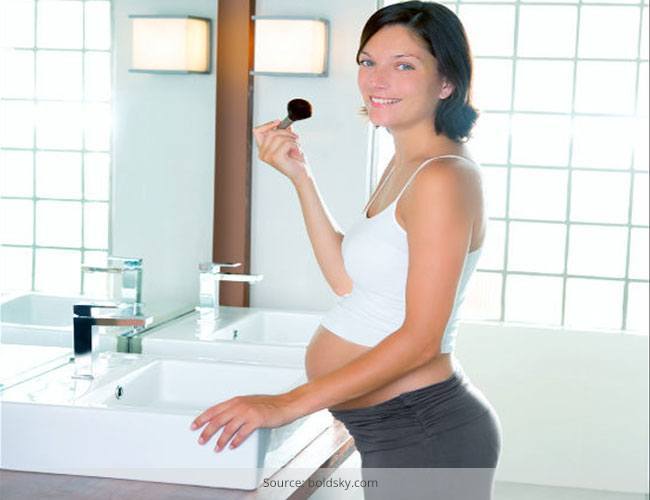 How safe are cosmetics for expecting moms? Since makeup items are made up of several chemicals and numerous toxic ingredients, pregnant women should be extra careful in picking makeup items. For their convenience, I offer them tips for makeup during pregnancy.
Just as there are certain rules to follow during pregnancy such as you should not drink or smoke and should follow proper diet along-with yoga; the same way there are also rules to follow when picking cosmetics. Even though they are meant for external purpose, they can still incur some negative effects that can damage the developing fetus inside. Remember, Skin care during pregnancy is equally important.
As per Andrew Healy, an obstetrician at Baystate Medical Center in Springfield, Mass,
"Any material placed on the skin has the potential to be absorbed into the bloodstream and may be able to cross the placenta, so some caution is warranted."
[sc:mediad]
Teeth Whitening Products
Some toothpastes contain peroxide, which is one of the most active ingredients that help in whitening. It is considered to be safe for adults, even when swallowed. However, this dental cosmetic product may harm the growing baby. So it would be better if expecting moms stick to traditional toothpaste, floss and if required, consult dentist for regular cleaning.
Nail paints and hair spray
Some of the hair styling products and nail polishes come with phthalates that have been found to be one of the potential risks of birth defects. Even though it is not clinically proven, some doctors consider these cosmetic items to be a risky for the developing fetus.
In order to be on the safer side, expecting moms should pick phthalate-free nail polish. Or else they should apply the nail paint in a well-ventilated room, so that the polish dries up quickly. In this way, it has little risk to the baby.
For hairspray, they should either go for products that do not have phthalates or use mousse, instead. You may ask us, does hair mousse really help? We say, yes!
Self tanners and sunscreens
Some sunscreens are laden with oxybenzone that is responsible for low birth weight in baby girls. However doctors do not suggest completely avoiding sunscreen lotions. Dayna Salasche, MD and clinical instructor of obstetrics and gynecology at Northwestern University's Feinberg School of Medicine in Chicago had this to say,
"Sunscreen is extremely important because pregnancy hormones can make the skin more sensitive than normal."
[Also Read:Hydrating Makeup Setting Spray]
However, pregnant woman should avoid applying too much of sunscreens, excess sun exposure or tanning beds. They should keep bronzing process at bay during the 9 month phase.
Topical medication for acne
If you get acne during pregnancy, chances are they may even get worse, causing breakouts. In such cases, avoid applying ointment or cream that comes with Accutane (isotretinoin), Retin-A (tretinoin), and tetracyclines, as they are dangerous and can cause birth defects.
So those were some useful tips on picking makeup for safe pregnancy. Hope this helps!