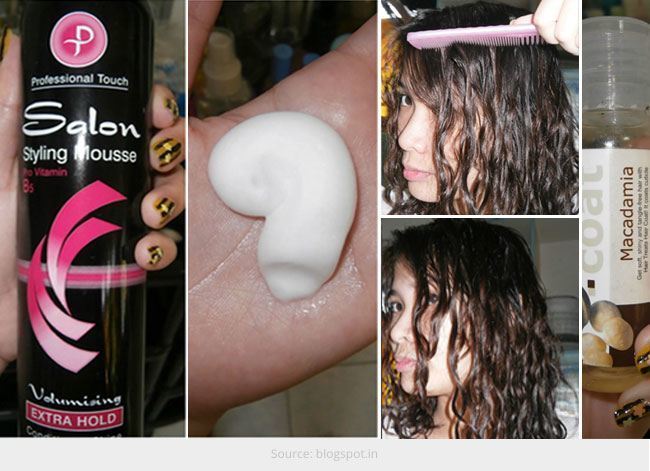 Invented in the 1980s and initially known as 'Mousse Mania', the hair mousse is a hair styling product that is used to give extra volume to hair, along with a 'just-washed' sheen feel. I have come up with a post that has the answer to the most commonly asked question, does hair mousse really help?
Do have a read and stay inspired!
Mousse is usually lighter than the regular hair gels, thus offering a number of benefits as compared to the other hair styling products. Unlike hair spray, this foam spray not only holds the hair in place, but also helps in hair conditioning, without forming any crunchy deposits or clumps. The mousse is usually purple in color while in the can but later turns into off-white foam as soon as it comes in contact with air.
Ingredients used in hair mousse
Apart from water, which is the main substance used for blending, the key ingredients include the following –
Alcohol – It helps in dissolving the other ingredients added to water and it also helps in producing foam
Polymer/resin – Polymer plays a vital role in the formation of mousse besides acting as a conditioning agent. The long chain molecules of resin form a thin coating on the hair thereby allowing the strands stay in place. Unlike other hair styling products, the polymer allows the user to brush hair and use blow dryer without altering the mousse effect.
Cationic resin – This ion-exchange polymer is the key element in enabling a firm grip to the hair strands.
[sc:mediad]
Emulsifiers – These are used to blend the elements that help in creating foam.
Does hair mousse really help? Here are a few more convincing answers. Continue reading!
Apart from keeping the strands in place, mousse offers an array of style benefits. Whether you are looking for well-defined and bouncy curls, sophisticated updos with plenteous volume or simply a pixie look, mousse helps you in achieving whichever style you prefer.
Less is more
A walnut-size amount of mousse can do wonders to your hair. Don't be under the impression that the more amount of mousse will give you better results. Simply take a small amount of it in your hand and apply it to your damp hair and see the magic.
Mousse offers more volume, more hold and more style
Mousse is a fabulous aid for up dos, adding volume to hair. Besides, it is also a favorite among androgynous fashion lovers, as it helps maintain the short pixies in place and do not allow those spikes to fall flat.
If you have been recently influenced by the Great Gatsby fashion and thinking of trying out hair accessories like Alice bands, slides or pins then make sure you apply mousse to ensure they stay in place.
The styling mousse comes with argan oil that also offers supple sheen, whilst moisturizing the hair.
Heat guard and style booster
It won't be wrong to refer mousse as 'jack of all trades', especially when it comes to hair styling. Apart from aiding different styles right from up dos and curls to waves and pixies, mousse also protects our hair from blow drying and hair straightening process, as excessive heat damages the hair. Plus, it also prevents static current that we often experience in winter.
Hope you have now got answer to your question – does hair mousse really help!