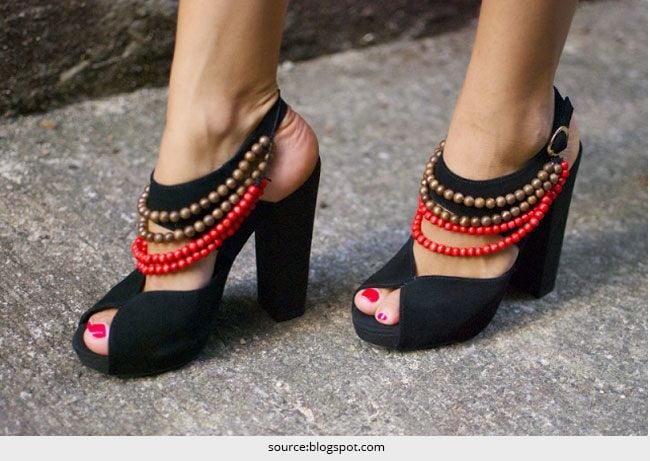 The other day, I was cleaning out my closet and the biggest throw-away pile had a lot of heels and soles. Being a shoe-a-holic, that's no surprise. But it breaks my heart to see them go. And then it struck me! – Why not give my old battered footwear some DIY makeover? So, I spent an hour or two scouting the internet and found a treasure trove of ideas on the blogosphere.
[Also Read: What To Wear With White Sneakers?]
Do you have a discarded pile of footwear lying around somewhere? Or are there some ugly shoes you simply cannot be seen wearing? Then join me! – Let's get on with the DIY footwear make-over sessions. Here are some of my favourite DIY shoe makeover ideas from fellow fashion bloggers around the globe.
Glitter flats
Let's start with the absolute basics. We've got a neat idea to save your boring old basic flats. All you need is some bright paint, fevicol and glitter. Fabric flats are best for this DIY shoe makeover. Clean your shoes well before applying the coat of paint and then the layers of glitter above that. Go crazy with all the colours you want – that way it will go with anything in your wardrobe. Plus, you will have funky shoes that would probably cost you nothing. For the nitty-gritties of getting it right, check out the DIY instructions here.
Fabric Wrap Sandal
Last Christmas, my mom gifted me these stiletto heeled strappy blue sandals. But here's the catch – the strap above my toe had a furry flower on it. I tried to get it off and managed too. But the glue left a mark on one, while the flower took some satin fabric from the other pair. Now, they were brand new and I could only look at them with guilt – until I found this cool DIY footwear makeover by misskristurner. I am using an old blue gold striped scarf to cover up the mess. You should try and match a couple of fabrics before going ahead with the tying and wrapping. Here is the step-by-step tutorial.
[Also Read: Celebrity Hair Makeover Before And After]
No Tie Elastic Converse
[sc:mediad]
This one's for my maroon Converse booties, that have taken up a permanent position at the corner of my shoe-rack. I want to wear them, but never find the time. Yeah! That's right – it takes time to sit down, yank them on to your feet and get those never ending laces securely tied. First, I am always rushing out the door at the last minute – slip-ons become the obvious choice and secondly, there are always chances of the the laces coming undone. This neat elastic DIY trick I found can easily solve the problem. All you need is a sturdy elastic band. Goodbye laces! You can use these DIY instructions, not just for Converse, but any sneaker you want to give a slip-on makeover.
[Also Read: Summer Footwear Styles To Follow]
Studded Sneakers
My favourite pair of comfort shoe is a white canvas sneaker. Once upon a time, it used to have little blue stars on it and went really well with blue jeans. But now, after some 2-3 years, the stars are nothing but faint spots and the white canvas is a dirty yellow. A good scrubbing and some soap water can get the color back, but what about the print? This DIY Footwear make-over tutorial at Honestly WTF looks like the perfect solution. I mean how cool are these and so easy to do. Just stick on those studs in whatever pattern you like. I may give a coat of paint to my old pair of shoes before studding them – acrylics would be nice. The rest of the instructions arehere.
Customisable Ballet Flats
I have saved the best for last! I am sure most of you have a basic black ballet flat that easily goes with anything in your wardrobe and anywhere you go, in any weather. Well, with this brilliant DIY shoe makeover idea you can give it a new look for different styles. All you need is tiny magnets (the kind we use with magnetic ear studs) and a few cute bows, flowers and other trims. Check out the whole tutorial here.
There are ton more DIY footwear ideas out there and I am sure we all can come up with a few on our on. But these five are going to keep me occupied for some time. Can't wait to start, can you?