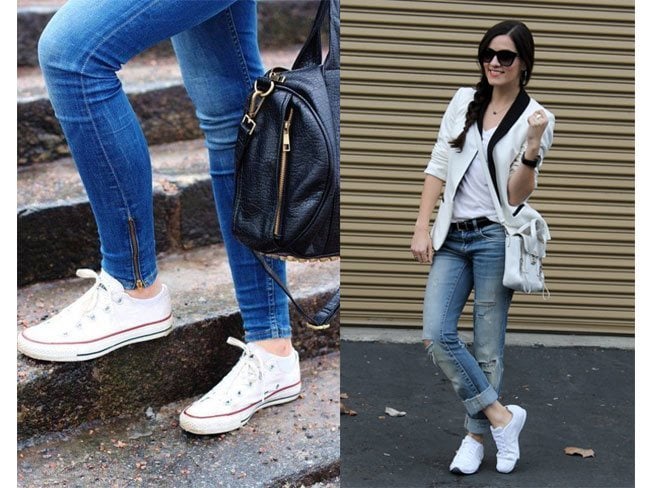 Who said you can't wear white sneakers outside your gym? The true definition of fashion is to wear something which makes your feel comfortable. So, instead of just taking your white sneakers to the gym, you can also mix and match them with tons of outfits! Read on to know more on how and what to wear on white sneakers with!
[Also read: 10 Makeovers for Your Sneakers]
1. For a more suited look
Unless you are going for an interview, it is unlikely that anybody would not like your white sneaker look! White sneakers can create a helluva look if you team them up with tailored suits and blazers. A coat and then a beautiful linen shirt with trousers can complete the sophisticated look. Adding sneakers to it can add value! But you would have to be confident about carrying it off!
2. Silk and Tie!
Luxurious fabrics like silk and linen or fur can also bring out an edgy look if you team them up with white sneakers. Cashmere or woven wool can be added too, to give this look a sassy aura. For a day out (if it's cold) and for an evening with your buddies, pull out this look for a chilled out and relaxed persona.
3. Wear them with jackets:
If you are aiming for a more relaxed and chilled out look, and wondering what footwear to wear with jeans, try this look. Style sneakers with jeans and team the look with a bomber jacket or varsity jacket. Not only will you look like a model off duty, but you can also use this look for a date out with your girls. It's comfy and edgy and you can dance your way out without hurting your feet!
4. Team them with cutesy dresses:
Thinking of channeling your inner flower child? A skater dress or a razor-backed dress, or in fact any kind of casual dress can look terrific with white sneakers. You may have seen Kristin Stewarts edgy, yet cute look where she teams dresses with sneakers. Pulling off that look is easy and comfy as well. Pair a colourful dress or a floral dress or any other casual dress with sneakers for model off-duty look.
[sc:mediad]
They can even with paired with slit-dresses which are more on the casual side.
5. Sweater-Dress look?
The title may have thrown you off guard. How can you pair a sweater dress with white sneakers, you may wonder? Contrary to popular belief, a lot of A-list celebrities have been rocking this look. While they are running errands or dropping their kids off to school, this look is another level of sporty. It's comfortable and at the same time it looks good! Look at Jessica Biel rocking this look with élan!
[Also Read: White Sneakers Trend]
[Also read: What Do Your Shoes Say About You?]
6. Daisy Dukes and Bikinis?
This is one of the favourite looks for rocking out a bikini on a beach. Summers and daisy dukes go hand in hand. Distressed denim shorts and white sneakers can complete the sporty look without looking like you are going to the gym!
And if you are planning a day out at the beach, team your favorite bikini with your white sneakers for a relaxed look. This look goes very well with some sporty accessories and skates. Word of advice though, you wouldn't want your sneakers to get wet of course, so don't try splashing into the water with them on!
So, these are some of the ways to wear your sneakers. You see, your sneakers aren't just for your gym! You can let them see the world outside the gym without feeling awkward!