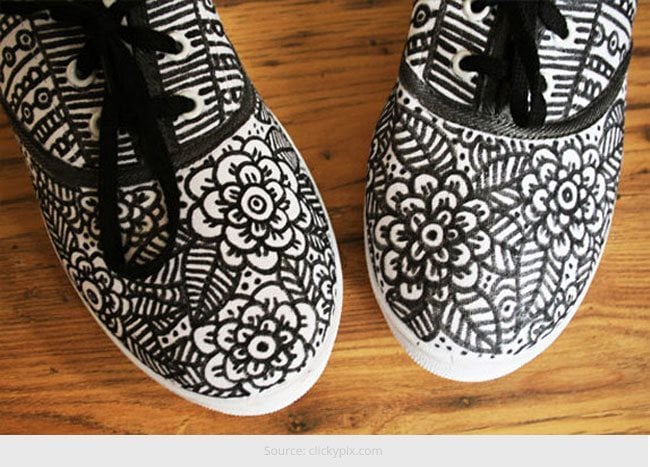 After wearing heels for a day, try slipping your feet into a pair of sneakers, you will feel much better and your feet will immediately be cushioned in the comfort of the sneakers. There's a reason why sneakers never go out of fashion – they are highly comfortable shoes that go well with everyday casual clothes. So if you have an old pair of sneakers that you just don't want to get rid of yet, then how about giving it a nice makeover?
1. Checks and Patterns
You can paint on a chequered pattern on your sneakers to take make them look fabulous. Go in for bright bold colours so that they really pop. All you need for this makeover is some duct tape, acrylic paint, a paint brush and a pair of scissors. Cut out the duct tape in uniform square pieces and stick them onto your sneakers to form a chequered pattern. Paint the exposed area of your shoes with a bright colour of your choice and remove the duct tape to reveal the awesome pattern.
You can create many other patterns using duct tape, so get creative.
2. Glitter and Sparkle
One sure-fire way to give your sneakers a new lease of life is to add glitter to them. Simply paint your sneakers with a white adhesive and sprinkle glitter dust all over it. Let it dry and dust off the excess glitter. Your sparkling glitter shoes are ready!
3. Dainty in Lace
How about you make your funky sneakers dainty? Stick on some lace to the front portion of your shoes. Make sure to use enough glue to help it stick properly. You can trim and shape the edges with a pair of scissors.
4. Freehand Drawing
If you are artistic, you can even paint your sneakers with pretty designs and motifs. This is a great way to make your old sneakers pretty. There is no particular way to do it. Just use acrylic paint or markers to create your art.
[Also Read: White Sneakers Trend]
5. Spill and Splatter
This is perhaps the most fun makeover you can give your shoes. Simply splatter paint onto your shoes with the help of a paint brush. This is so easy to do that you can even rope in your kids (or nieces or nephews) to help you make this.
[sc:mediad]
6. Ombre Technique
Protect the soles of your shoes by covering them with duct tape. This is to make sure the fabric dye that we'll be using does not stain the soles. Using a flat brush, paint on the fabric dye to the front part of your shoe. Give one coat till the front half of the shoes, the second coat till 1/3rd of that, and the 3rd coat till 1/3rd of the second coat. The idea is to saturate the front tip of the shoe and have the colour fade out towards the back. Do this until you are satisfied with the colour. Then, using a damp towel, gently rub away any harsh lines or patches. Once the colour transition looks smooth, remove the duct tape and allow the shoes to dry in the shade for three to four hours minimum.
7. Star Studded Affair
If you can get your hands on those tiny studded beads (available at craft supply stores or from online retailers), you can make a very funky looking pair of sneakers. These will make your old sneakers look like some high end luxury shoes.
8. Add Pizzazz to the Soles
Sometimes a makeover does not require elaborate changes. Just making a difference to your soles will go a long way in making your shoes look cool. Simply use a printed fabric or rope or some other material to cover the rubber soles in the bottom sides of your shoes. This will instantly make your shoes look more interesting.
9. Cutout Sneakers
You can actually cut out your sneakers in creative ways to change the whole look of your shoes. You can even change sneakers to ballerina type shoes. Here are a few examples of how to cut out your old sneakers to make a whole new pair.
10. Braided Laces
The easiest way to give your sneakers a makeover is to jazz up the laces. Get rid of your boring laces and use some braided fabric laces instead. You can even braid satin lace strips to form the lace.
So instead of throwing away your old and frayed sneakers, try giving them a makeover to make them look good as new.