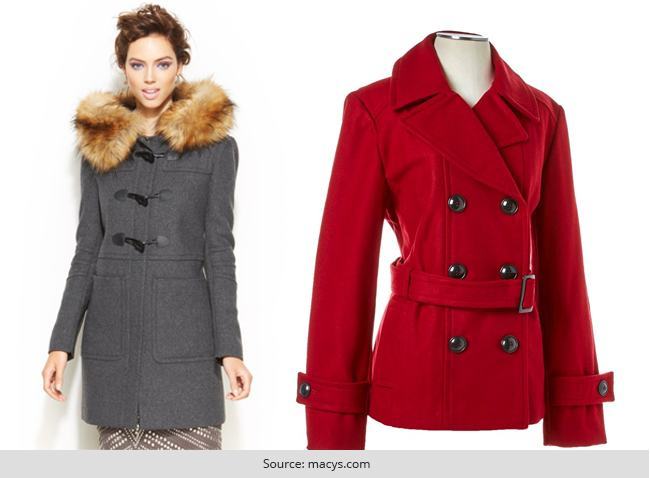 It is time for some colourful autumn leaves, white falling snowflakes and chilly weather. With mercury dropping by the day, grab a cup of cappuccino, pat some moisturiser on your face and skin, put long boots on your legs and get ready to seize the most out of the winter season when you put on the most chic and warming garment – Winter Coat.
From international celeb Kate Middleton to the desi Pinky back home, winter coat is not just a winter must but a fashion accessory as well.
There are several elements that govern the purchase of a good winter coat. First of all, they should look good on you and this is where your body shape and height plays a very important role. The second aspect is whether they have the substance to handle the rough weather. When it comes to wearing a winter coat, chances are you might be neglecting what you are wearing inside. Get rid of the habit of wearing frumpy clothes inside under the impression that whatever is outside looks best.
Things to Bear in Mind While Coat Shopping
When it comes to apparel shopping, there are many factors that require a deep look – length of the outfit, colours and most importantly details of the garment that will flatter your figure and height. Keep in mind the kind of coats and styles you should invest in, how to go about choosing them amongst other things.
From water-resistant wool coats to sophisticated pea coats, from lightweight to heavyweight, from sporty to formal, there is an unending range of winter coats waiting for women at this time of the year.
Types of Winter Coats
Whether you are going for a college function or an evening cocktail, the kind of winter coat will obviously differ. Here is some variety of coats that will spice up the cold and boring winters.
Trench Coat
Suitable for winter season but not excessive winters, Trench Coats are a great classic. The outer layer of Trench Coats is made of waterproof materials such as nylon, poplin and sometimes leather. Lengthwise, they are available in mid-thigh to ankle and can be picked in belted and non-belted versions. Usually, neutral colours in the form of greys, blacks and browns fit the bill but even colour versions such as fuchsia can be picked. In fact, they can be worn to school, work or family gathering with utmost ease. But do make sure to wear the one that has suitable closure depending on your body type. Calvin Klein and Michael Kors make lovely trench coats.
Pea Coat
Classy and elegant, a Pea coat has many buttons on the front. On a traditional note, they were made of heavy wool but now velvet, cashmere blends and linen are also being used to make it stand out as daily wear. Calvin Klein and Burberry Bit have an impressive range of Pea coats that are understated and timeless. Pea Coats in fact stand out owing to their short length, vertical and slash pockets and double-breasted fronts.
Down Coat
They are the most common coats worn in subzero temperatures. Durable and water resistant they are that provide great insulation from the fiery cold waves. Material wise, the outer layer of a down coat has more of polyester and nylon in addition to other materials. Available in hooded and unhooded versions, the size of a down coat can be shortened or lengthened in keeping with the varying needs, especially when it comes to battling out the cold wave. In fact, you will be surprised to experiment with zips, pockets and adjustable hems. GUESS and Bernardo have good range of Down Coats.
Leather Coat
Confident, stylish and tough, a Leather Coat makes the perfect winter and glam accessory for ladies. Warm and durable beyond doubt, a leather coat usually comes in classic black and brown colours that look absolutely hot. In fact, genuine leather coats come from a wide variety of hides such as cowhide, sheepskin and pigskin. However, if you are tight budgeted, then there is a good option in faux leather. Gucci and Giovanni make good leather coats to your taste and specifications.
Wool Coat
[sc:mediad]
There is nothing more warm and stylish than 100% Wool Coat. If you have distaste for neutral colors, then you'll surely love this crimson wine red wool coat. Glorious indeed, it will certainly make you stand out in the crowd. A red coat leaves such an impact and a youthful look that you would willingly forget the winter chill. Soft and easy-to-wear, the double-breasted front gives this coat its military style. The warm hood, side hip pockets and a belt that can be self-tied would surely keep you snug.
Mink Coat
Mink Coats are an eternal glam statement. Check out this high collared version of a coat that has a stylish flair to itself. Besides hook closures, this glorious piece of silk-lined workmanship has two pockets, bracelet sleeves, besides the beauty of black.
Tips to keep in mind while Wearing Coats
The Winter Coat might look a delightful piece but here are some things that you need to keep at the back of your mind while trying them out.
1. Pairing an oversized coat with shorts or mini-skirts is the in-thing these days. Try wearing a shorter hemline under a long sized coat to offset the volume on the upper half.
2. Wear heels to gains some height. It will provide some proportion to the complete outfit that you wear.
3. Wear structured accessories such as tote bags, pointy shoes to compliment your coat and fashion-forward look.
4. Show off a bit of your skin by baring your wrists or forearms or highlighting your ankles. This will make you look feminine, taller and leaner.
Now welcome the winters with open arms as the next best fashion statement is right there on your feet.