Comfortable, versatile, practical and fashionable – this is how we can classify ballerina flats/ballet flats, which are hot trending footwear these days.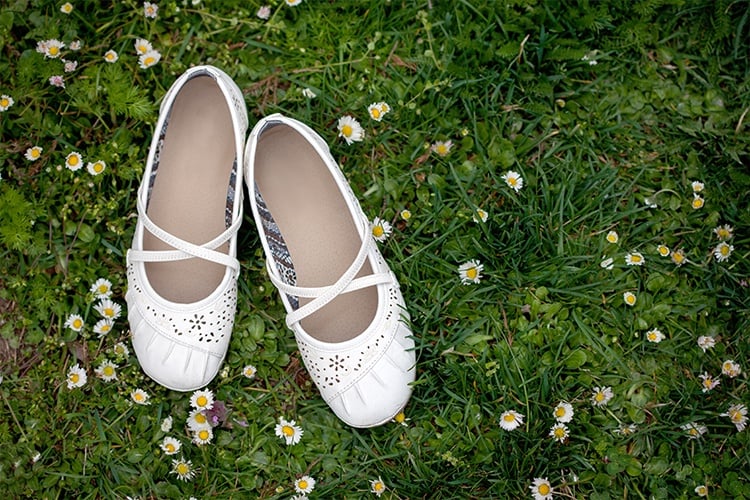 Inspired from the slippers worn by ballet dancers, these foot wears are extremely comfortable and are a must-have in every wardrobe. These are super cool alternatives to high heels, especially in ankle-hurt days. These footwear designs can go with both casual and semi-formal outfits and are never out of fashion.
Ballet flats just get better with passing of every fashion phase. The design is so much versatile that you can wear those flats with basic outfits to workplace and can also carry them with grace to dinner and hang-outs. These foot wears are an essential for spring and summer months. These are easy on feet, especially for expecting moms.
Although high heels and pumps can give you the ultra-feminine and ravishing look, but every woman is quite aware of the pain she has to go through to make her legs look sexy. And it's highly risky for expecting moms to walk on heels.
Ballet flats are not related to any fashion trend, they are simply a fashion must have. These shoes give you comfort and you can wear them anywhere, for the bigger part of the year.
Despite their versatile nature, outfits should be chosen carefully for the ballerina flats so as to ensure complete success of your fashion statement.
[Also Read: How To Wear Flats]
Considering the design of your ballet flats and not to mention your personality, ballet flats can be adapted to create an array of get-ups for styles which will never fail to impress.
However, one of the major concerns which stop most of the women, especially petite women from wearing them is that the ballet flats can make the legs look shorter.
Therefore, it becomes highly necessary for you to pick the right outfit which should be flattering for your body type, simultaneously enabling you with the elegance most women strive for.
You should never go for any kind of combination which would make your legs look shorter. You should go for outfits which should hide your flaws rather than revealing them.
Although choices are usually based on every woman's distinct body type, but there are outfits which should be a must 'no' when it comes to pairing with ballet flats such as the pleated pants and trousers which are too long.
You should always try going for outfits, which look like a match made in heaven just as in the case of skinny jeans and ballet flats.
You can even go for other jeans as well and you'll look smoking hot for sure. But a win-win combination is a pair of skinny jeans with ballet flats. And if you're willing to pull up an Indian outfit then always go for leggings for kurtis, especially for flats. It will only enhance your feminine element and let you expose your sexiness yet in a modest way.
Ballet flats mostly became popular in 50's after Audrey Hepburn wore them in her Oscar-winning movie, Roman Holiday.
You can take the inspiration and can elegantly pair these flats with any short or knee-length dress.
When you've made up your mind to add ballet flats in your wardrobe then do not restrict your collection to a single piece, rather go for varieties to successfully combine them with your different attires.
[sc:mediad]
Try adding different popular styles to your wardrobe, so as to enhance your fashion element and bring in versatility to your taste. Have a look!
Nude Ballet Flats:
Well, jeans are not the only outfits, you wear on daily basis. Almost every girl has a cute little dress in her wardrobe. For a romantic yet rocking look, you can combine your nude flat ballets with a black and white floral dress. Just add more glitter to your look by accessorizing with a classic aviator and over sized handbag.
You can gracefully carry this outfit to lunch, movie or anywhere in your weekends.
Printed Ballet Flat:
If you've a sleeveless skater dress then combine it with a printed flat and accessorize it with a slim contrast belt, shades and an oversized handbag. You can carry this look anywhere other than your workplace.
Classic Black Ballerinas:
A black pair of ballet flats is a must for your wardrobe. You can create your own style by combining with different shades, such as a multicolored clutch, feather earrings and shades ofcourse.
Multicolored Ballet Flats:
If you've a single shaded dress then try to add more colors with multicolored ballet flats and accessorize it with a clutch, belt, neck-piece and all these should reflect different vibrant colors such as purple, turquoise and pink.
Animal Print Ballet Flats:
Anything in animal print is a rage these days. A black colored twist front jumpsuit can look great with ballerinas with animal print. You can add some twist by accessorizing it with a beautiful red clutch and ofcourse neon red lipstick.
Go checkered:
You can combine your plaid shirt with ballet flats just as Jessica Alba is seen wearing here. You are not only going to look sporty but extremely feminine as well.
You can also pick something like this as Taylor Swift is seen donning in this picture. This is indeed one of the ultimate affordable celebrity looks to opt for.
Wearing Ballet Flats At Workplace:
Not only because of its extreme comfort and versatility, the ballet flats at office also displays great deal of elegance. You can easily wear them even if you're supposed to maintain a more formal look at workplace. To comply with the rules, just make sure you use the pads correctly.
Flats in neutral shades and with less details can give you more serious and formal appearance; on the other hand, ballerina flats in vibrant colors can also be used at workplace to achieve a more relaxed look.
You can also wear ballet flats in other days of the year as well just as Rosie Huntington is seen wearing here.
Whichever style you pick, ballet flats can work wonders in enhancing your fashion element.
So, these are some of the top picks to help you pair your ballet flats with success. Hope this helps!