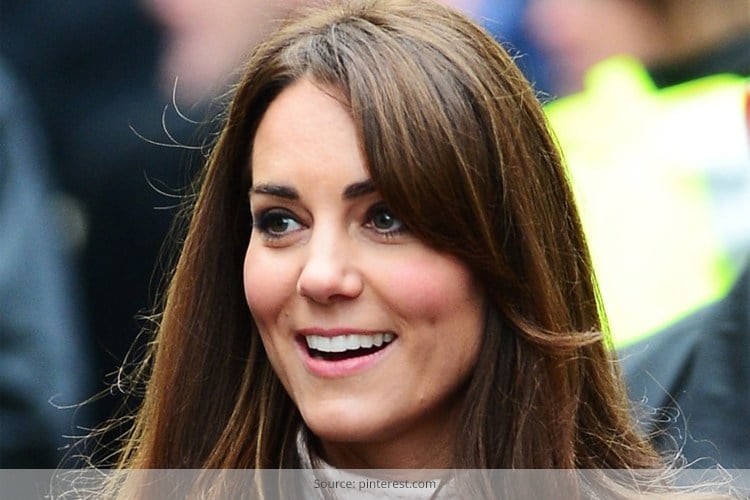 Ever since Kate Middleton has joined the royal family as Duchess of Cambridge, she has been earning serious style points for her fashion statement. She has already become an iconic figure in the world of fashion, flying high the flag for fashion in an array of fabulous international designer pieces and of course high street fashion finds.
Once again she has emerged as a head turner, when world curiously waited for her to see what she would choose to subtly hide her baby pumps.
Fashionista as she is, we were quite confident she wouldn't let us down and with every passing month, she has only increased our eagerness to find some of her more royal maternity style moments before the baby due date which has been set somewhere around mid-July.
Kate has stolen millions of hearts through her flawless, sophisticated style. Her ability to recycle and perfectly blend high-street fashion with classic couture has earned her a high place among fashionable celebs in the world. These days, because of her excellent fashion choices, she has been best rated for best-dressed bumps around.
Her elegant maternity dress choices have even forced the elite fashion houses to design a piece for her growing belly so much so that even top designers such as Chloé, Donna Karan, Alexis Mabille, Amanda Wakeley, Andrew Gn, Huishan Zhang, Chanel etc. have lined-up the best of their maternity fashion creations to appease the Duchess.
Have a look!
"Kate Middleton is elegant, sensual, timeless. This is a dress she could wear forever, at any age, at any stage, during and after her pregnancy" — Donna Karan
Forced to reveal Kate Middleton pregnancy news last year in December following a brief stay in hospital and bout of morning sickness, Kate Middleton gave her first pregnancy public appearance on the steps of the King Edward VII in London.
When media glares were anxiously waiting what she would choose for the spotlight, she just did what she is always best at – stole the show. She wore a pretty Diane von Furstenberg Simyonette coat with ruffled sleeves, and pretty lilac scarf. Safe and lovely choice indeed!!
After taking a short rest, the Duchess was again back in her energetic vibes and appeared in live ITV show to present the Sports Personality of the Year award. Everyone's eyes were on her and she certainly didn't disappoint as she ad put on a flowing green Alexander McQueen gown.
Next on Kate's maternity fashion hit list was a beautiful red Whistles dress, which she had worn for the unveiling of her portrait at the National Portrait gallery.
The very 'Kate' knee-length number skimmed over her curves and showed no sign of a baby bump yet.
Few weeks later she again stunned the fashion world in another great ensemble. Her tiny baby bump was then visible as she visited an Action On Addiction center in London, in a Max Mara wrap dress and Episode heels.
Her growing baby bumps just didn't stop Kate to get indulged in her favorite game of style cinch. This time she recycled her favorite burgundy Hobbs Celeste coat and simply dazzled the crowd in Grimbsy.
She had paired this coat with a beautiful pleated dress from Great Plains and she was glowing in her maternity shades.
Early March, the Duchess of Cambridge took her baby bump to Cheltenham Festival and yet again she was in one of her best chic pregnancy outfits. She had chosen a gorgeous camel coat by Joseph teamed with £488 Aquatalia by Marvin K brown boots.
We were expecting Kate to show up something in green on St.Patrick's Day, but little did we know she would come up with more elite, fashionable, royal and gorgeous. The Dutchess visited the 1st Battalion Irish Guards at Mons Barracks in a green knee-length belted coat dress by Wickstead.
She might have suffered a little wardrobe malfunction as her shoe heel was trapped in a street grate but she quickly recovered with grace.
[sc:mediad]
After elegantly showing in an array of sophisticated designs best suiting her royal element, she visited Child Bereavement UK in season's biggest fashion trend – monochrome.
She wore a black Tophop dress with a gorgeous white Peter Pan collar and proved once again that being 5 months pregnant can be no barrier to looking fashionable. To beat the chilling weather outside she had chosen an elegant white coat by cashmere designer Goat.
With her baby bump becoming more prominent, Kate didn't compromise on her style quotient though. She was seen in a teal blue By Malene Birger coat and true to her style, she paired it with her Episode Angel suede pumps and accessorized them with a baby on board badge and pretty hat of course.
She had joined the Queen and the Duke of Edinburgh at Baker Street tube station to mark the 150th anniversary of the London Underground.
Kate Middleton looked every inch radiant, as she was seen wearing a tartan blue and grey plaid Moloh 'Workers' coat for a visit to Scotland with Prince William. She and William played some ping pong, basketball and even field hockey.
The Duchess once again flaunted her trademark classic fashion in a striking red scarlet Armani coat, which she had worn back in 2006. The only difference is the royal bump which she proudly shows off from behind her fabulous coat.
The Duchess baby bump now firmly on show, she paired a peach Tara Jarmon coat with a shift dress, as she visited the Naomi House Children's Hospice in London.
Last month Kate visited the Warner Bros. set of the Harry Potter films in a polka-dotted Topshop maternity dress and had paired it with a Ralph Lauren jacket and her signature pumps.
The Duchess was seen covered up elegantly in a mint green Mulberry dress – the season's  hottest hue and paired it with her favorite Whiteley hat for a visit to Windsor Castle.
Well those are some of the top best pregnancy outfits donned by the Duchess of Cambridge so far!
Hope you liked this post!