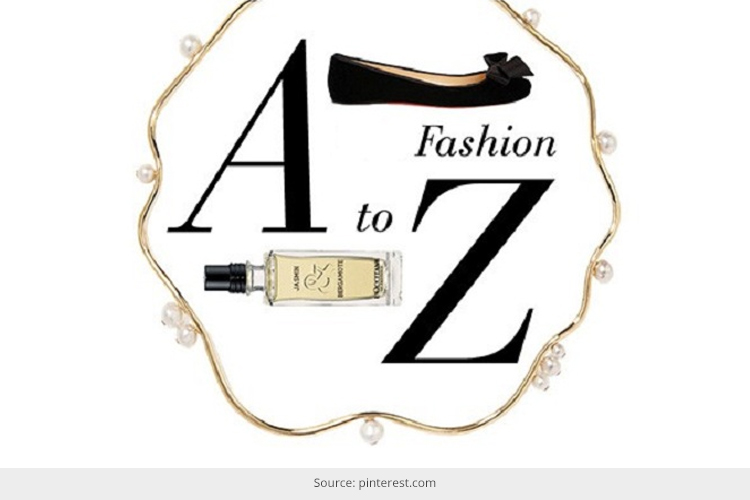 This is a season of fashion dichotomy, where minimalism takes over opulence and the trend of 'less is more' is growing strong. With vogue becoming complex with every sunrise, I just came out with a fun idea to help you complete your festive fashion bible at ease. I offer you a dictionary that defines A to Z of festive fashion and not to mention in an alphabetical order.
Do have a read!
A – Applique design
Fashion is an ocean of styles, but one accent that continues to be in trend is our traditional embroidery work. These days the applique work is very much in fashion and you can see them on salwar kameez, saris and dresses. This is one of the simplest forms of sewing. It is the process of applying one piece of fabric to another, including pre-embroidered patches, lace work, zari embellishment or simply a ribbon.
This Diwali, you can go for this ravishing beautiful georgette lehenga choli in green and maroon shade. The lehenga is adorned with vertical panels gorgeously alleviated with resham embellished bold decorative applique patterns flanked by contrasting border. The ensemble is paired with a matching choli and dupatta to keep up the charm.
B – Baroque Design
Even though the baroque design dates back to 17th century, depicted in early history of Western arts, it has significantly found its place in the new-age fashion. It is a style that used exaggerated detailing, which were then interpreted to conceive a magnificence in painting, sculpture and other art forms, where it was largely applied.
The international fashion domain is now hugely inspired from this 17th century ingenuity and has become commonplace on either the silhouettes or bold prints. This revamped fashion trend has been dominating the fall and winter fashion runways lately in a more outlandish manner. You may find some styles overwhelming but if you browse deeper you'll definitely come across some great baroque fashion designs in apparels and also as toned accessories. You'll just create a sweeping statement while strolling around.
C – Choker Necklace
Do you still remember this piece of Indian ethnic jewelry? Yes, you would, but did you think of donning this fashion ever, whether for a wedding, festive or simply a dinner? This incredible necklace becomes more lustrous when it's adorned with pearls. I have already mentioned about this accessory in length in one of my early editions.
D – Derby Hat
You would have probably heard – 90's are back with a bang. These days our fashion domain may be neck deep in retro redemption, but that doesn't mean the new-age fashionista has to embrace every trend related to the Y2K era. There are always some finesse masterpieces to be debunked from the decade's vogue history.
The derby hat or the bowler's hat, which was popular within the working class during the Victorian era, is still the symbol of elite class. These hats made the race tracks glamorous and world's one of the most fashionable venues. While the race tracks are still the potboilers for these incredible hats, you can always flaunt them if you're watching a Polo match or invited to any fancy event. Since this completely speaks about luxury, you should always choose the occasion carefully.
E- Earcuffs
Well, a woman's closet is never seen without earrings. Not just one pair but an array of earring sets. So, it would be an ordinary example to set here. Let me give you something similar but extremely trendy and I bet not all the girls would be flaunting them in their wardrobe – the ear cuffs. You can check out some cool ear cuffs here.
F – Fringe Accessories
Have you ever been intrigued by this inexplicable fashion fad which comes coming back? I was on edge of adopting this trend for many years until I came across some splendid collections in this style and I must say it has certainly grown on me over time.
[sc:mediad]
This fashion was originated by the Native Americans, who used this pattern to help dry wet garments faster. may be because of this reason, it is commonly seen on biker jackets. These tassels were also accentuated with the 1920's flappers during the jazz era. Slowly they made their way to evening gowns and cocktail dresses as well. These days the tassels are everywhere, from neck pieces and silky fringe on tops, scarves and skirts to thick leather and suede fringe on wedges and handbags.
G – Gabardine Trench Coat
Gabardine is a tightly woven warp-faced twill weave fabric. Warp-faced fabrics have more warp or lengthwise yarns on the surface of the fabric than filling or crosswise yarns.
If you're putting up in a cold climate, where you enjoy the seasonal snowfall then a trench coat in your closet is a must. Even though you do not dwell under freezing climate, but quite often hit such places for your vacation then it's ideal to buy a Gabardine Trench Coat. The Burberry coats are the most popular items. really fell for those pieces worn by Katrina in the movie, 'Jab Tak Hai Jaan'. These coats can make a sweeping statement and can always keep you high on fashion, provided you pair them with a good pair of footwear.
H – Harem Pants
This is definitely a must-have fashion ensemble in every girl's wardrobe. These baggy trousers, which are tapered at the ankle with side flips. This pair of drop curved trousers will either put you high on fashion or result in a complete fashion disaster, depending upon the way you've styled them.
The Indian ethnic kurti is the safest option to pair them with. If you are on the taller and slimmer side then you can go for this style. You can tuck in a V-neck sleepless top and pair them with a pair of towering heels. You can even make them as office wear if you know how to style them right.
I – Intimate Apparel
While talking about a woman's wardrobe, we can not just over look the lingerie. The intimate apparel or the lounge wear is one of the coolest lingerie you can flaunt in your wardrobe. While most of the Indian women are habituated with nighties, they can now give a make-over to their casual wears. I've already discussed on this piece in length. Click here to know more.
J – Jumpsuits
If you're bored of your typical wardrobe dresses and skirts then it's time you invested on jumpsuits. Gone are the days when only the fashion braves dared to wear a jumpsuit, but after celebs having literally jumped into this fad, it has become a growing trend. After hitting some of summer's hottest catwalks including Givenchy and Prada, this all-in-one number has been enormously provoked, holding the interest of the most fervent fashion-forward peeps, such as Rihanna.
Back in India, our leggy lash Shilpa Shetty and Deepika Padukone can be blamed to promote this trend. These are easy to go through from day to night with a pair of buckled wedges and a shopper bag in the day and a clutch for the night!
K – Kimono Jacket
With the oriental trend quite a rage in the international fashion domain, nothing represents the East meets West fusion than a kimono jacket. The traditional Japanese ensemble had its make-over and was given a Western edge in form of jackets. Thanks to the autumn that we're currently having in India, you can opt for these light jackets to give an edge to your look.
L – Lashes
When it comes to make-up, the eyes are the most prominent areas to be focused upon. Originally launched as Sultress Lashes, the false eye lashes by MAC give you a dramatic look, instantly enhancing your eyes. These falsies are available in different shapes and sizes and are the best addition to your make-up kit.
M – Minaudière
You would have a variety of bags and clutches in your wardrobe, but do you have this one? It is more than a jewelry piece than an evening bag. While Judith Leiber's gem-encrusted creations are highly expensive and popular among the elite class, you can have a look at our Desi numbers by Meera Mahadevia. Click here to know more.
N – Nail art stickers
L'Oreal has recently launched a series of nail art stickers to help girls go fashionable without worrying for painting their nails with utmost perfection. While nail art is quite a rage these days, this fashion has become widely popular among the younger generation. Without having a professional hand, it's quite difficult to flaunt this trend on your nails. So the cheapest and simplest way is to go for these stickers. Visit here to know more.
O – Oriental Bags
You can now jazz up your festive wardrobe with orient-inspired bags. These Chinese art printed handbags are now opulent in fashion, aptly suiting the festive mood. Next to footwear, handbags become your most important accessory to care for. With beautiful orient prints available, you can also pair them with plain outfits. These are hit among the college students.
P – Paris Hilton Dazzle Perfume
You should always invest on a good perfume. The Dazzle from Paris Hilton brand is one of my personal favorites, so thought of sharing it with you. This summer fragrance is the 16th product from the fashion house. This elegant bottle has a diamond cut glass resembling any pink-colored gem with crystals adorning the crown. The fragrance is extremely soothing, keeping you aromatic for long hours. I find this as the best option for my 9-5 shift. I was also lucky to get a free tote bag with this perfume.
Q – Queen's Wardrobe
This is a one-stop shop solution for your latest trends. And the best thing about this store is that they also deal with Indian ethnic outfits as well. While their products are high on fashion from Pret a Porter to the haute couture, you can avail your desired items at quite affordable rates.
R – Ready-to-wear
The ready-to-wear or prêt-à-porter is the term widely used for factory-made merchandise having finished cuts. While this pattern has distinguished connotations in the fashion domain, these pieces are intended worn without any alteration because of their standard sizes. With fashion houses like Chanel, Dior and YSL largely showcasing their creations in prêt-à-porter, this form of fashion has now become widely popular, finding its place in ethnic wear also.
S – Sabyasachi Headband
The headbands are back in fashion and VOILA we have our own Desi number to flaunt for. After celebs like Aishwarya Rai, Kalki Koechin and Kangna Ranaut having flaunted the Sabyasachi headbands on red carpet, these head accessories became the most-sought after fashion accessory with the release of the Great Gatsby. While the Gatsby hairbands speak more of western fashion, our ace designer has given an ethnic touch to these accessories, thereby making them suitable for weddings and festive seasons. You can check out some cool collections here.
S – Silhouette anarkali
Well, anarkali is now the typical Indian ensemble seen in almost every Indian girl's wardrobe, but opting for a designer flowy silhouette can add feathers to your collection. weddings, festivals and fancy events – you name an event and this traditional fusion can aptly fit there. But only a few women can pull off this ensemble. this voluminous floor-length anarkali worn by Anushka Sharma looks extremely ravishing. If you wear this dress with a right pair of heels then you can add length to the entire look.
T – Trumpet Skirt
To add some extra flair, you can add this fashionable skirt to your closet. Apart from giving you some feminine flounce, this stylish paneled cut also enables you with some great skirt movement. The skirt sits perfectly on the hips and flared out in kicky frills at the hemline. However, the pattern of frill varies from one piece to another. Since this style flaunts your derriere, so you should consider your comfort areas as well while playing with your curves.
U – Umbrella
Under My Umbrella..Ella..Ella..Well, I'm not doing a Rihanna on you but thought of including this useful accessory in our list. Quite lately, the umbrellas have transformed into fashion accessories, with such a cool collection of prints available online. With autumn's crappy showers followed by a hot sunny day, the fashionista definitely requires a parasol while stepping out. These pieces are widely available in floral, checkered, polka dots, plain bright and even retro black and white.
V – Vintage Jewelry
A girl always feels privileged when a vintage jewelry is passed on to her to maintain legacy, which is usually seen in authoritative and royal families. The old adage always holds true for fashion, especially when it comes to jewelries. If you do not have any such cherished possession then you can go on a vintage hunting trip. The vintage and antique accessories can always add a mystical element to your wardrobe. These days, the Indian kundan and polki ornaments and also the art deco pieces are available at the best buys at online and physical flea markets.
W – Watches
This is another prominent fashion sphere, where people do not mind spending a fortune at all. Apart from handbags and foot wears, you can always drag people's attention by flaunting a statement-making time-piece on your wrist. And let me tell you this is one such area, where brand plays a huge role, provided you're serious about your fashion quotient. In one of my previous editions, I've mentioned about top 10 high end watches in timeless designs. Click here to know more.
X- Xoxo Linked Chain Belt
Donning a belt is a regular fashion wear, but what if you flaunt a unique piece, dragging everyone's attention to your waist? The linked chain belt is always a fancy addition to your closet. It enlivens your mood, enabling you to stroll around withe elan. Whether you pair this accessory with your skirt or jeans, it is surely going to enhance your look. If you do not get a XOXO belt, you can always check-out online stores and your nearby markets. You can easily come across an array of chain belts in varied designs.
Y – Yoke Dress
While a LBD (Little Black Dress) is an understood fashion statement, you can give a unique touch to this fashion by opting for a yoke dress. The Calvin Klein Lace Yoke Jersey Sheath Dress offers a sizzling edge to this svelte sheath style. The crisscrossed and pin-tucked panels across the bodice gives an elegant touch, while dragging soft focus on its overall style. Well, unlike an LBD, black is not the only option. You can also go for vibrant colors say green, yellow etc. anything that suits your personality.
Z – Zebra Print
With animal motifs quite a rage these days, the zebra stripes have always been in fashion; sometimes low and sometimes high, but have never gone out of fashion. The leopard prints have been replaced by zebra stripes this season. Add this timeless zigzag B&W trend to your wardrobe and become a head turner.
Hope you enjoyed this special edition on fashion items from A-Z! Do share your views!