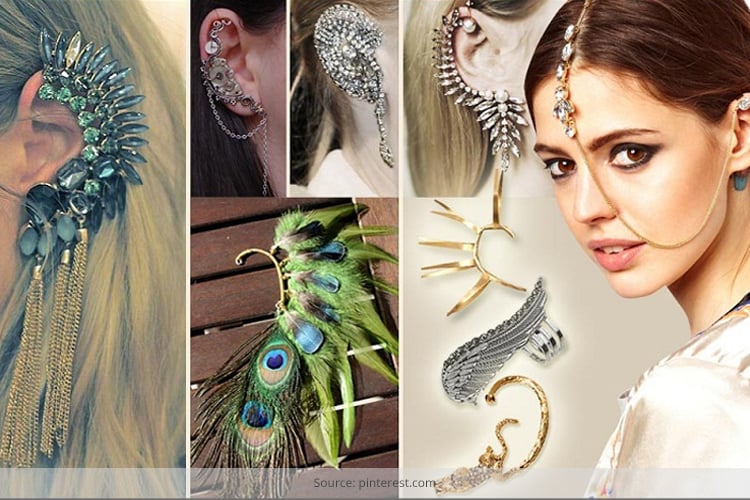 We are sure you have worn danglers, chandelier earrings, studs, hoop style earrings, but have you ever tried ear cuffs?
Fashionlady presents beautiful and fancy ear cuffs, especially designer ones by Roberto Cavalli which are currently in vogue and have become a hit in the fashion world. These fabulous pieces of jewelery are modern, edgy and funky.
In case you are wondering what an ear cuff is, then here we go: It is almost like a regular ear-ring but it wraps around your entire ear. This adds an element of glamor and cool element to your outfit.
[Also Read: Cuffs for Pierced Ears]
Now wait a minute, haven't we seen this before or is this a deja vu? Well, the moment we laid eyes on this, we knew that this is inspired by our very own desi kaanchan!
Remember that nineties fashion where women wore lovely kaanchan which enveloped the ear from the lobe to the top. It was available in various shapes like feather, leaf, peacock. These kaanchan were made in gold, silver and embedded with semi precious stones.
Somewhere down the line, this fashion faded away and gathered dust in the shelves of Indian fashion. But, it seems to have resurfaced and made a grand comeback!
Roberto Cavalli has definitely give them an international edge with his modern designs and cool cuts. These have been spotted on the like of Cara Delevigne and Diane Kruger who have sported these with elan.
It is a great investment for women because it can be worn in numerous styles. Whether it be feathers, chains or sparkling diamonds, these ear cuffs dazzle your outfit.
[sc:mediad]
The currently popular one is the tiger version which was displayed at the Roberto Cavalli S/S 2013 catwalk.
Check out some of these cool ear cuffs which are available at reasonable prices and will dazzle you with its glamor:
[Also Read: Dangle Earring Designs]
With A-listers like Miley Cyrus and Emma Watson going the ear cuff way, this fashion has spread like rapid fire in the fashion town. You can also try out these ear cuffs – Wear a single cuff or a pair, depending on what you feel like!
For those who prefer the dazzle and glitter, can opt for gemstone-encrusted ones. Those who prefer simple baubles, can opt for a simple metal clip-on ear cuff.
Hope you loved these ear cuffs – We personally can't wait for you to try them out and tell us how you feel!
Shop hearty!!