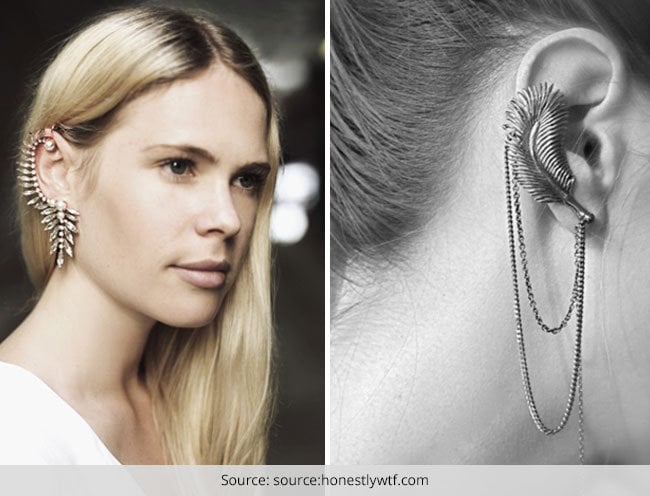 The ear cuffs extending from lobe to helix have now become the hot trending accessories of 2014. These sui generis jewelries are just as profoundly trending as they are subtle in size. After publishing an elaborate post on how to make ear cuffs, I am back and this time with top 10 ear cuffs for pierced ears.
Ear cuffs, now a fashion runway staple, are sold at large at all prominent accessory stores from Claires to Icing to Etsy. Some of the pieces are hard to give a miss. The oversized cuffs for pierced ears make a much stronger style statement than a traditional pair such as jhumka. And this is the reason; it has become quite popular among the new age fashionista, who want to add edge to their style.
For those, who are naive of flaunting a full-fledged ear-engulfing cuff like diamond Chanel ear cuff worn by Cara Delevingne, they can then take baby step and rather settle down for more modest pieces. They can go for the crystal-studded small cuffs that offer the same edgy vibe to their understated style statement.
The star-studded earrings begin at the lobe and continue upward along the length of your ear and end at the helix, thereby giving a similar effect. For those who believe in 'less is more, these less extravagant styles will make them feel more comfortable. At any case, they will surely get head turners wherever they go.
I especially liked Rodarte's Spring Show 2013, where models were sent down wearing daring dragon cuffs that side swept perfection. If you are OK with over-sized style statement then you can get a similar look at Urban Outfitters on for size. You can or else go for Jason Wu's daintier cuffs that are widely available at all prominent accessory stores. Irrespective of whichever style you pick – bling-y or modest, the ear cuff for pierced ears is one such trend that is going to stay here for a long time now.
Back in the hippie era, the punks used to wear the heavily pierced and weighed down cuffs of metals and also the Red Indian-inspired earrings. Today the fashion fad has evolved from the punk moment, all the way through the Vivienne Westwood's standings to the mainstream hippodrome of the 21st century fashionable accessorizing.
From the Indian-inspired Chanel's forehead accessories and flamboyant nose rings at Givenchy to the statement-making earrings at Prada; the fashion giants have nonetheless made these punk-inspired style including the ear cuffs for pierced ears as runway staples.
These highly decorative and elaborate ear wraps are statement-making outfit add-ons available for both pierced and unpierced ears. For those, who do not have extra piercings can go for 'clip-on' ear cuffs, while there is an array of styles already available for the pierced ears.
Let's go through the top 10 earrings for pierced ears!
For those who do not shy away from wearing daring danglers –
Leaf-inspired ear cuff by Joanna Laura Constantine
Workhorse Sloane Earring
And for those who believe in 'less is more' –
Some tips to wear ear cuffs –
Let the focus be on your cuffs – Pair your ear cuffs with small studs or keep them bare
Don't wear a necklace – If you're wearing an over-sized ear cuff then do nor pair it with necklace. Instead wear a bracelet or thrown on some rings
Do not wear two ear cuffs – Do not over do with your accessories, as your look can be too much to bear
So these are my top finds. Hope you loved these top 10 ear cuffs for pierced ears!