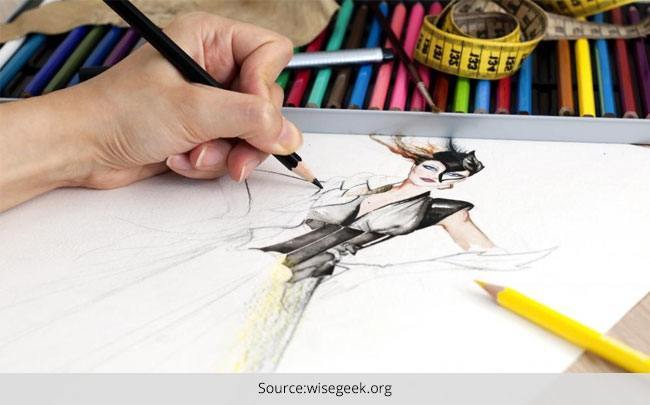 You can probably give answer to how to become a fashion designer, provided (1) You've spent most of your childhood making cute dresses for your Barbie, (2) You preferred fashion magazines and film magazines only to check who was wearing what and (3) You gave tips to your mom on what accessory should go with her outfit.
It's not me who is saying, but it's the life histories of the eminent fashion designers which prove how a small Michael Kors and a young Valentino were already designers in the making with their obsession for fashion.
Did you know Michael Kors become a fashion designer when he was only 5 years old?
Michael had designed a wedding dress for this mother for her second wedding when he was just 5 years old! And by the time he was 11, he was running his own boutique in his basement under the name Iron Butterfly Boutique, selling handmade leather bags and copper bracelets.
That being said, if you feel you've the same passion and confidence to pursue your career in fashion designing but not sure how to become a fashion designer then you're at the right place. Age is never consent to pursue your career in this field, as I can give you a list of names who never had a degree in fashion but are successful designers in the international level.
Skills required to become a fashion designer:
It's not like anyone can become a designer. Only those who have a flair for this field with certain skills conceived out of interest can apply for this career. The skills that you should have to pursue a career in fashion designing includes the following:
Creativity and artistic hand – Creativity and innovative ideas are a must for this career. Only those fashioners, whose designs are fresh and different, adhering to new age requisites, can survive the rat race. With thousands of aspirants trying to rule the runway, the competition has toughened. So, innovative ideas are a must to survive this stiff competition. Plus, aspirants with artistic hand easily get into this line than those who lack artistic sense. Drawing human figures is an essential part in merchandise making and therefore, artistic sense becomes crucial here.
An eye for detailing – A good fashion designer should always have an eagle's eye for detailing, which he/she can add to the basic designs. It is only the detailing that makes an outfit stands out among several pieces displayed in a store.
Basic ideas on color, texture and fabrics – This point reminds me of a particular scene from the movie Devil Wears Prada, where Miranda Priestly (Meryl Streep) is busy with her assistants deciding between two belts for an outfit. And Andy (Anne Hathaway) sniggers as she thinks they look exactly the same.
So, it's highly necessary to have basic ideas on colors and fabric that are being used in apparels and accessories.
Academic qualification required for becoming a fashion designer
There are extensive courses offered by prominent institutions across the country. If you are a student and willing to pursue your career in this line then you should get enrolled to get a degree in fashion designing.
Apart from the full time course, you can also opt for the basic courses which can help you learn a lot about the basic elements of textiles, clothing, fabrics, technology used and manufacturing modus operandi. And if you're quite serious then you can also study further and do a postgraduate course before you start working. You can then do specialization in any of the following subjects –
Fashion Design Process
Visualization and Presentation Techniques Contextual design studies and Communication
Traditional Textiles & Crafts and Portfolio Development
Knitwear
Art and design
Textiles
Graphic design
Fashion marketing and buying
Clothing technology
What college will do for you?
Usually degree in fashion demands 3-4 years of your academic contribution. During this tenure, you'll take fine arts classes along-with courses on color composition, pattern making, draping and cutting techniques. One of the best advantages of getting admission in any renowned institution is that students are allowed to work closely with the industry. There are colleges, who offer "designer critic projects", where successful designers directly work with the students. The ambitious students not only obtain degree, but get recognition through awards and grants, thereby getting exposure within the industry.
India Today had carried out Nielsen survey on the top institutes for fashion designing in India. The colleges which found place in the top 10 list as per the survey include –
1. National Institute of Fashion Technology (NIFT), Delhi
2. Pearl Academy of Fashion
3. National Institute of Fashion Technology (NIFT), Bangalore
4. School of fashion technology
5. Symbiosis Institute of Design
6. National Institute of Design (NID)
7. National Institute of Fashion Technology (NIFT), Kharghar
8. National Institute of Fashion Technology (NIFT), Kolkata
9. National Institute of Fashion Technology (NIFT), Gandinagar
10. JD Institute of Fashion Technology, Mumbai
In order to avail a seat in any of these prestigious fashion designing institutes, students need to clear admission test. Cited below is a list of few entrance exams for fashion designing –
Footwear Design and Development Institute (FDDI) Entrance Exam
NIFT (National Institute of Fashion Technology) Entrance Exam
Common Entrance Examination For Design (CEED)
National Institute for Design (NID) Entrance Exam
Pearl Academy of Fashion Entrance Exam
Aditya Institute of Technology Fashion Designing Entrance Exam
Apeejay Institute of Design Fashion Designing Entrance Exam
Army Institute of Fashion Design Admission Test
Central Footwear Training Institute Entrance Exam
Centre for International Management Entrance Exam
Centre for Product Design and Manufacturing Entrance Exam
Creative-i College of Creative Arts Entrance Exam
Department of Industrial Design Entrance Exam
Design Institute of India Entrance Exam
DSK International Institute of Design Entrance Exam
Film and Television Institute of India Entrance Examination
Government Institute of Garment Technology Entrance Exam
I E C School of Art & fashion Entrance Exam
IDC, IIT Bombay Entrance Exam
IMS Academy of Fashion and Jewelry Design Entrance Exam
How to become fashion designer without a degree
"School's not for everyone. If you're just looking to get a job in the fashion industry — not a career as a designer — you probably don't need to go school. If you want to work as a seamstress or a patternmaker, the best thing is probably to apply for an internship at a fashion house and work your way up."
If you cannot invest that much time and money in fashion institute then you can rather do intern at any fashion house. There are renowned designers such as Nicolas Ghesquière, who is now the creative director of Balenciaga owned by the Gucci Group. The designer never took any fashion courses, instead learned the doodads of fashion while working for Jean-Paul Gaultier.
Hope this post on how to become a fashion designer gives you some relevant tips before you pick this career!