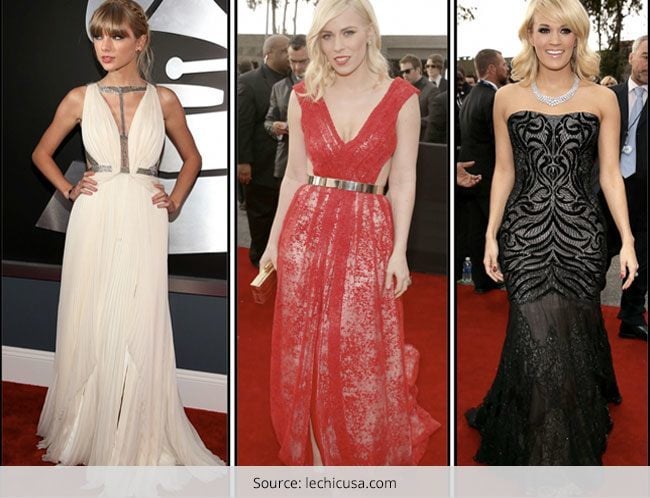 Performing on stage in front of thousands of fans takes both spunk and style — a fusion that has raised some of the most impeccably savvy singers in the history of music. From Charlotte Gainsbourg to Lady Gaga, I offer you top 10 best dressed female musicians with a knack for fashion. These female spunky performers offer the world a shared sense of feminine empowerment, enviable style statement, and undisputable muse-essence.
Read on to find out the style statements of top 10 best dressed female musicians!
1. Charlotte Gainsbourg
The 42 year old French singer Charlotte Gainsbourg was born with a pedigree for impeccable style; thanks to her genes. The daughter of provocative Gallic musician Serge Gainsbourg and super-stylish Brit Jane Birken grew up to become one of everyone's favorite fashion muses in the world of music.
Charlotte's mother, English singer-actress Jane Birkin, is one of the most famous style icons of all time. She was the inspiration for Hermès's iconic "Birkin" bag. And Charlotte's father, Serge Gainsbourg on other hand is probably the most notorious French pop singer of all times. Having been born to such famous icons, it's no wonder that this music star projects an enigmatic style that is all her own.
Charlotte says, "I don't like my face—my nose, my hair, my mouth, everything." No matter how much grounded the singer is; it's her mesmerizing elfin-like face and impeccable fashion sense that has made her the epitome of the Parisian cool.
And when the star is not performing on stage in Balmain's embellished, rocker-chic outfits, this style icon prefers androgynous fashion with minimal makeup and high end shoes.
2. Beyoncé
Apart from becoming history's one of the greatest pop icons, Beyoncé is also the ultimate style diva, who rocks in every outfit she dons with those bootylicious curves.
Anyone whose alter ego is defined by "Sasha Fierce" should know how to perform in style and this singer surely knows how to create a style statement even with a mundane outfit when she isn't performing. A self-proclaimed feminist, Beyoncé prefers both provocative outfits that accentuate her well-toned body and curves when she is performing.
On the other hand, the pop icon also maintains an air of jet-set elegance that often eludes many of her more flamboyant counterparts. Most recently, the glamorous singer caused a stir by chopping off her famous long hair into a rebellious chop.
If you remember Beyoncé taking UK festival Glastonbury by storm back in 2011, when she brought down the house Sunday night, wowing a screaming audience of 170,000+ fans. She also became the first female to headline the world's largest festival. Queen Bee looked magnificently hot in a gold sequin belted Balmain-esque jacket-dress paired with hot pants and her signature gold hair.
Beyoncé takes fashion seriously and is well aware how to flaunt her best assets. She has come long way right from her early Destiny's Child days to her "Bootylicious" and bejeweled mini-dresses. Beyoncé's style statement has indeed evolved from loud fashion elements to classy and sophisticated numbers.
3 Carla Bruni Sarkozy
Carla Bruni's trajectory from supermodel to singer to first lady is nothing but a new age fairy tale, albeit the leading lady of the story is from an opulent family and had a successful career in music simultaneously apart from only walking the ramp for big fashion houses. Carla has surely set the bar high for the new generation of models and singers alike.
While Vogue had once tagged her with "insanely perfect ass" phrase, Karl Lagerfeld referred her as a "beautiful creature who can wear anything." By 1991, Carla was already dominating the French supermodels, as she was seen as on the Vogue edition donning a body-hugging leopard-printed Alaia catsuit.
She soon became a frequent face at the runways walking for Chanel and YSL, flaunting a polished Parisian look. The 'killer chic' transformed herself into a punk princess for Vivienne Westwood and for Jean Paul Gaultier, she was the avant garde diva. Off duty, the former French first lady was seen in jeans, playing her guitar.
The best thing about Carla is she has always maintained her originality and maintained her individual style. When other first ladies struck to their traditional heels; Carla struck to her graceful flats so as to complement her towering height with her petite husband's stature. And when the world was influenced by silicon ball transplants and bottle-blonde hair extensions, the lady preferred to remain small-chested and brunette.
4. Lou Doillon
The daughter of Jacques Doillon and Jane Birkin, and half-sister of Charlotte Gainsbourg, Lou Doillon grew up as the maven of off-duty French fashion that see inherited from her super stylish mom.
With her undo style and impeccably relaxed pedigree, Lou Doillon could have been an inspiration to artists' imagination, but she rather preferred to lead life by her own terms. Apart from modeling, she has recently released a soul-bearing album that became overnight success in her native France.
Initially, Lou was seen donning laid-back outfits such as mini-skirts and skinny jeans that she often paired with leather jackets, cropped coats and boots. These days, the Birkin junior is rather flaunting some daring looks like a low-cut jumpsuit.
In an interview with Elle, Lou had said,
"I was raised by muses. Women who had men in awe of them and who wrote them movies and wrote them music. My role models are Patti Smith, Nina Simone, and Fiona Apple—the girls who have the balls to say they're girls. If your aim is to be the most beautiful one, you're fucked. The outside shell is not going to stay faithful to us."
5. Lana Del Rey
Today this pop chanteuse has become a household name not only for her music but for her retro style as well.
A self-proclaimed "gangsta Nancy Sinatra," Lana Del Rey gained overnight success with her debut single, "Video Games." For her personal style statement, Del Rey mixes the old Hollywood glamour of 1960s Americana and old-school hip hop.
The singer accentuates her outfits with her Veronica Lake hairdo, winged-out eyeliner, and gangster-inspired nails and oversized accessories. Even though she prefers such hip hop fashion, she is also the muse for classic British fashion label Mulberry, and H&M. And she never shies away from pulling off classic fashion with her enigmatic charm and élan.
6. Cheryl Cole
It's hard to say whether Cheryl is more famous for her solo artist success story or for her famous ex-husband. Nevertheless, Cheryl Cole has not only earned herself a successful music career, but is also known for her bold fashion choices and not to mention her versatile hair style. From frothy mini-dresses to floor-sweeping gowns, Cheryl rocks in every outfit.
Vogue christened her as "national treasure" and was listed as best-dressed woman by Glamour magazine. The fashion plate prefers form-fitting, feminine designs by labels such as Versace, Zuhair Murad, and Victoria Beckham.
7. Adele
"This year, the airwaves belong to Adele" Everyone who follows western music will agree with this statement. Adele today rules the music world not only for her magnum opus voice and enchanting singles, but for her raw beauty as well.
When Karl Lagerfeld commented on her weight saying, "She is a little too fat, but she has a beautiful face and a divine voice", Adele hit back in an interview with People magazine. She had this to say,
"I've never wanted to look like models on the cover of magazines. I represent the majority of women and I'm very proud of that. I enjoy being me; I always have done. I've seen people where it rules their lives, you know, who want to be thinner or have bigger boobs, and how it wears them down. And I just don't want that in my life. I have insecurities of course, but I don't hang out with anyone who points them out to me."
Already a fashion tour de force, the Vogue's favorite has a long-standing reputation for channeling sixties' glamour with retro cat-eyes, beehive hair and fluttery lashes, which she pairs with figure-flattering dresses in black often custom-designed by Burberry.
Today, the soul sensation might be the world's biggest singing stars but still Adele loves to bargain! The 25-year-old used to enjoy looking for vintage clothes at street markets, and now that she's rich and famous, she gets her stylist, Gaelle Paul, to do it for her.
8. Florence Welch
One of fashion industry's favorite musical muses, Florence Welch has ramp walked for Chanel and was tagged as the "perfect Gucci girl" by Gucci's Creative Head Frida Giannini. The singer prefers high end designers like Givenchy, Balmain and Alexander McQueen for her red carpet fashion.
The larger than life personality of the powerhouse of British Indie band Florence + the Machine, became a household name upon the release of her 2009 debut album. And her fashion credentials were cemented, when she was featured as the Vogue's cover girl for their December 2011 issue.
The singer cum fashion diva prefers melo-dramatic, folksy dresses, which she loves to pair with her flame-red hair and ivory skin, platform heels, and loud vintage finds.
9. Alicia Keys
Accomplished pianist, singer and song writer Alicia Keys had stepped into the music world quite early at the age of 14. The showstopper is known for her signature soulful sound that incorporates blues, jazz, gospel, and classical piano. Known for composing instant songs, Keys's style statements are equally powerful and inspirational. The singer prefers form-fitting dresses with leather detailing, dramatic red lips. Not to mention her chic bob, that is viral these days throughout social media.
10. Lady Gaga
Is there something left that I should add in the honor of Gaga's fashion? Well, the pop icon probably is more famous for her outrageous outfits than her songs I guess. How can anyone ever forget her controversial 'Meat Dress'?
Irrespective of her outrageous outfits that spark controversy, Lady Gaga is skin-deep in the fashion world. This year, the Poker Face singer has taken on a new-found minimalism: case in point, the simple black Prabal Gurung dress she wore to the 2013 V.M.A.'s.
So, these were my top picks. Hope you enjoyed this post on 'Top 10 Best Dressed Female Musicians'!