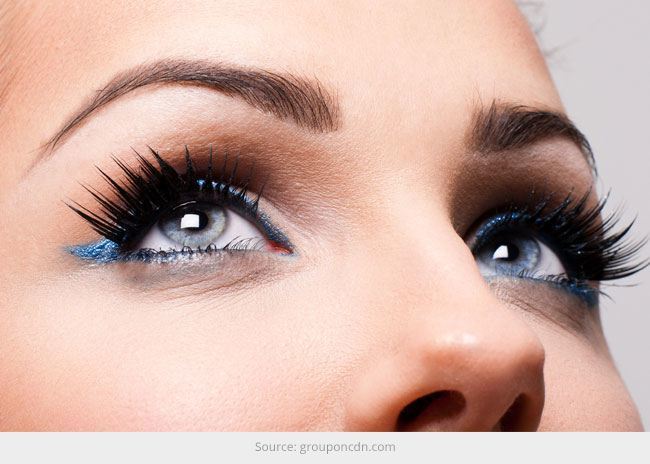 Eyebrow plays a key role in shaping the face and defining the eyes and forehead. It is said that the type of eyebrow defines your personality. For instance, those with straight brows are logical and practical in life, while the ones with curved eyebrows are said to be more social and friendly. Our eyebrows help to form expressions. It is believed that threading and defining eyebrows were part of ancient technique of facial grooming. Having neat and beautiful eyebrows give you a polished look, whether you prefer the thick, more natural eyebrows, or the thinner or sharp eyebrows.
[Also Read: Eyebrows For Round Shape Face]
According to beauticians and make-up professionals worldwide, perfectly shaped and pencil thin brows are passé. Now, there's craze for thicker, bolder and darker brows. Also, the natural eyebrow is hot on the list. The more natural the look the better compliments you'd gather. The basic rule to remember is that doing less is more, so stay as natural as possible.
What if you neglect your eyebrows?
There are many negative aspect of not having beautiful and neat brows, such as, you start looking much older than you actually are. Also, your facial feature tends to appear much larger or smaller than they actually are and complexion can appear to have lost some of its radiance.
[Also Read: Eyebrow Extensions]
How to take care of eyebrows?
Ever wondered, how you can get perfectly beautiful eyebrows?
1. Find a Professional
The major blunder women do while defining brows is over plucking, specially above the nose, as a result of which, eyes tend to look smaller and nose bigger. Accomplishing a perfect brow shape at home is a little tricky. It's best to get a professional to work on your brows when you have no clue how to get them groomed. A professional can work on your eyebrows, keeping your face shape in mind.
[Also Read: Different Types of Eyebrows and How to Shape Them for a Flattering Look]
2. Opt for Threading Over Waxing
Waxing is best achieved only at a salon with trained hands.The skin around the eyes is very sensitive and if waxed, can rip a nerve around your eyes. It is not ideal for those with sensitive skin. Threading is more precise and not as painful as waxing.
3. Tweeze It
Don't run to the parlor every time for the maintenance of your eyebrows. Invest in a good pair of tweezers, and with the help of some nice tutorials, learn how to tweeze your own eyebrows. Using tweezer is the most painless and natural way of pulling out stray strands in the direction of hair growth and with regular practice you can definitely master it. Soak a soft and clean washcloth in warm water and apply it to your eyebrow for five minutes to open the pores and softens the hairs, making it much easier to tweeze. Make sure not to over-pluck it or disrupt the arch. Never tweeze the top of your eyebrow.
4. Brows According to Your Face and Eye Shape
While getting your eyebrows groomed, keep your face shape in mind. The shape of your eyebrows can make your face look thinner or bigger. For square face, align the tip of the brow with the widest angle of the jaw to balance out the strong jaw line and for round face, arched eyebrow is recommended to create a more oval look. Flat and straight eyebrows are apt for long face. For heart-shaped, a round arch is ideal as it soften the pointed chin.
[sc:mediad]
For close-set eyes, make sure your brows aren't too short, and for wide-set eyes, leave more hair in the inner parts of your brow to visually reduce some of the space in between your eyes.
[Also Read: Tint Your Eyebrows]
5. Brush Your Brows
Before stepping out of your house, brush your eyebrows into place with an eyebrow comb. You can also spray a little hairspray on an eyebrow comb, and run it through your brows using upward strokes. If you don't have an eyebrow comb, apply a little clear gel, mousse, or hairspray on your eyebrows with your fingertips. This will give you a clean, wide-eyed look and will also clear away any bits of pressed powder or eye-shadow. The hair product will make sure your brows stay in place.
6. Fill Them in
Fake it by filling in the sparse hairs with eyebrow pencil or eyebrow powder or even eyebrow mascara. Whether thick or thin, all eyebrows must be filled in for a fuller look. If you have sparse eyebrows, take pencil eyeliner and shade your eyebrow, depending on how dark and bold you want your eyebrows to be. Use a little highlighter just under the arch of your eyes to accentuate your brow line. This will make you look younger and your eyes look bigger and fresh. Here's a tutorial on how to fill up thin eyebrows.
7. For Darker and Bolder Eyebrows
Wondering how to grow eyebrows fast? Follow the below mentioned home remedies:
Massage castor oil into your eyebrows every night. The proteins, vitamins and antioxidants will nourish the hair follicles and promote hair growth.
Whole milk is very effective for achieving thick eyebrows. Just dip a cotton bud in whole milk and dab it daily on the eyebrow area.
Mix together one teaspoon each of lavender oil, rosemary oil, lemon essential oil, thyme oil, pine oil, sandalwood oil and olive oil. Daily massage the mixture into your eyebrows before going to bed.
[Also Read: How To Thread Eyebrows]
MAINTAIN IT!!!
Set aside ten minutes to maintain your brows every two weeks. If you notice few stray hairs feel free to tweeze those.