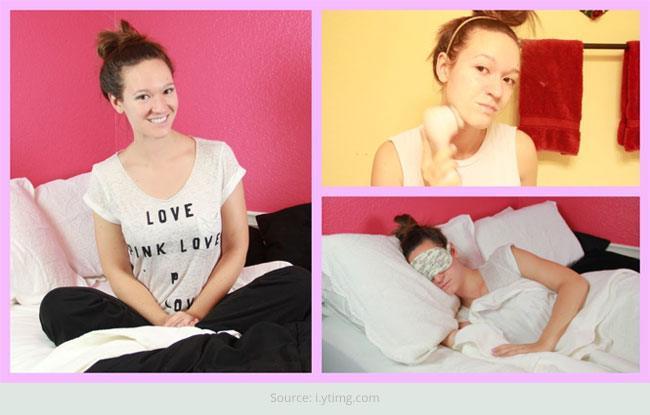 Grrrrr, Arrghh! With the heat and the humidity, our skin and hair can be victims of elements while the summers dawn upon us all. What do we do? Which salon would treat and pamper us best? What products should we use? Who do we go to?
Save yourself from the banter and unholy routines darlings; we are here to help you with simple DIY tips that would not only save your skin and hair (literally) but would help you not spend a bomb too. Brace yourself beautiful PYTs and read on for the best of grandma's secret beauty regimes- the night is still young and you need to retire in beautiful bliss!
Wash up and then sleep
The whole day goes with you being out there- under the sun, by the gas-stove or simply running from one point to another; making things happen. What would your skin feel at the end of the day- dead! Wash up and then sleep; guilty right, for not doing it? you have got to let the skin breathe- use a cotton ball dipped in rose water to remove your makeup, the dirt, grime and sweat that accumulates all day long on the face and the neck- culprits to skin aging and pore clogging. Lukewarm water when splashed on the face opens the pores, and drops of rose water revive the skin, nourishing it too- a good toner as well is what rose water proves to be.
Leave your hair loose
Yes, very important and most of us would still be stubborn by tying them up. Hair elastics are the number one reason why hair breaks, period! Moreover, morning tangles are a pain to deal with- literally. Start loving yourself and your hair more. In addition to that, use satin pillowcases and avoid the cotton ones- your face and hair would thank you tons for this small act. What you could do is to use hair serum at night and a pillow spray- keeps the hair protected- no more painful hair tangles to deal with.
[sc:mediad]
Did you brush and floss?
Dental care is so important- night time especially. If you do skip this, you're in for a big talk next time you visit your dentist. Let's just also put it this way- lack of bedtime dental care would lead to accumulation of germs resulting in foul breath, cavities, and in some cases you might loose teeth or gum resistance too- making you look older than your age! Brushing at night helps removes stains and keeps the gums fit; don't forget flossing. Gum care helps keep the teeth in place and 'fitting' so as to make the teeth not look larger than what they are – signs of ageing (when teeth look larger than the gums).
[Also Read: Home Remedies for Summer Heat]
No covering your feet
Ditch those socks please; it was okay when the winter months were around, but during the summers- no way! Foot fungus can be smelly and yucky, thanks to the moist environment the socks create- you don't want that happening! Use a foot cream of repute or massage the feet with olive oil and sleep. Your feet would be soft and supple always!
While all said and done, if you still ignore the telling signs of ageing- don't blame the rigmarole of daily life for it. Just 10 minutes every night and you'd be good to wake up fresh and beautiful. Grab your satin pillows and please get 8 hours of sleep- the skin needs time to restore and heal; or else forget the glow!