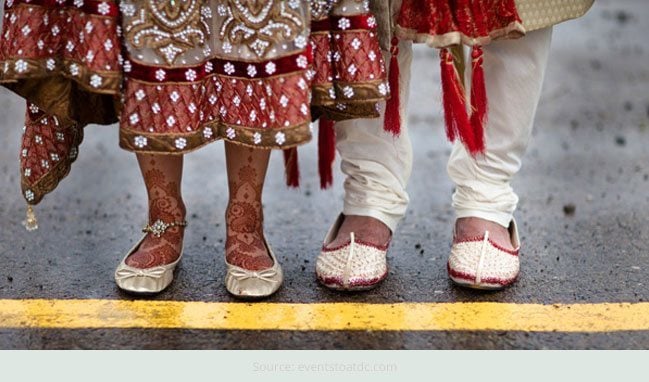 Let me first congratulate all the brides-to-be out there, who are going to take their wedding vows this year. Since it's the wedding season, I have come up with a useful post on top 4 flats for brides who are not sure about heels. Do have a read and stay inspired!
From the age of Cinderella to the era of Carrie Bradshaw, women's love for shoes has been enduring. And let's all admit – wedding is the best time to splurge on shoes sans any guilt feeling. Right from bedazzled towering heels and peep-toe wedges to crystal-studded kitten heels and embroidered flats, it's the bride's final call to score on such outlandish fashion accessories.
Unlike western weddings, Indian weddings demand the bride and the groom to remain standing for lengthy hours, from posing for photographs and receiving gifts to thanking guests. This is one of the major reasons that some brides are naive of wearing high heels. For those brides, I offer top 4 flats for brides who are not sure about wearing high heels on their D day.
1. Jutis And Mojris
Juttis have originated from the lush green, glorious Punjab, which is still a popular footwear and adored by many in Northern India. The juttis and mojris come to the rescue for brides who opt to go the flats way, giving them optimum comfort and also showcasing their rich and embellished designs complementing their wedding trousseau. These ethnic footwears are available in rich hues and heavily embroidered patterns. Brides can go for designer juttis and mojris, which have already made their mark in NRI weddings overseas.
Tip: You can go for turquoise blue juttis with gold ghungroos if your bridal lehenga is in turquoise shade.
2. Ballet Flats
If you are looking for contemporary design with a designer label then Charlie Driving Shoes by Aruna Seth can be your best bet. And if you're looking for flats in ethnic designs to match your wedding lehenga then you can go for those handmade purple ballet flats that are flanked by rhinestones. They look fabulous and can go with bridal outfits of any shade.
[sc:mediad]
3. Wedges
If you are Ok with heels but you fear you may look taller than your groom, then embellished wedges can be your best bet. You will get an array of designs in wedges, right from crochet designs to crystal studded types.
4. Kohlapuris
These timeless Kohlapuris are hand-crafted leather slippers and have been popular since time immemorial. The open-toed and T-star sandals are available in contemporary designs yet not losing their authenticity.
[Also Read: Designer Juttis]
The Kolhapuri chappals are now available in a wide range of vibrant shades and are encrusted with sequins, gold and silver strips and rhinestones.
So those were the top 4 flats for brides who are not sure about heels. These are equally appealing and attractive, complementing the bridal trousseau.