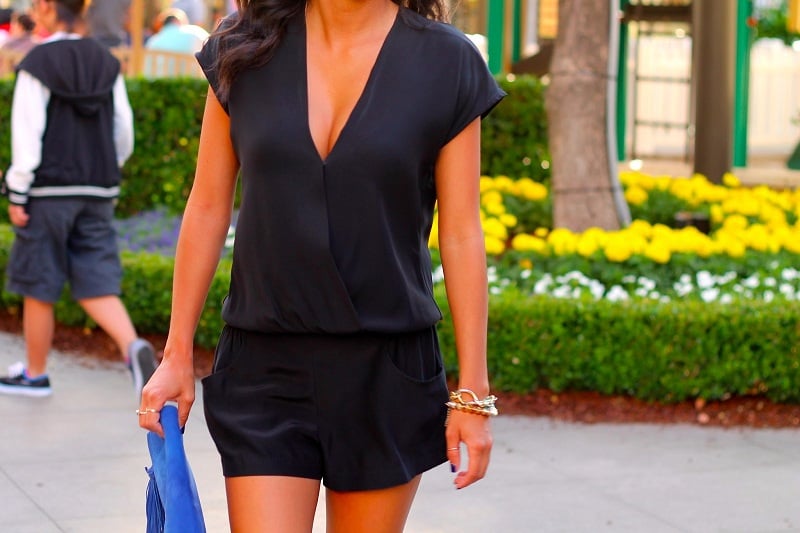 With an emergence of the retro revival, the romper has hereafter paved its way into the fashion circuit, assuring to stay for longer period this time. This 2-decade old fashion fad has recently become a major trend for women of all walks of life.
Its versatile style can complement both a teenager and mid-aged women. This trend is a sweet reminder for women in 40's, as jumpsuit/playsuit used to be a great fashion outfit in their youth, as it's now gracing almost all the celebs' bodies.
Gone are the days when glamor scored at the cost of the comfort. These days, fashion is much more about staying comfort while looking stylish. This is the very reason, even prominent fashion houses have also started designing their ready-to-wear outfits keeping the comfort in mind.
Continue reading to learn how to wear romper.
When we are talking about fashion + comfort then romper is the first item that comes to mind. The versatile designs have enabled this outfit to appropriately fit into any weather, be it summer, spring or winter. Every season has got its own style and texture. However, this winter we are seeing romper in numerous designs on the street. The only difference we see in summer is the shorter version of the romper or jumpsuits.
Apart from weather, it can also be worn to various occasions from office holiday party and family gathering to beach and wedding.
What is a romper?
A romper is a one-piece short version of jumpsuit, that is either sleeveless or with short sleeves and usually comes with a belt. The romper was lately made famous when celebs like Miley Cyrus, Nicole Richie, Jessica Simpson, Mischa Barton, Charlotte and Lindsay Lohan were frequently seen in this attire.
Tips to consider while buying a romper
#No bodycon please – Avoid buying skin tight rompers. Unless you're willing to look like a circus acrobat, give your body some room to breathe. Go for a billowy silhouette and define your waist with a belt or thick ribbon bow.
And if you've got flaw areas then do not choose the lycra fabric, as it will look you more bulging.
#Do not overlook the length  – Don't let your butt cheeks do a sneak peak through your short outfit. While trying out the outfit in the trial room, stand straight and check if the bottoms are reaching your finger tips to maintain modesty.
#A strict no to camel toe – Rompers aren't meant to become your second skin. Camel toe is indeed the most embarrassing situation to go through. So you should make sure the torso of the romper is loose enough to subtly seal your body. Go for Forever 21 collections, especially if you're looking for shorter torsos. And Express for longer torsos. Both these stores have great collection to look for.
#Go for solid colors – A romper in floral or graphic print will look pathetic. Go for solid colors, which will make you look classy in this outfit. Black, dark brown, navy blue and purple are ideal colors to go for. Even bold red would and you can style it like Miley Cyrus for your winter look. She had paired her bright red long romper with a glam-rock short leather jacket. A perfect look for the teenagers and women in 20's and early 30's.
Accessorizing romper –
Belting your waist – Break down your outfit with a belt to make your curves more visible.
What shoes to wear with romper – Pair your outfit with wedges or platforms. Avoid wearing flip-flops instead go for T-strap wedge sandals or ballerina flats. Even loafers would work. It all depends on the style and length of your romper. Go for heels if you're not fan of flats or platforms. The heels will create a long-legged and slimmer silhouette.
Choose clutch over purse – Don't go for bags as the straps can be a fussy distraction. Instead go for envelope clutch to keep your look trendy yet classy.
[sc:mediad]
Do not overdo with jewelries – Since this outfit is casual and chic, do not over do it with jewelries. Go for a statement cuff or neck-piece. Even a pair of earrings paired with a statement watch would complete your look.
Here are some fabulous designer collections, if you prefer to stock your wardrobe with labels. The Georges Chakra jumpsuits are for sure a treat to the eyes of the onlookers. Do have a look!
Image Source:georgeschakra.com
Hope this helps! Do share your views and suggestions if any!