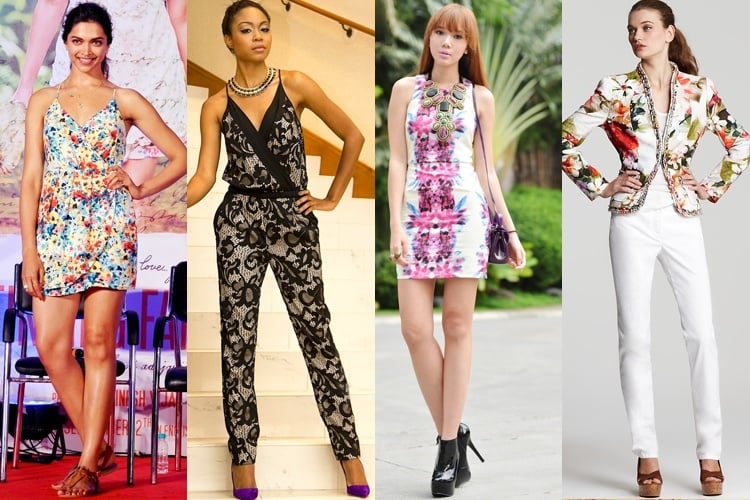 Just like an LBD or a pair of red heels, floral prints are always in fashion. It's not really surprising when you think about it, after all, how can you keep women away from flowers? We love everything about them—from the captivating fragrance to the delicate texture and the myriad of colours. And when you adopt flower patterns to cloth, you create a piece of clothing that is very feminine and elegant, just like a woman.
A floral dress signifies summer and spring. It signifies days of blooms and a burst of colours all around you. A nice flowing dress with subtle floral prints would be the perfect attire for a day out at the park or for a lunch date with your besties. So if you don't have floral prints in your wardrobe, you may want to consider investing in some classic pieces that will brighten up your day every time that you wear them.
You don't have to limit yourself to floral-printed dresses alone. You can even indulge in some very unique floral printed blazer, a pair of shoes with delicate floral prints, or a pair of denims with pretty floral prints to make them special. Here are some looks you can try out, incorporating floral prints into your everyday outfits.
This is a summer look; a breezy floral print dress paired with beige simple gladiator sandals and a funky bracelet to complete the look. This look would be perfect for a casual outing with friends or to go on a fun shopping spree. Comfort and style come together to make up this summer look.
Here is another look with a floral print element. A floral printed blazer can be worn with pastel coloured trousers and a form-fitting top. Complete the look with a pair of ballerina shoes. Accessorise minimally for this look, with maybe just a nice chunky watch. This look works well as Friday business casuals as it is professional while adding a little zing to an otherwise sombre outfit.
But can the floral look work as evening wear you ask? Well, take a look at this floral lace jumpsuit. It will look divine when paired with shiny black heels and a statement necklace. You can wear it in the evening to a date or a party. It is a very refreshing look that is miles apart from the usual dresses that most women typically wear to a party.
Finally, here's a look inspired from Deepika Padukone's look in Finding Fanny. A pretty floral dress that gives the look a summer/spring feel is worn with some comfortable footwear and layered neck pieces, making it a bohemian and care-free look.
Floral prints have always held a special place in designers' hearts. They work well for both western and ethnic wear. If you are inclined to wear Indian wear more than western, you can buy floral printed sarees or kurtis. If you're not sure about how to incorporate floral prints into your look, start small. Dorn a floral-printed scarf or stole and then as you get a hang of it, you can start wearing floral printed outfits.
Just make sure you accessorise right as it is very easy to go over-the-top with floral prints. For instance, if you are going for bold floral print patterns in bright colours, then try to keep the rest of your look muted to ensure it does not clash and make it look clownish.
Another area to take care of is your makeup. Never wear heavy makeup when you're wearing floral prints. The whole idea behind floral prints is to create a fresh, dewy, look. So wearing too much makeup will only counter the effect we are trying to achieve. So keep it simple with a stroke of blush and some mascara.
You can wear some bright lipstick if you feel going totally bare makes you look washed out, but refrain from indulging in heavy eye makeup and foundation.
While traditionally floral prints have been more of a summer or spring look, those barriers have come down and now people are sporting floral prints throughout the year. So go ahead and create your own look and make florals work for you. Go girl power, go flower power!