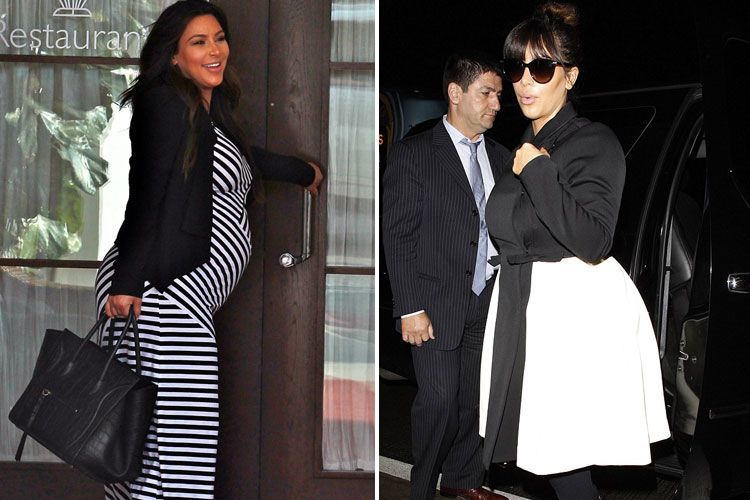 Kim Kardashian is no plain Jane. And there is no room to disagree on this. She is the one who has dictated fashion like a wild girl with all the spunk and hotness she has flaunted and is still flaunting on runway corridors.
How could she still be the eye popper in her maternity outfit? Does it mean it's time to clap clap or sob sob and say yuck? Is it worth endorsing her astonishing looks?
Kim Kardashian, the mom-to-be, is no way mum about her pregnancy or her super wild fashion experimentation. There was a time when she was hot, kissable and desirable. But post her marriage to rapper-turned-designer Kanye West, she is virtually dressing out of the box. Maybe it's her way to show off her fun quotient with maternity fashion, yet be in the news. But yes, no way is she sticking to conventional and boring maternity outfits. Who knows when she goes for labour pains she is dressed in one of her weirdo designed outfits?
Opinion matters a lot, so here we go checking out her maternity outfits that are a far cry from her curvaceous looks. Get some tissues in front of you. You will badly need them. All the best!
Kimspeak…the way it should be
There is no stopping Kim in letting the whole world know her pregnancy highs. Recently she mentioned in her blog how her pregnant looks are making news as she enters second trimester.



How thoughtful of her, what say?
[Also Read: What to Wear to a Baby Shower]
Kim's larger-than-life maternity pictures
March 29 – Kim Kardashian at a meeting at Kris Jenner's office.
February 27 – Kim Kardashian went whacky in a maxi dress with tribal pattern.
February 24 – Kim Kardashian at the Oscar viewing party of Elton John.
February 22 – Kim Kardashian spotted in peplum snakeskin pant.
February 21 – Kim Kardashian while leaving her house in a monochrome black and white shift dress.
February 13 – Kim Kardashian at the Topshop LA opening.
This is when Kim came with her then boyfriend, now hubby Kanye West dresses in a Prabal Gurung black dress that she paired with leggings made of leather. Look at the feathers coming from under her bust line. Her growing frame and her top embroidered bodice was so very unflattering for her bustline, don't you think so?
[Also Read: Unveiling Kim Kardashian's Closet]
February 7 – Kim Kardashian spotted in a jumper suit (sheer) as she leaves her house.
January 15 – Kim Kardashian on her way to the taping of Today show.
[sc:mediad]
Kim Kardashian eyeing the jewelry in the fashion capital, Paris.
How wild can Kim Kardashian look in her maternity? Check out her bulging tummy and bumps.
Kim Kardashian can't sit still. Catch her leaving her hotel and on way to the Good Morning America TV show slated in none other than New York Center flaunting her pregnancy bump.
Kim Kardashian out for dinner at Cipriani in New York. What a stunning leather trimmed LBD!
Kim Kardashian showing her maternity curves in bejewelled dress.
Kim Kardashian dressed for 2013 MTV Movie Awards
Kim Kardashian at her gym in Los Angeles. See her low cut vest and her pregnancy curves in full display.
Now that you gave seen the confident and sexy Kim Kardashian, let us not mourn much of her maternity dresses. To each her own as they say! Do let us know how you feel of her new found costumes – sexy or non-flattering?