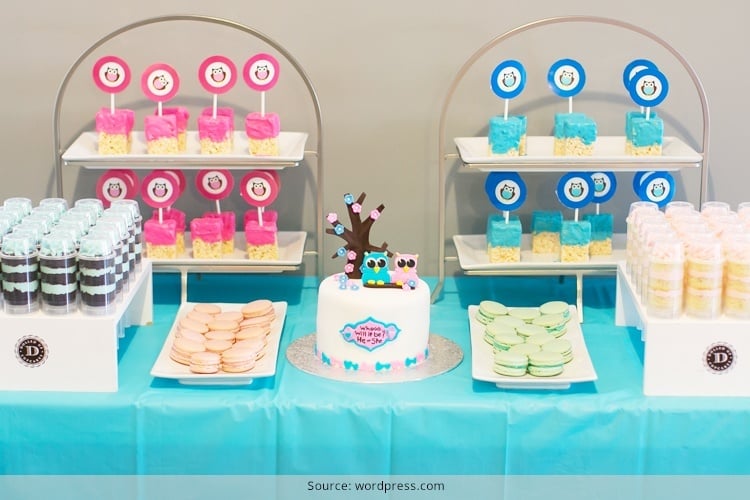 Hearing a baby is on the way can be fantastic news for a couple. What's priceless to know is its gender ahead of its birth.
Gender reveal party is an upcoming trend that is surpassing baby showers. There is a section of couples who like to reveal the gender at the party, whereas some like to announce it later. Both ways, it's a memorable moment for the couple, family and the guests. Here are some adorable ideas to go about doing the same.
[Also Read: What to Wear To a Baby Shower Ceremony]
Say it with Cupcakes
Let the family photo drop the cue
Get the guests to figure it out
How about the Invite
Gender Reveal Cake
It is a very popular option when it comes to guessing the gender of the baby. Some couples prefer to have their cake decorated in neutral colours such as yellow, white, whereas some of them go for pink and blue theme. There are some who put a big question mark on the centre of the cake or some vague hint. The middle of the cake can be coloured pink and blue or there can be toppings creatively designed and fixed on the cake as in the sample shown below.
[sc:mediad]
Get the balloons to convey
Make a box and fill it with helium filled balloons. Now do some decoration on the box, let's say with question marks, pink and blue splashes or pictures of baby girl and boy. The real fun would happen when in front of your family and friends, you ceremoniously open the boxes. Make a point that the helium filled balloons filled in the colour of your baby's gender are floating away to the top.
This Silly String isn't silly
Silly string is loaded with fun. There are a couple of ways by which you can do this. Either way, if you see, you'll need to cover up the outside side of the cans, so that no one is able to identify the colour of the spray.
While announcing the gender:
a) Mum and dad-to-be count till three and spray each other with silly spray (which can be in pink or blue);
b) Have a countdown, after which all the guests spray each other with pink or blue silly spray
Throwing Paint
In much the same way as the silly string idea above, expectant couples cover up a tin of paint. When it comes to reveal time, they face each other and throw a can of pink or blue paint at each other!
It's fun and the joy doubles up by wearing a white tee so that the paint colours show up their effect. Make sure someone is taking photos and you use non-toxic paint! Alternatively, you can make up your own paint with flour, water and food colouring. The rule is to avoid wearing your best clothes.
Gender Reveal Vote
Go have fun in gender guessing-cum-voting competition at your gender reveal party. Let your imagination run wild with this trick by placing a small chalkboard on a table. You can also have a beautifully decorated poster, where you mention the list of guests' names and give them chalk so that they can cast their vote.
[Also Read: Be a Super Mom – Get in Shape by Using Your Baby's Pram]
Once the event is over, you can do the gender reveal and find out how many guests got it right!
Important points to consider in gender reveal party
Not everyone is tuned into this idea. Some friends may think it is ridiculous. Technically if you were to see, a baby's gender will only be known after the birth. The baby may be identified as a boy or a girl, but come to think of it, it is just their sex, not their gender. Make it a small, intimate event loaded with people who care for you and are excited for you.
Here's wishing all the expecting parents the very best for their gender reveal party. Do share with us pictures and moments of joy of the same.