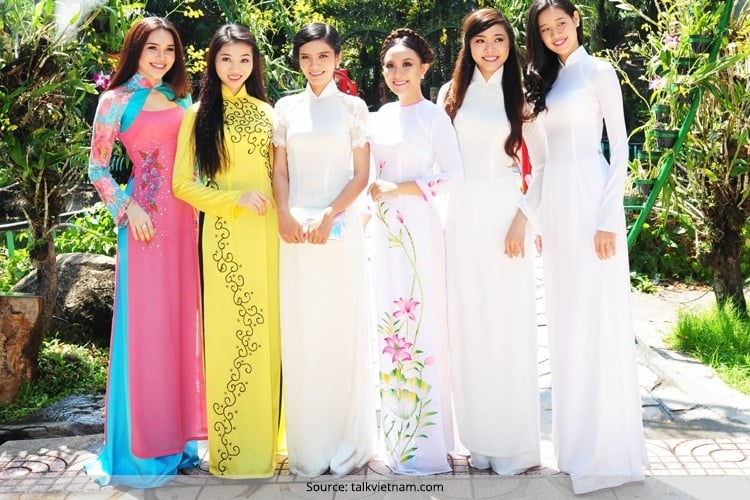 If there is one shopping haven around south-east Asia which must have a mentioning of, it would be Vietnam's Ho Chi Minh City. A walk down the streets here and you would find everything from the world of fashion galore – right before your eyes, and that is what makes Vietnam fashion so chic and stylish.
It comes as no surprise thus, that the erstwhile war torn and ravaged country, Vietnam, now is an emerging global hotspot for fashionistas to throng at. If you fancy raw silk, you would find many shops selling you the fabric at the best prices, and should you want to carry back a memento, opt for the handcrafted lacquer ware. Quite famous and indigenous to Vietnamese folks, they are a part of Vietnam fashion and culture too.
[Also Read: Plaid Fashion]
Let's look at the Vietnam International fashion
Brands and more brands, yes that is Vietnam for you. If you thought international names and brands didn't look at Vietnam, you were wrong. Signature brands and collections from Europe and Japan seem to be big hits with Vietnam fashion. And there are plenty of international fashion homes and boutiques where one could splurge and shop till they can shop no more!
[Also Read: African Street Style Fashion]
Our recommendations would be Nguyen Cong Tri, Magonn, Khaisilk, L'usine and Massimo Ferrari. Vietnam is a beautiful country and with very eminent designers doling out the chicest of designs too, some prominent names would be – Ton Hieu Anh, Thuy Diep and Dang Thi Minh Han to name a few.
Talking About What to Wear and The Fashion in Vietnam
Áo Dài – One of the prettiest ethnic ensembles your eyes can feast on
What is the Áo Dài? To keep it simple and short, just as we women in India honor and wear the sari as the national dress or ensemble, Vietnamese women too wear their national signature dress – the Áo Dài, when translated into English the Áo Dài means a pretty long dress.
[Also Read: Grandmother Fashion]
A Little About the Áo Dài
Ever since the oncoming of the 18th century, the Áo Dài has been around and worn by PYTs and women across all strata of society. Áo Dài in fact is a new-age coined fashion term, the original name for the ensemble was Ao Ngu Than!
As time passed by and since it is known that fashion evolves, so did the Áo Dài. Several alterations have happened to the Áo Dài over the years, but the basic touches and its sensual form remains the same.
[Also Read: Indian Street Style Fashion]
What Comprises the Áo Dài
The Áo Dài is a skirt, quite flowy and long and worn mostly by women. You would see women donning the Áo Dài for festivals, cocktail parties, events, gatherings and red carpet events too. And yes, the Áo Dài has its place of prominence in Vietnamese bridal wear too.
In some high-schools, for girls, the Áo Dài has been made a mandatory uniform to wear. This is what the Vietnamese believe as preserving their culture and heritage, wearing the Áo Dài, no one's complaining! Cut the modern age, the Áo Dài now is a national fashion and ethnic ensemble symbol of the Vietnamese folks.
[Also Read: Everything about High Street Fashion]
Street Style and Vietnam
We've told you plentiful about the trendsetter, the Áo Dài. But when it comes to Vietnamese street style and fashion, you would find a blend of the old and the new, the east and the west. And, of course the original creativity and individualism too.
Women and girls in Vietnam do not dress down. It is seen that the need to be stylish and fashionable at all times seems to be a must amongst the Vietnamese women. What we particularly like and notice about the fashion in Vietnam, street style wise, is that it doesn't look as though the individuals have tried too hard to make a fashion statement.
[sc:mediad]
You would find college goers and working women or homemakers too, wearing blouses and skirts, with wedges and heels. Grooming at par is an immaculate affair, makeup is minimal and the porcelain skin is flaunted with nude shades for the lips and the cheeks.
In most cases, Vietnamese women wear skirts, but they also opt for dress pants, ciggy pants, leggings, skirts, skorts, shorts and more. Cotton being the favorite fabric all year round- Vietnamese has a very hot and humid clime to deal with.
[Also Read: Prague Fashion Decoded]
New-Age Fashion Defined
A sneak peak into the new-age fashion to define should have you walking down the streets, and not staring at the Vietnam fashion week models on the ramp. There is a touch of all things west in their dress codes here – quite nonchalant, relaxed, casual, and no one's bothered or worried about what they wear and to where they wear what!
Although Vietnamese folks are a very religious sect of people, and in some corners of the country people do take offense when women especially flaunt a little too much of their skin. However, you would still find women in denims and a shirt, hot pants and crop tops, jeans and a tee – as long as they are decently dressed, no one raises an eyebrow. Vietnam clothing also depends on the climes around!
Make a trip to Vietnam on your next holiday trip. It's a beautiful place and a fashionistas haven!