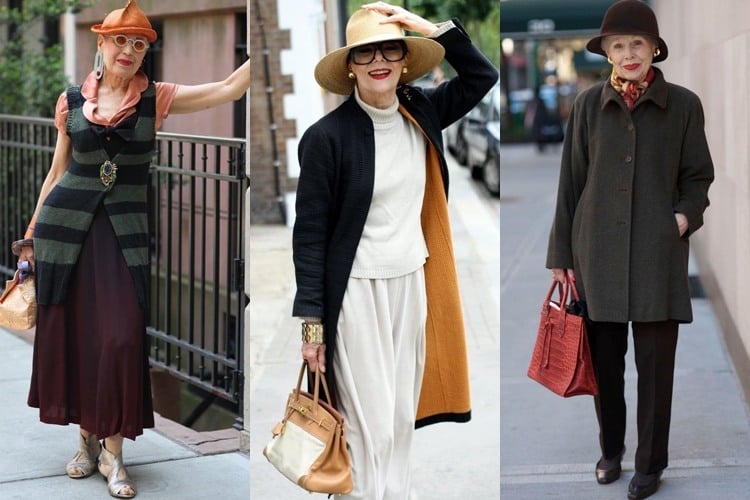 Dear grandmothers,
You have always been our fashion inspiration, ever since we were little girls. From draping those lovely chiffon sarees to sprucing up an indo-western ensemble with chic statement accessories, you taught us the graceful ways to dress and flaunt our attitudes. Today, in honor of your undying and unconditional love shown so far, we would like to present grandmother fashion.
Don't for once think that fashion is for the young adults and the teens alone, fashion is for all age groups and meant to adorn every body and everybody with utmost love. This is why we would want to show you a few simple and very adorable grandmother fashion trends that you could emulate everyday.
The grandmother fashion styles shown are very casual and hip, chic and with a touch of elegance too. Enjoy them all please!
Outfits For Grandmother
Ready dear grandma's, we have trendy styles you could choose to wear and flaunt each day. Saris and salwars aren't the only option to wear, so let's keep it casual and comfortable for you!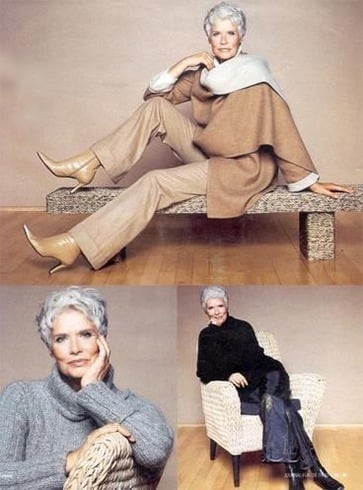 The Power Of Prints
Wear them on maxi skirts, tops or leggings, or even the lovely kaftan suits too, printed maxi numbers are trendy and speak of the bohemian side you once had. Don't let that fade away with age, instead, flaunt them with love.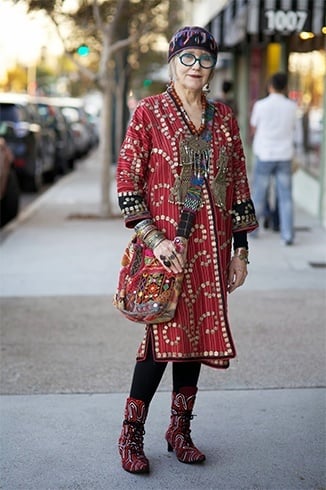 Opposites Attract
What we love about the tag "opposites attract" is that you could wear an all-black number with a touch of vibrant yellows, orange or pinks. Maybe a cropped coat an a black top with black pants? What say grandma, ready for a walk down the park!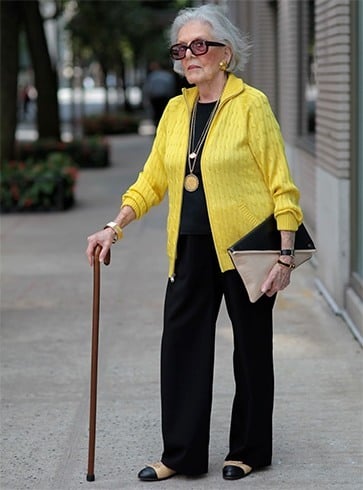 Polka Dots
We love polka dots grandma, and a polka dotted top with a chic scarf would surely bring out the elegant touch and fashion statement you so need to make. You could pair this look up with jeans or trousers, loose fitting skirts or a ghagra too!
[Also Read: Palestine Fashion Styles]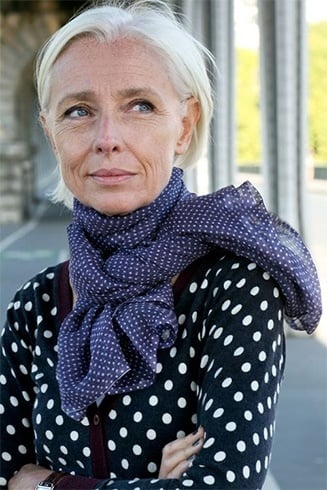 Ready For a Walk To The Mall
Let's go shopping for Christmas grandma, and since it is cold out there, we would like you to dress in something warm. Not layers this time, but an oversized cardigan with a nice scarf, and jeans or trousers!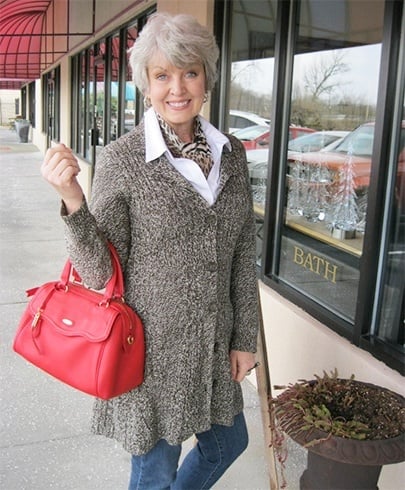 Warm And Sizzling
You made many heads turn back when you were a young pretty girl, and the same can be done now when you dress fashionable. Let's dress you up in bell-bottom trousers, pairing it with a crochet stole and a faux fur jacket.
For a Vintage Touch
We know how you crave for the vintage fashion, a statement back then that was the norm. Keeping that in mind, we would want to play with Elizabethan hats and a statement neckpiece. You could wear the accessories with a sari, a salwar or a nice long black dress!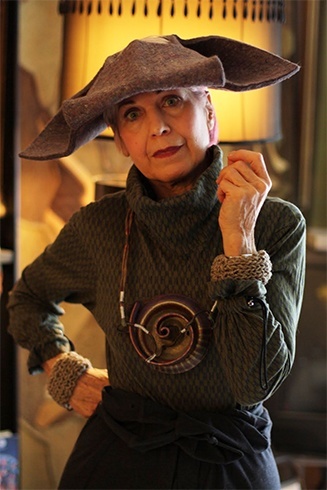 A Vibrant Cover
It is a little nippy or maybe more for you dear grandma and we want you to be comfortable yet chic in your dressing sense. Let's play with vibrant mustard touches this time. A lovely mustard yellow shawl over your kurti and trousers would be a fashion statement to flaunt!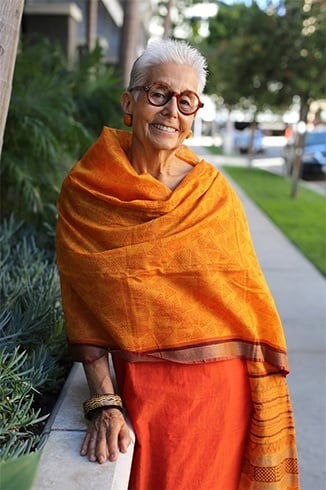 Bottle Green Dress Pants
You have a great choice of cardigans in the cupboard, but nothing cool to pair them up with. For a nice time out on coffee with the grandkids, you could try wearing the printed cardigan with bottle green dress pants!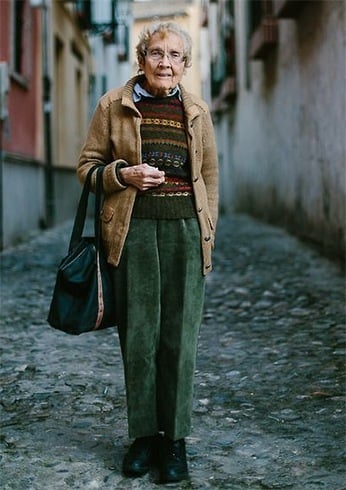 [sc:mediad]
Formal For The Christmas Party
We want to bring back the 1940s military nurse look on you, with a touch of style that too. For this we would want you to wear a matte grey cap, a matte grey coat and a white shirt, paired with a grey midi skirt and heels or flat for the feet!
[Also Read: Palestine Fashion Styles]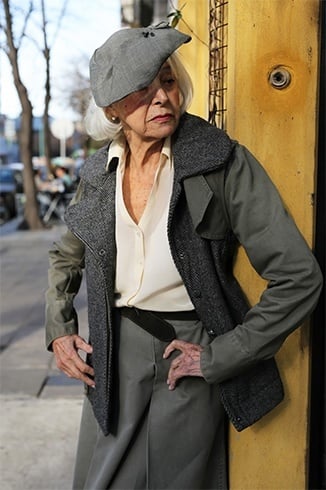 A Native Tribal Touch
Flaunt your sassy bohemian style wearing a tribal printed kaftan, in pretty pinks that bring out the season of Spring on a cold wintry day! A statement neckpiece would complete the look, with red hot lips!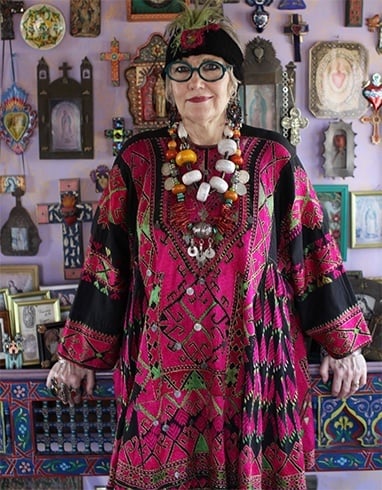 Beautiful Shawls For Cover
With the cold winds already blowing hard, should you want a little warmth to stay toasty through the evening, wearing a re-purposed woolen shawl an a cocktail dress in dark shades would be an apt style to flaunt!
[Also Read: The Vietnam Fashion Looks For All Occasions]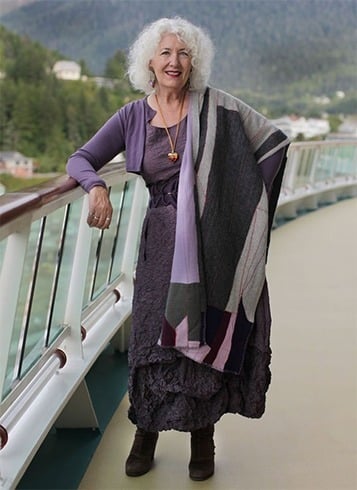 So grandma, how do you rate these outfits for grandmothers? Wouldn't it be nice for you to try something trendy and new this holiday season. Age is just a number isn't it? Go ahead and flaunt your chic sense like there's no tomorrow. And the next time we would bring in style statements on the grandmother of the bride dresses.
Image source: pinterest.com