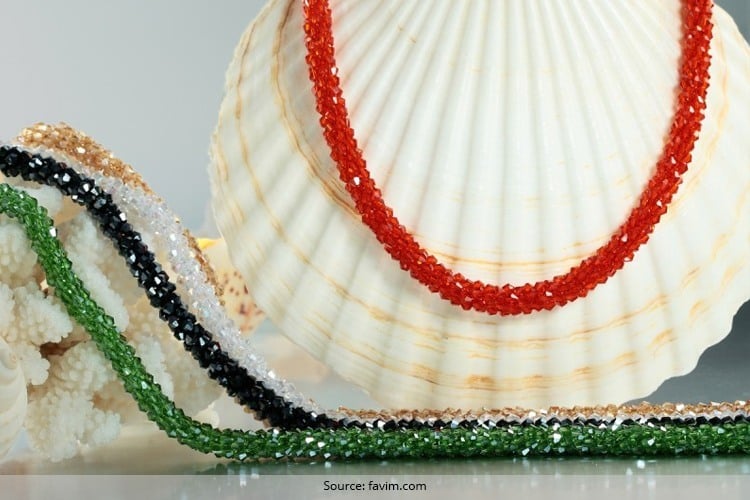 How does a Peppermint green gold woven glass bead bracelet sound? Or for that matter Golden maroon green glass beads Jewellery? There is a Naga glass bead necklace too to play cheeky cheeky with your neckline.
[Also Read: Breathtaking Antique Jewellery Designs]
The world of glass bead jewellery is as sparkling as the colours of the rainbow. Stunning wear and a collectible, glass beads are a reflection of the changing fashion.
How New Is The Fashion Of Glass Beads?
Also known as beads, glass beads goes back 3,000 years when glass bead making came to be known as one of the oldest human arts known to mankind.
Ask archaeologists and their records show the concept of glass bead finding link to Indians or ancient Egyptians thousands of years back. Some of the easier techniques have been invented two hundred years back and are considered pretty popular across the globe.
Glass beads are not limited to one size and colour. They are available in different shapes, sizes, and colours. Such is their popularity that glass beads jewellery designs are storming the fashion ramp and the workplace with their peppy look. Whether it is a beaded necklace, glass beads bracelet, black glass pair of earrings studded with stones or a hand pendant, glass bead jewelry creates a simple yet dramatic impact.
Knowing The Glass Bead
There are many names for glass bead jewelry – lampwork, pearl, crystal, murano, vintage, dichroic, millefiori. All of them involve special light effects or designs.
[Also Read: Gold Jewellery Design]
1. Lampwork Glass Beads
A very popular technique it involves a lamp or torch flame which is deployed to heat the glass in a kiln. Once the glass gets heated, it is shaped into a variety of designs, for instance hearts or flowers.
2. Dichroic Glass Beads
This is yet another popular handmade glass bead. The unique thing about it is that it emits a metallic rainbow of colours when viewed from various angles. The metallic effect comes about when aluminum or titanium is fused with a thin glass which leads to the formation of round, cylindrical and square glass beads.
[Also Read: Tanzanite Jewellery]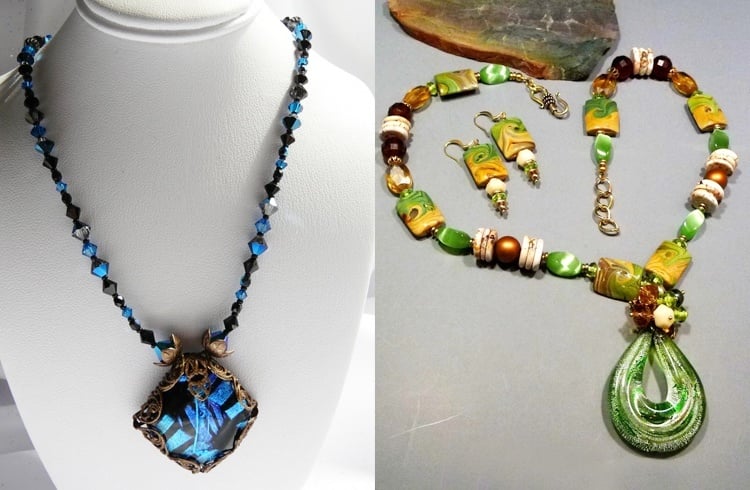 3. Millefiori Glass Beads
In this type of glass bead jewelry, you will see a mosaic three-dimensional pattern. Different rods of coloured glass are heated up in a furnace, then fused and stretched to create a unique design.
[Also Read: Astounding Designs Of Filigree Jewellery]
4. Pearl Glass Beads
Now these are high quality glass beads that have a surface coating of white, black, pink, beige, gold and silver. No doubt glass beads jewellery designs made of pearl emit a sparkly appearance.
5. Crystal Glass Beads
Strong and durable, the crystal version in glass beads has lead component within the glass bead which is light-reflecting. That is why the crystal beads are known to emit sparkling light.
[Also Read: How To Clean Brass Jewelry]
6. Murano Glass Beads
One of the most expensive glass beads, Murano is made of highest quality glass, Needless to say, some of the elegant jewellery designs are made of Murano glass beads.
[Also Read: Lace Necklace Pattern]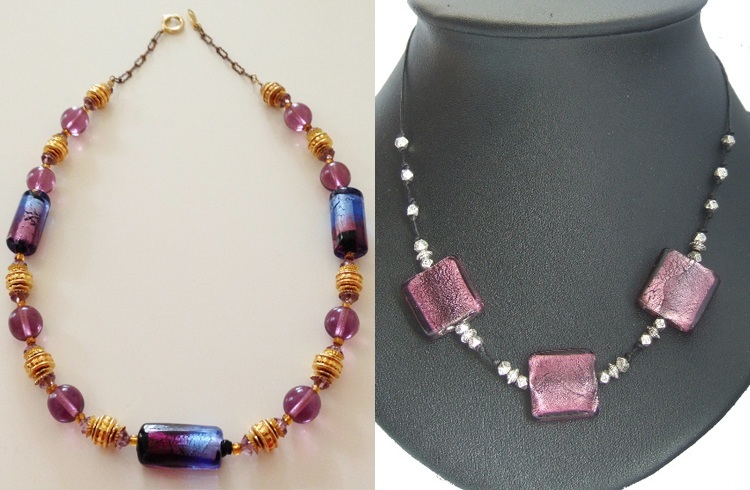 [sc:mediad]
7. Vintage Glass Beads
These are glass beads that are minimum twenty five years old. It means a silver jubilee! That is why they are more popular with antique collectors owing to their etched designs and embellishments. In fact, some of the glass beads shown above such as Lampwork, dichroic, Millefiori are famous types of vintage glass bead.
8. Fire-Polished Glass Beads
It is their fire-polished appearance that makes them apt for various jewellery designs. The Czech glass bead is the most popular form of fire-polished glass bead.
[Also Read: Jewellery]
How To Make Out Quality Glass Bead
Whenever you are out on a shopping spree for glass-beaded jewellery, find out the quality of the glass bead before making a purchase.
Factory-produced glass is inferior to handmade glass bead jewelry. Bear it in mind that the glass bead and the bead hole should have an even polished surface. Any amount of rough edges, or for that matter cracks, pits or lines in the glass bead does not signify a quality piece.
[Also Read: Wooden Jewellery – Love Wood, Wear Wood]
Do pay stress on the design and style of the glass beaded jewellery. It always helps to look for glass beads that complement your jewellery.
Hope you enjoyed reading this piece. We look forward to knowing how you found this mini-dossier on glass bead jewelry.