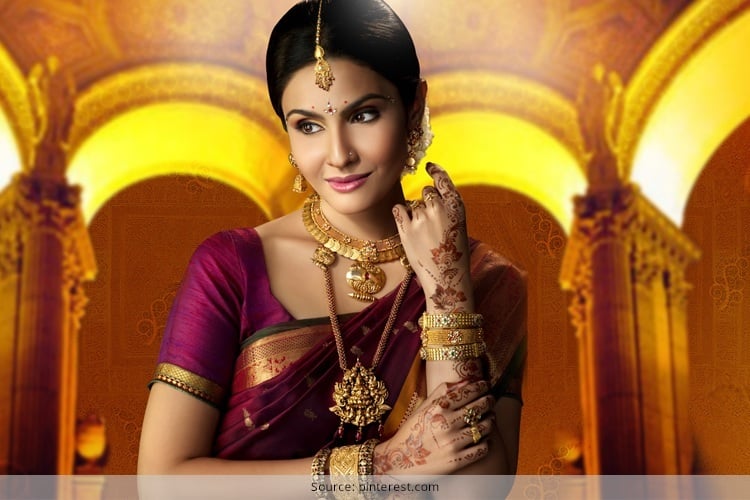 You will certainly fall off your chair when you read this piece of shocking news. Apparently a father, an Indian sweet maker in Tirupati city in Andhra Pradesh got his daughter dressed up in gold jewellery from head to toe to a whopping sum of £400,000. Wait a minute. The father was no less as he flaunted his gold chains too. It so happened that the local police deployed some officers for the wedding so as to make sure that the father and his daughter were not robbed on way to the venue by poverty-stricken neighbourhood. Oops! What a way to display gold.
[Also Read: Temple Jewellery Designs For Gold Admirers]
Yeah, the one thing that Indians love most is gold jewellery. Gold is a metal that has symbolised wealth and prosperity since times immemorial. In fact, gold is an insurance that can be encashed upon in times of distress as well.
Gold Bridal Jewellery
Jewellery has had a long connection with women. Go back to time and you will find umpteen kings and queens decked up in gold jewellery design. And there is no such thing as an Alpha woman when it comes to wearing gold bridal jewellery. It's a matter of fascination and tradition both that defies all logic when it's time to flaunt gold.
Gold As A Trend
Come winters and wedding season is in full swing. So also is jewellery shopping, and when that happens, gold jewellery design for bride becomes the need of the hour and existence.
As compared to the West where brides wear less of jewellery, an Indian counterpart has to be bedecked in gold bridal jewellery. Gold is seen as a valuable asset in the Indian context. The more you wear gold, the more shining is your prestige.
Though gold jewellery is traditionally yellow in colour, with the passage of time the colours and designs of gold ornaments are going through a sea change. Even the old ladies from the mother and the mother in-law side are welcoming the trend shift from heavy and bulky gold to less weight gold jewellery designs. It means that light weight gold jewellery designs are coming of age, not being sidelined and neglected any more. This is a truly heartening mind-shift!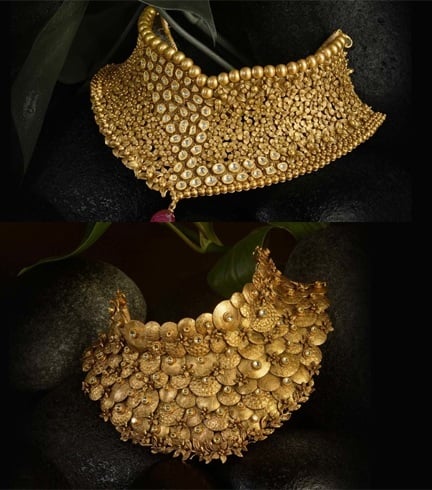 Gold Necklaces
In the Indian sub-continent, you will get to see two sets of bridal gold necklace, one from the bride's side and the second from the groom's side.
[Also Read: How To Clean Brass Jewelry]
While choosing the bridal gold necklace, the bride can decide between the long sitahaar neckpiece or short gold necklace or the choker type.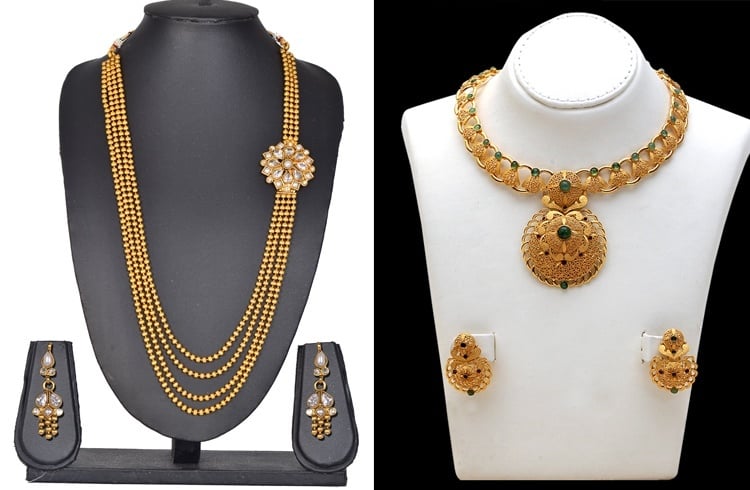 As it so happens, the brides wear one long gold necklace and one short one or choker.
[Also Read: Intricate Rose Gold Ring Designs]
Stalwarts In Gold Jewellery In India
Jewellers in India are doing brisk business. Here are India's leading jewellers who have an established name to themselves:
1. Malabar Gold & Diamonds: Among top 5 jewellers in the world, MGD has 82 outlets out of which 52 are India-based and 30 in Gulf countries. Value for Money is their USP.
2. Rajesh Exports: No making charges is the biggest USP of this INR 30,000 crore annual turnover company. Supplying semi-precious and imitation stones to jewellers is their core business focus.
3. Senco Gold Jewellers: As the largest player in the state of West Bengal, Senco Gold Jewellers specialises in providing affordable gold bridal jewellery. Their expansion plans to Odisha, Jharkhand, Delhi and Assam and exports to Dubai, Singapore, the UK and US speaks a lot of this INR 900 crore turnover company.
[sc:mediad]
4. Krishniah Chetty & Sons: Appointed as distributor for Rolex of Switzerland, and imported products from The Goldsmiths and Silversmiths Company of London, KC&S promises jewellery to the rich and the famous.
5. Tribhovandas Bhimji Zaveri: This INR 1,385 crore company has a brand recognition that has stood the test of time. In fact, TBZ has been the first to promote and push ahead the concept of light weight gold jewellery designs and certified diamond solitaires.
6. Bhima Jewellers: Which side would you like to know – that Bhima Jewellers is Kerala's highest tax paying retail jewellery brand or that they have two dozen stores spread across South India? Whatever be your choice, Bhima Jewellers has been the first to carry out hallmarking of jewellery, bar coding, ISO certification among jewellers.
[Also Read: How to Clean Your Gold Jewellery]
What would you like to do now? Buying gold bridal jewellery to banta hai, so good luck in choosing gold jewellery design for bride.