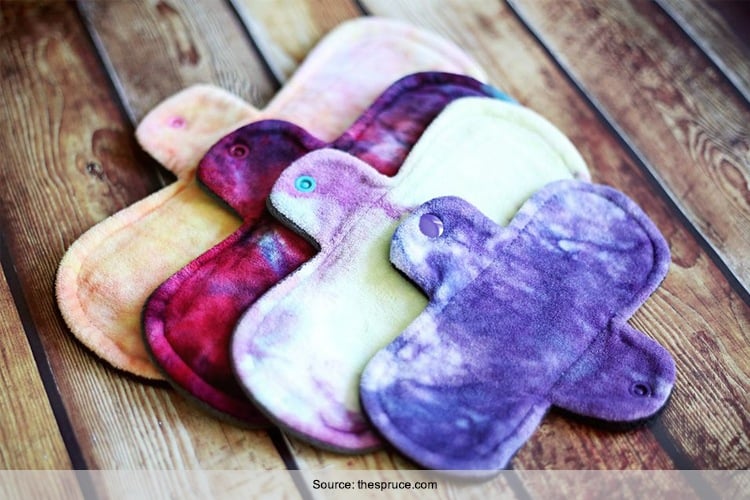 What drives us to buy certain brands in sanitary pads, other than the 'flow absorption'? Is it the comfort, the pricing, the affordability or the popularity? How many of us are aware of the health hazards the conventional sanitary pads bring in front of us? If you are caught unaware fret not! Just go ahead and read this article.
We all have lived (and are living still) in a world of commercially available napkins that tom-tom their highly absorbent core. Not knowing they are drenched in CHLORINE BLEACH and other CHEMICALS. The list of "negatives" they have in them is shocking. Things like discomfort, yeast infections, skin rashes, urinary tract infections (UTIs) are common. Long-term usage of the commercial brands of sanitary napkins can also lead to pelvic inflammatory disease (PID), cervical cancer and fertility problems. Moreover, commercial sanitary pads are made up of 90 percent plastic (or more) with non-woven plastic components. Which is why they are 'not' biodegradable. This sanitary waste can clog landfills. The pricing is equally scary. After the new 12 percent tax introduced in India, the price of sanitary napkins has skyrocketed in India!
Is this what menstrual hygiene is all about? Don't you feel you need to think hard about the sanitary pads you are using, and passing on to your future generation? Is there any solution? Any alternative to this mess, which looks messier than the periods? YES! We need to think outside the Pads.
So, it is high-time we made a switch over to eco-friendly pads. Now! Because the plastic-free menstrual pad is THE revolutionary concept that is redefining menstrual hygiene management in our country and it is catching up fast – not just in metros but rural areas as well.
What Are Eco-friendly Pads?
By the very name, eco-friendly pads are low-cost and "biodegradable" sanitary napkins. They are made from organic raw materials so that infection-causing chemicals and pesticides can be kept away from contact with the skin.
Some of the hygienic raw materials used in the making of eco-friendly pads are:
This means they are natural menstrual pads which get you far healthier and earth-friendly alternative to plastic conventional pads.
Top Ten Popular Brands Of Eco-friendly Pads:
Innovation finally steps in! The plastic-free menstrual pads are the new age alternative and socially accepted phenomenon in sanitary hygiene.
Do you know some of the eco-friendly pads brands which you can go for?
Here they are:
1. Heyday: Launched by Delhi-based entrepreneur Deepanjali Dalmia in September 2017. These plastic-free menstrual pads are made from bamboo and corn fiber. Pricing is affordable. Currently available in stores and pharmacies in the Delhi-NCR, Gurugram, and Noida regions, Heyday menstrual pads will soon be available online to make inroads into the sanitary hygiene market across the country.
2. Saathi: It all started in 2015 when its co-founders Kristin Kagetsu, Amrita Saigal, Grace Kane, Ashutosh Kumar and Zachary Rose came together to create "fully" eco-friendly, biodegradable sanitary napkins in India. This led to the developing of a biodegradable sanitary napkin using banana fiber (locally sourced) from the state of Gujarat. Saathi eco-friendly pads, when disposed of, degrade within 6 months – which is 1200 times faster than the disposal of plastic pads!
3. Soukhyam: The word "Soukhyam" in Kerala means "wellness". And it is the brainchild of "Kanika" – a Kerala-based NGO who want to promote wellness through bio-degradable, eco-friendly sanitary napkins. According to Vasanthi Gopalan, founder of Kanika, fifty packets of Soukhyam are sent to nearby homes every month.
4. Sakhi: What does Goa, popular for beaches, has to do with eco-friendly pads? Ask Jayshree Parwar, who along with three other women started the first Self Help Group (SHG) in Goa to manufacture and sell eco-friendly and bio-degradable sanitary pads. Says Jayshree "We get all our raw material from Tamil Nadu. The main component of it is the pinewood paper. This pad when buried in mud gets degraded within eight days". Whoa!
5. Anandi: These eco-friendly pads from Aakar Foundation are low cost, biodegradable sanitary napkins. As for pricing, they are 40% lower than commercial napkins. These natural menstrual pads are UV rays sterilized and adhere to BIS standards for sanitary napkins. Plus the Anandi pad is fully biodegradable. This solves the problem of rural disposal while ensuring minimal damage to the environment. The Aakar Foundation focuses on small towns and villages and now has a commercial production unit in West Bengal.
6. Sakura Magic: For the 1st time in India, a 100% "handmade" eco-friendly pads are available with imported SAP Gel from Japan produced by the HOPE Foundation. Made possible with technological assistance from GN Corporation Ltd., Japan, the Sakura Magic plastic-free menstrual pads are hypoallergenic.
[sc:mediad]
7. Ecofemme: The organization promotes healthy and dignified menstrual practices which are affordable and eco-positive. Unlike disposable sanitary napkins, Ecofemme provides washable cloth pads which can be washed and re-used for years. They are made of natural material – cotton – which is "biodegradable" and healthy to use for women.
8. Azadi: Another remarkable make in India initiative, Azadi has come up with 100% "biodegradable" sanitary napkin. These plastic-free menstrual pads are 43% cheaper than the average retail price point.
9. Purganics: This brand is India's first all-natural brand of feminine hygiene products. All the products are made with 100% GOTS certified organic cotton in European factories. Guess what? The menstrual pads are free of chlorine, plastics, synthetics, perfumes, irritants, toxins etc.
10. Natracare: Plastic-free and chlorine-free, these natural menstrual pads do not have anything artificial in it – no rayon, no latex, no chemical additives, no fragrances or dyes. In fact, Natracare is recommended by many gynecologists for women with sensitive skin. Did you know, Natracare has developed the world's first range of natural menstrual products since 1989?
Benefits Of Using Eco-friendly Pads:
When you switch over to plastic-free menstrual pads, this is what you gain:
Reduced menstrual cramps, infections and skin rashes
And empower the rural women who are involved in the making of organic and natural menstrual pads
Bleed with Pride, Not with Side Effects (that come with conventional sanitary pads)…..
I hope eco-friendly ladies out there reading this post like the concept of eco-friendly pads and plastic-free menstrual pads. Hope you will spare a thought for Mother Earth and give these brands of natural menstrual pads a shot while choosing your menstrual hygiene system. If you have already tried any of the above listed eco-friendly sanitary pads do share your feedback with us. Your verdict can help other ladies here make an informed choice about their menstrual hygiene management.